The PUBG Mobile Pro League (PMPL) 2023 Spring kicked off on February 15 with four matches between five groups of four teams. With 40 points, Four Angry Birds, an underground that entered the competition through the PMNC, won.
The Infinity came in second with 38 points, followed by Sharper Esports with two Chicken Dinners and 39 points. After winning the final game of the day by a score of three kills, MS Chounburi moved up to third.
After an outstanding showing in the second match, TEM Entertainment rapidly lost their momentum because 23 of their final 31 points came from just one game. With 29 points, Vampire was just behind them, while Faze Clan was in fifteenth position with just 16 points.
PMPL 2023 Thailand Day 1 Overall Standings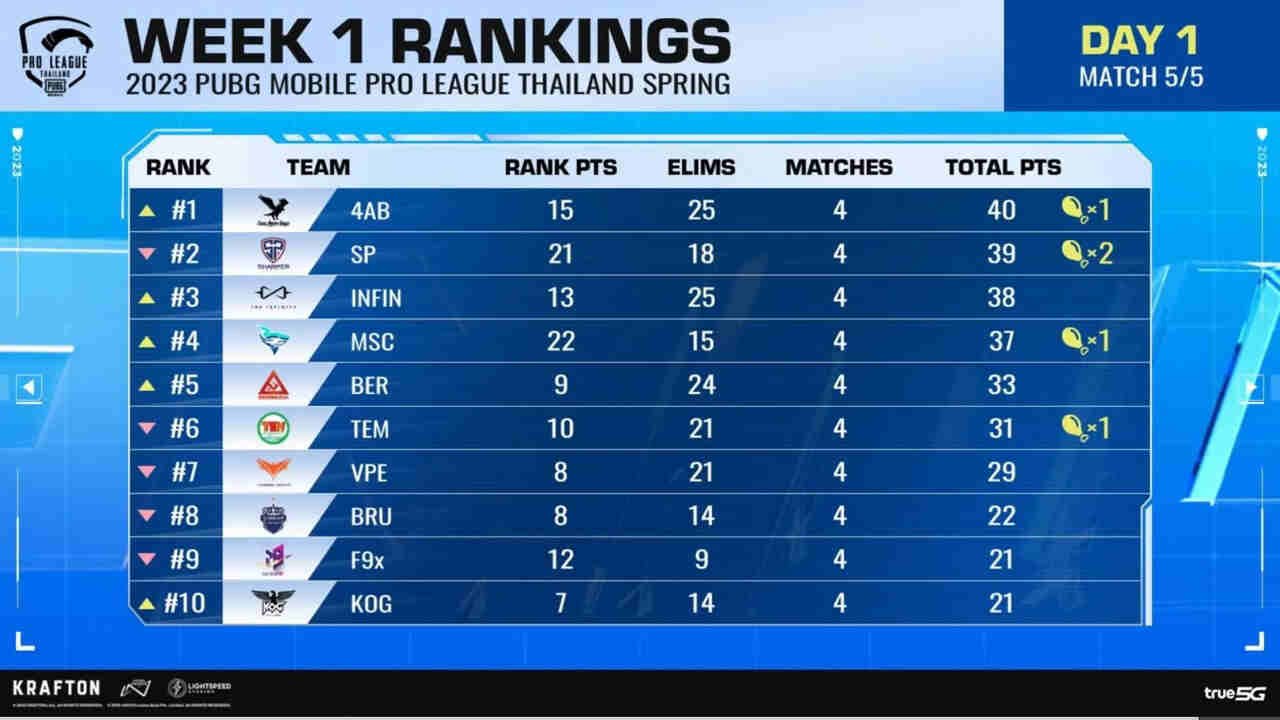 Day 1 Highlights
Sharper Esports won the first game, demonstrating an ideal approach on the Sanhok map to earn a 7-kill Chicken Feast. With four and three eliminations, respectively, Fast 9 Esports and Four Angry Birds were in second and third place. Recently signed TonyK and Noozy player Vampire performed beautifully and collected 12 frags.
Moving on to the second game, TEM Entertainment used an aggressive strategy to win with 13 kills, demonstrating complete dominance of the Erangel map. While Faze and Valdus were eliminated from the contest early with three points apiece, The Infinity also did a good job of doing their duties and earned second place with seven eliminations.
The coordinated gameplay of Four Angry Birds resulted in an 11-kill victory for them. Nonetheless, Buriram United was the clear winner as they secured 14 eliminations before finishing in second place and being eliminated. Faze Clan experienced yet another loss because they only earned one point there.
Sharper Esports recorded their second Chicken Dinner of the Day in the opening Miramar match of the campaign. They were followed by MS Chounburi and Hail Esports, who each had three and five frags. Faze Clan, however, found their groove in that particular game and scored 10 elimination points.
By maintaining their momentum, MS Chounburi also achieved their maiden victory. The team played a little slowly and only achieved three kills, but they still managed to win the Chicken Feast. Contrarily, Buriram United and Fast 9 failed to score a single point in the PMPL Thai's sixth match.
ALSO READ: PMPL 2023 Spring Thailand: Teams, Schedule, Format, Prize Pool and More