PUBG Mobile Pro League (PMPL) Indonesia 2023 Spring's first week drew to a close on a penultimate day, with BOOM Esports firmly seizing the lead after 20 thrilling games.
The team began to dominate from Day 2 forward when they emerged as the top team against some of the greatest teams in Indonesia with 203 points and 123 eliminations thanks to a string of tactical outings and unheard-of firepower.
After 20 games, VOIN Esports, who maintained consistency throughout the week, came in second place. Even after qualifying from the underdog stage, the team earned two chicken meals over the week and still scored 175 points and 109 frags, displaying their actual strength.
PMPL 2023 Indonesia Week 1 Overall Standing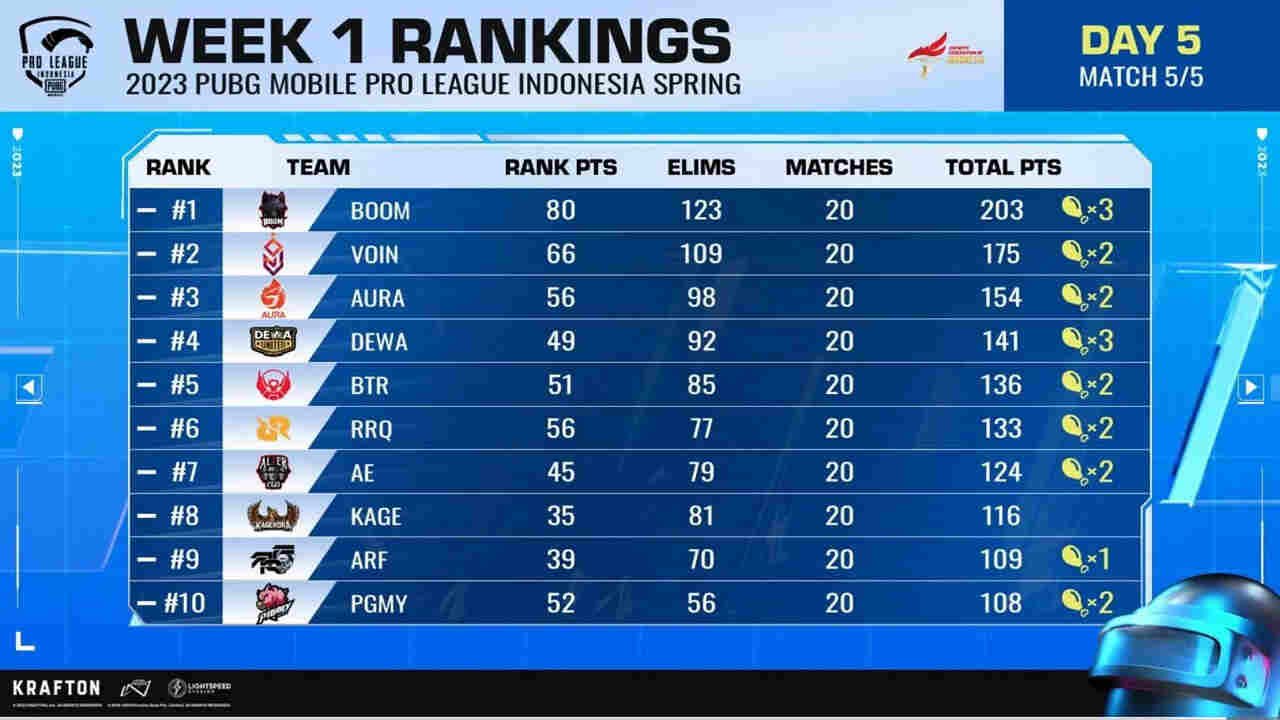 PMPL 2023 Indonesia Week 1 Highlight
After the week, AURA Esports had seized the third position. They were continually vying for the top three slots with two chicken dinners and 154 points. The team claimed 98 victories by eliminating opponents and never gave up in any battle, at any time.
In the PMPL Week One, Yummy from BOOM Esports took first place on the MVP list with 47 kills and 9430 damage. His average length of survival was a respectable 22 minutes and 19 seconds, and he made 31% of his team's contributions. With 38, 29 and 32 frags, Lapar, Flyboy, Ponbit, and Kagendra were in second, third, and fourth place on the MVP list, respectively.
Bigetron Red Villains, a well-known squad, also had a successful first week. Ryzen, uHigh, and Liquid were among the unit's stars, and it put out a strong effort, finishing fifth with 136 points and 85 eliminations.
The underdogs of the competition, Dewa United, had a fantastic performance on the last day of the first week when they went wild. The team concentrated on killing, scoring 92 victories, and finishing in fourth place with 141 points and three meals.
PMPL 2023 Indonesia Week 1 Top Players
Persija Evos, another recently founded popular side, had below-average performances because they were unable to build momentum. After 20 games, the team, which included seasoned players Luxxy, Zuxxy, and Microboy, moved up to 15th place with just 91 points, 65 eliminations, and a point per game average of 4.55, which was below average for the event.
The other games were a complete bust for Team MORPH, who had been playing brilliantly the first two days. The team even briefly held the top spot in the overall points standings. Yet because of a string of early exits, they dropped to position 13 with just 101 points.
Team RRQ and Alter Ego, among other teams, put up respectable performances all week. With 133 and 124 points, each team finished Week One in sixth and seventh place, maintaining their places in the centre of the pack.
The two teams who performed the poorest this week were NKINS Esports and BNW AMBRO. Both of these teams finished the PMPL Week 1 on the 19th and 20th, respectively, with a pitiful 60 and 59 points. They had little success and were frequently left in the dark towards the end.
ALSO READ: PMPL 2023 Spring Indonesia Day 1: Overall Standings, Highlights, and More