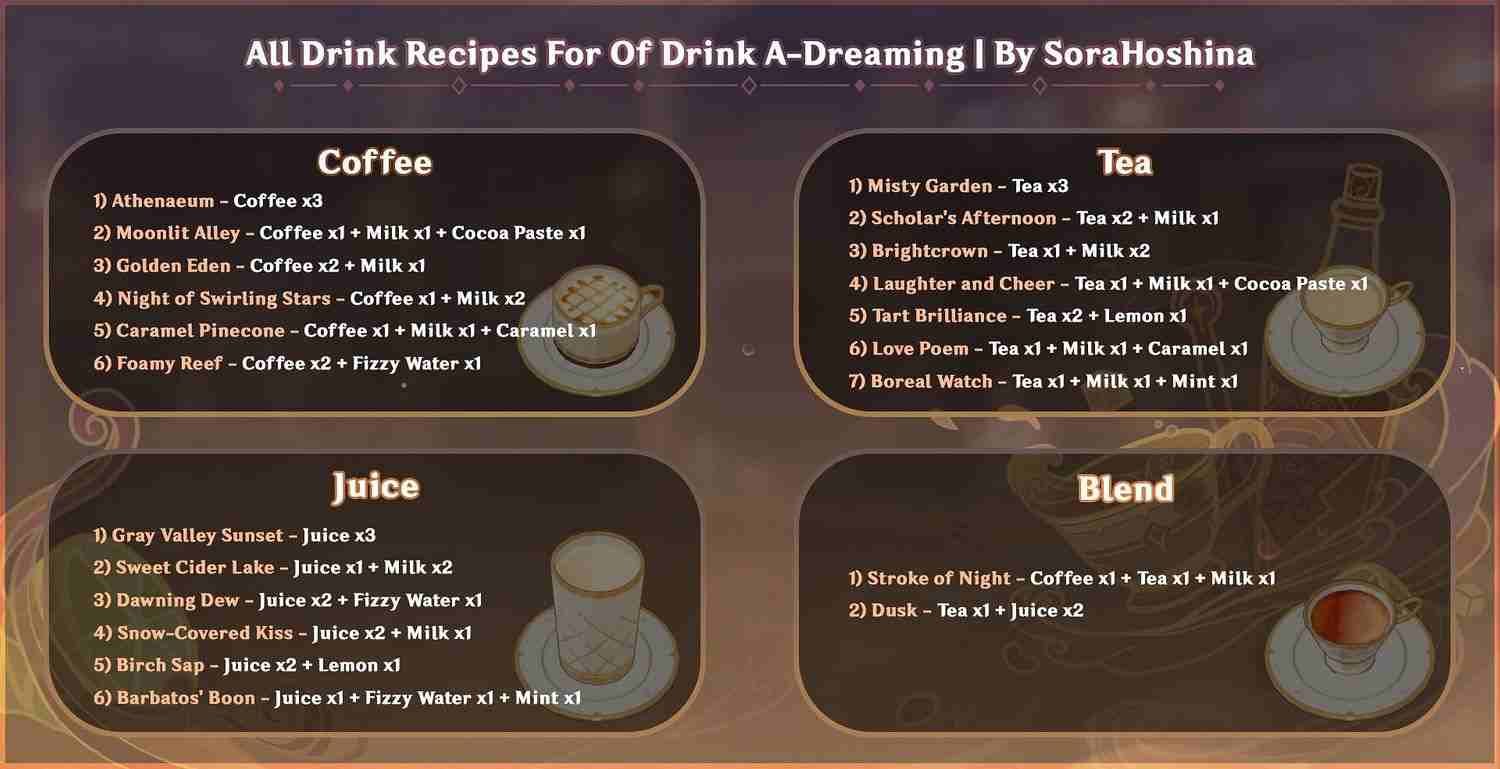 Genshin Impact Bartender Event Recipes: Genshin Impacts' new challenge Of Drink A-Dreaming is unlocked for its players under the Bartender event. As usual, the Genshin Impact Bartender event comes with a challenge and this task has the challenge to serve maximum orders in a set time. Players will obtain more points for their one challenge if they satisfy customers.
Developers introduced four challenges for this event, two of them already available in the game with a time limit. And the time limit comes with more challenges; however, players can complete their challenge if they have completed a list of recipes for their challenge.
Four types of drinks are available in Genshin Impact Of Drink A-Dreaming, and each drink has its own unique mixer. First of all, you need to know how to start Bartender and then Players can check the ingredient list and recipe list below for their challenge: 
How to Play the Bartender Event in Genshin Impact?
Firstly, to enter the Bartender event, players need to talk with Luka outside of Angel's Share. After teleporting into the tavern participants must talk with Charles to enter the Bartender Event.
The available challenges for this event are '10/10 Would Drink Again' and 'The Pinnacle of Etiquette.' Players need to serve as many customers as they can in a set time to gain challenge points.
An important note for players is that the timer will pause when they open the recipe menu from the bottom left menu. Players can check customers' requests by clicking on their avatar. Players can use this trick when they have multiple customers in a row.
By unlocking all recipes Of Drink A-Dreaming, Gamers will receive a limited name card 'Celebration: Binge Vessel.' Additionally, by completing the Bartender event players will receive Primogems as a reward.
Here is a List of Genshin Impacts Bartender Event Recipes:
Coffee Category Drinks
Athenaeum

– Three Coffee jars needed.

Golden Eden –

Two Coffee jars + One Milk bottle.

Night of Swirling Stars –

One Coffee jar + Two Milk bottles 

Caramel Pinecone –

One Coffee jar  + One Milk Bottle + One Caramel 

Moonlit Alley –

One Coffee jar + One Milk Bottle + One Cocoa Paste 

Foamy Reef

– Two Coffee jars + One Fizzy Water
Tea Category Drinks 
Scholar's Afternoon –

Two Tea jars + One Milk bottle 

Brightcrown –

One Tea jar + Two Milk bottles

Boreal Watch –

One Tea jar + One Milk bottle + One Mint

Laughter and Cheer –

One Tea jar + One Milk bottle + One Cocoa Paste

Tart Brilliance –

Two Tea jars + One Lemon

Misty Garden –

Three Tea

Love Poem –

One Tea jar + One Milk + One Caramel
Juice Category Drinks
Sweet Cider Lake –

One Juice + Two Milk

Dawning Dew –

Two Juice + One Fizzy Water

Barbatos' Boon –

One Juice + One Fizzy Water + One Mint

Gray Valley Sunset –

Three Juice

Snow-Covered Kiss –

Two Juice + One Milk bottle 

Birch Sap –

  Two Juice + One Lemon
Blend Category Drinks
Stroke of Night –

One Coffee jar + One Tea jar + One Milk bottle 

Dusk –

Two Tea + Two Juice