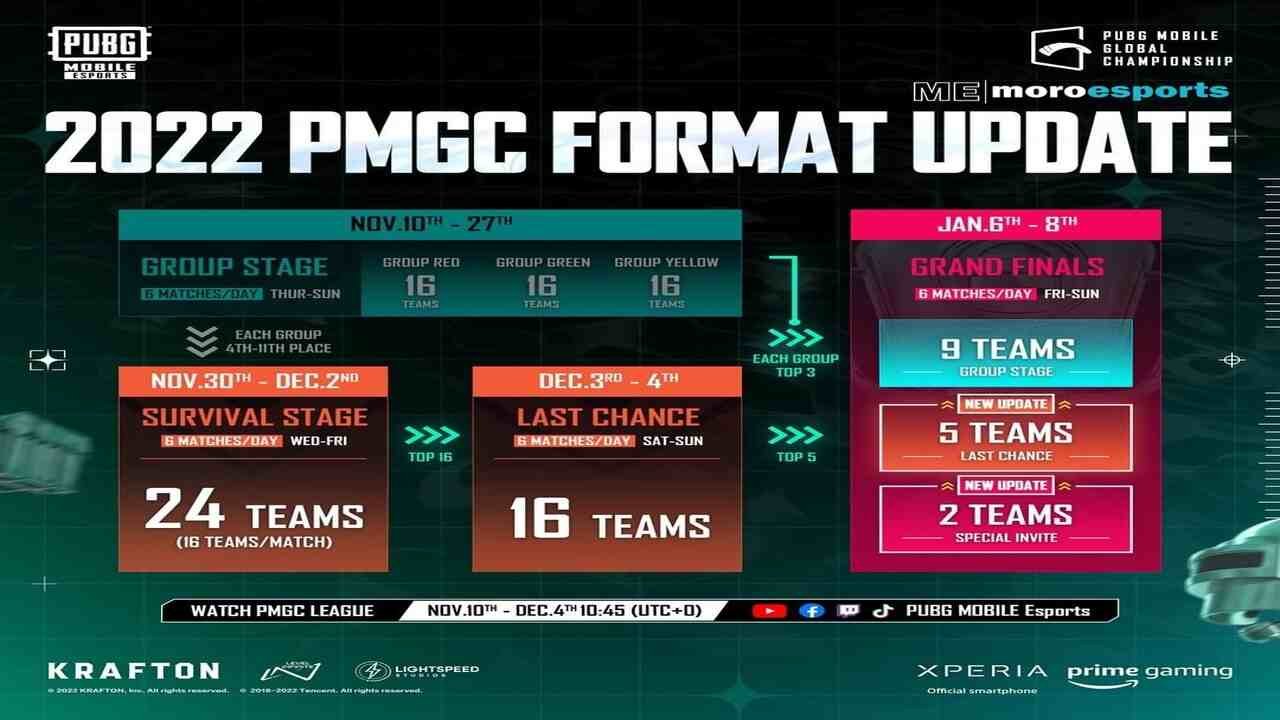 We'll be updating how teams qualify for the PMGC Grand Finals as we observe the outstanding play from teams during the 2022 PMGC League Group Stage.
The top four teams who participate in the PMGC Last Chance Stage will now be joined by a fifth team to make up the new top five teams that advance to the PMGC Grand Finals.
This implies that the final 16 teams in the PMGC Grand Finals will be made up of 9 teams from the PMGC Group Stage, 5 teams from the PMGC Last Chance Stage, and 2 worldwide invited teams.
PMGC 2022 First Round The (GROUP STAGE)
The group stage is contested with a total of 48 teams separated into three groups, RED-GREEN-YELLOW. Each group has 16 teams; the first group is RED, followed by GREEN, and the last group is YELLOW. Each team will play 24 matches in total during Group Stage, with the top three teams from each group qualifying directly to the PMGC 2022 Grand Finals. And teams ranked 4 to 11 in the overall group point table advance to the Survival Stage. Here are the team names for the three groups.
Group RED Team Names,
Buriram United Esports – Grand Finals
The Infinity
Bigetron Red Aliens
4RIVALS
BOX GAMING
Influence Chemin – Grand Finals
Team Queso
R8 ESPORTS
Nigma Galaxy
Titan Gaming
DRS Gaming
Agonxi8 Esports
S2G Esports – Grand Finals
MadBulls
emTek StormX
LGD GAMING
Group GREEN Team Names,
Bacon Time
VAMPIRE ESPORTS
EVOS REBORN
Yoodo Alliance
iNCO Gaming
Alpha 7 Esports
PITTSBURGH KNIGHTS
POWR ESPORTS
ONE MILLION
GODLIKE STALWART – Grand Finals
SKYLIGHTZ GAMING
Fire Flux Esports – Grand Finals
HVVP
DWG KIA
NV – Grand Finals
DONUTS USG
Group YELLOW Team Names,
TEM Entertainment
FaZe Clan
GENESIS DOGMA GIDS
GEEK FAM – Grand Finals
D'Xavier
Vivo Keyd
Furious Gaming
TEAM FALCONS
Geekay Esports
IHC ESPORTS
T2K Esports – Grand Finals
BESIKTAS ESPORTS
GAME-LORD
NS RedForce
Four Angry Men – Grand Finals
REJECT
PMGC 2022 Survival Stage
The first round is the survival round, in which 24 teams will compete from November 30th to December 2nd, over four days and six matches each day. Following that, the top 16 teams move to the final round.
Team names with overall point table,
View this post on Instagram
PMGC 2022 Last Chance Round
The second round is the last chance round, in which the top 16 teams in the survival stage will compete. The teams will compete for two days, December 3rd and 4th, with six matches each day, and the top 5 teams will qualify for the PMGC 2022 finals.
TEAM NAMES,
View this post on Instagram
PMGC 2022 GRAND FINALS
The 9 teams from the group stage advance to the GRAND FINAL, where two invited teams receive a special slot and five teams from the last chance round advance to the Grand Final. From November 10 through January 8 of the next year, the battle will begin.      ALSO READ: PMGC 2022 PRIZE POOL DISTRIBUTION