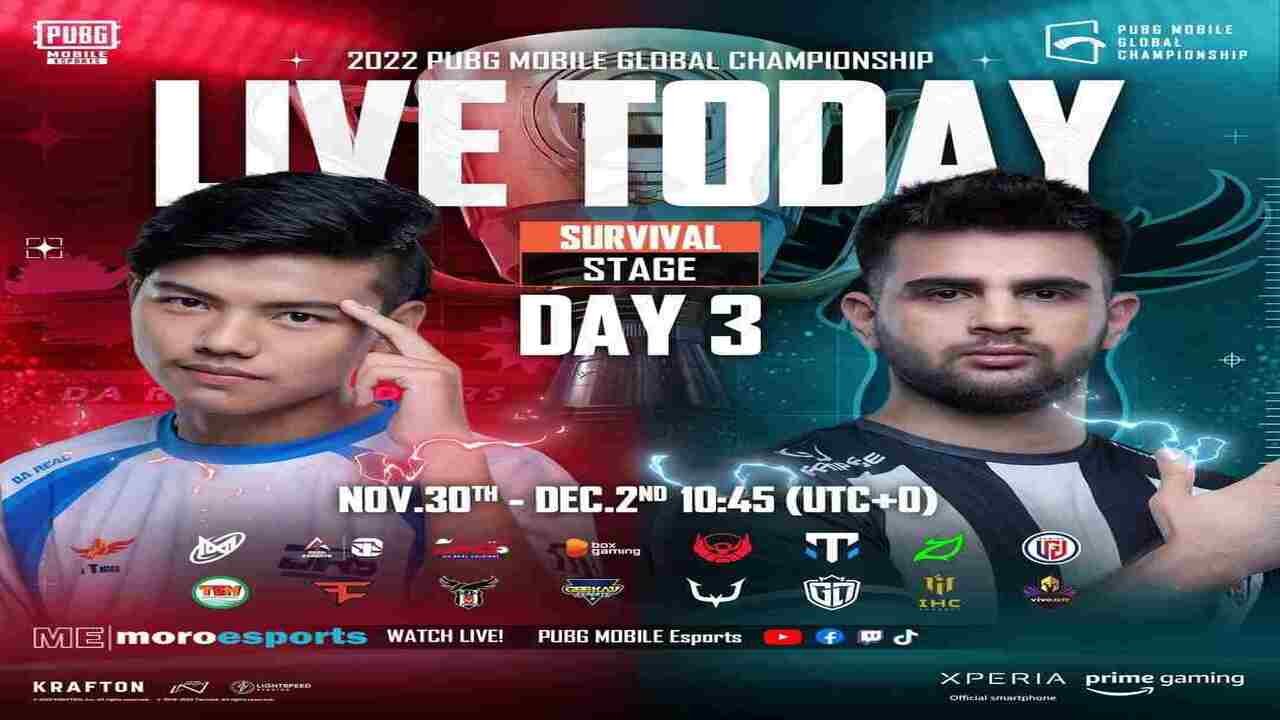 The survival stage progresses to the final stage, it's a three-day format event with two days completed today is the final day, group GREEN matches are completed, they set the points table qualification benchmark, and group YELLOW and RED have to play their final six matches, both group teams can change the table based on today's performance. Teams playing styles may change; those at the bottom of the table strive to get as many points as possible, while those in a favourable position try to stay consistent for matches.
Read
Group RED And YELLOW Team Names
Survival Stage Day3 Teams,
REJECT
Geekay Esports
TEM Entertainment
IHC Esports
FaZe Clan
Vivo Keyd
Game-Lord
Beşiktaş Esports
LGD Gaming
Agonxi8 Esports
DRS Gaming
Bigetron Red Aliens
4RIVALS
Titan Gaming
Nigma Galaxy
BOX GAMING
Survival Day 2 of the PUBG MOBILE Global Championship League in 2022 As a consequence of the League Group matchups, some teams have already clinched a position in the PMGC Finals. However, as the PMGC 2022 League Stage approaches its last week, clashes are rising. Here, 24 teams from the Survival Stage will have one more chance to showcase their abilities. To advance to the Last Chance round, where they can compete for one of the remaining five spots in the PMGC Finals, they must first finish among the top 16 teams.
Match 1 : Erangel
Match 2 : Miramar
Match 3 : Sanhok
Match 4 : Erangel
Match 5 : Miramar
Match 6 : Erangel
League Stage Prize pool: $2,500,000
Also Read: PMGC 2022 League Survival Stage Day 1
PMGC 2022 Survival Stage, RED VS YELLOW Group Drop Locations
Many teams may adjust their expected drop locations throughout the survival round, but many others will strive to hold onto their drop. It's a key position for teams who do not want to be eliminated at this level, which is the final competition for PUBG Mobile PMGC 2022. The present stage is highly different. Check the expected drop Locations,
View this post on Instagram
PMGC 2022 Survival Stage Day 3 Watch LIVE
On the scheduled map, the first match of the Survival stage day 3 will begin at 10:45 AM (UTC +0). On PUBG Mobile's official accounts on Facebook, Twitch, YouTube, and TikTok, all of the games will be streamed live.
Also Read:
PMGC 2022 Survival Stage Day 2 Overall Standings