Genshin Impact's version 2.5 preview livestream aired on 4th February, 2022. However, there was a surprise waiting right at the end for the fans. New regions and characters coming in Genshin Impact version 2.6 received teasers as well. A few hours before the livestream, Genshin Impact's Twitter account posted the much anticipated official art for Kamisato Ayato. He is a new 5 star character that will be added to the game in version 2.6.
This announcement was much earlier than expected. Ayato's art was unofficially leaked earlier that day. Hence, it was probably just an attempt at damage control. No other characters were announced with him. So, Ayato is most likely the only new character in Version 2.6.
According to the official previews, 'The Chasm', a new region associated with Liyue, will also be released in Version 2.6. This region's concept is similar to Monstadt's 'Dragonspine' and more recently, Inazuma's 'Enkanomiya'. 
Kamisato Ayato: Introduction
Kamisato Ayato is the head of the Kamisato Clan in Genshin Impact. They oversee the Yashiro Commission – responsible for managing festivals and cultural events in Inazuma. Chris Hackney (EN), Zhao Lu (CN) and Akira Ishida (JP) are the voice actors for Ayato in Genshin Impact. They are all extremely prominent voice actors. Some of their best known roles roles are in Code Vein, Tears of Themis and Demon Slayer, respectively. 
Kamisato Ayato ‧ Pillar of Fortitude
Head of the Kamisato Clan

As the head of the Yashiro Commission, Kamisato Ayato is committed to maintaining the prosperity and stability of the region.#GenshinImpact pic.twitter.com/wLAjVgfhdJ

— Genshin Impact (@GenshinImpact) February 4, 2022
Ayato's playable character in game will feature the following attributes: 
Element: Hydro 
Weapon Type: Sword 
Constellation: Cypressus Custos 
Expected Release Date:
Genshin leaks suggest that Ayato will be the first banner in Version 2.6. 
A little 🐦 told me Ayato will be the first of 2.6

— Lumie (@lumie_lumie) January 23, 2022
Each new update in Genshin Impact is typically live for around 42 days and Version 2.5 will come out on 16th February. If you do the math, Ayato's banner should be released approximately around 30th March, 2022. In case you're debating on whether to pull for characters in Version 2.5 or save for Ayato, hopefully this date helps you make that decision. 
Most leaks also speculate that Ayato will not have a dual banner. Phase 2 of Version 2.6 will probably have another double rerun. Although we aren't sure which characters will get reruns yet, the most considered options are either Kazuha, Yoimiya or Ayaka. 
Kamisato Ayato Talent Leaks: 
Ayato is expected to be a hydro DPS. There have been several leaks regarding his talents. Most of them share common features. A reliable source recently leaked a graphic to illustrate Ayato's abilities. They also provided accurate descriptions of Yae's talents a few weeks ago.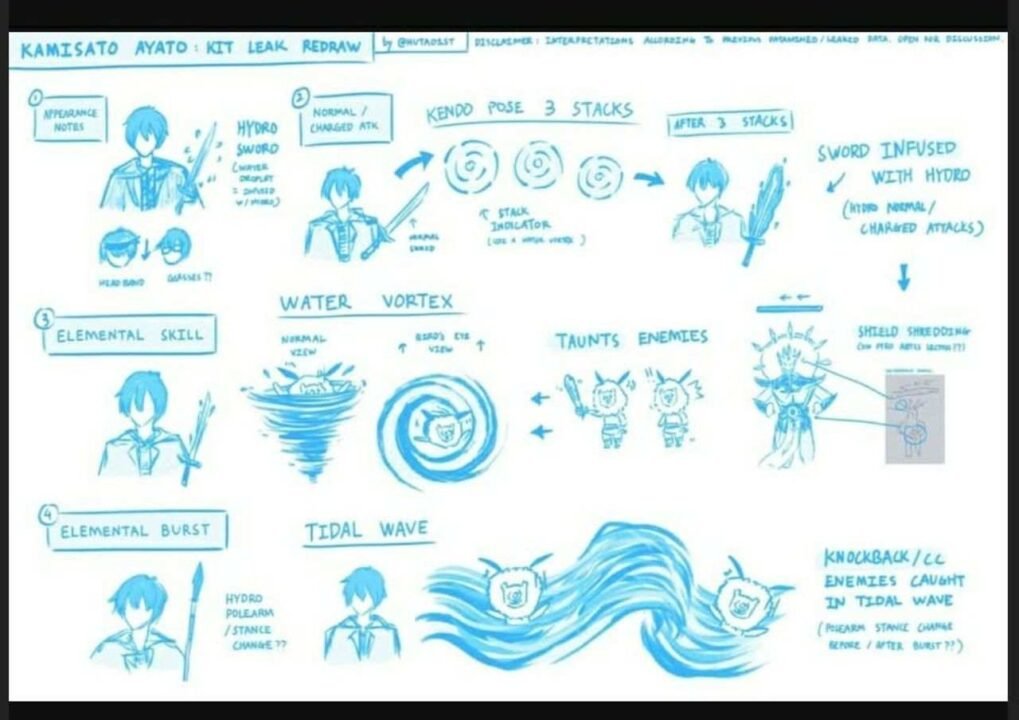 Normal/Charged Attacks: Ayato's charged attacks consume 'Kendo Pose' stacks. This turns them into 'Ichimonji Slashes', which scale off the number of stacks consumed. The damage dealt by 'Ichimonji Slashes' is hydro damage. This skill has very high damage scaling when combined with the 'Vapourize' reaction. 
Elemental Skill (E): Ayato dashes sideways, casting forward an 'empty shell' of himself, or a vortex. This vortex taunts enemies. It also builds 2 stacks of the 'Kendo Pose' when used.
Elemental Burst (Q): Ayato thrusts forward, firing a torrent of water that does hydro damage. It also reduces hydro resistance and resets the cooldown of his Elemental Skill (E).
Passive 1 (A1): Having 1/2/3 stacks of 'Kendo Pose' gives Ayato DMG Reduction/Interruption Resistance/Crit DMG respectively. Each buff lingers after the poster is consumed for a short time.
Passive 2 (A4) : Evening Encore – When Ayato's Elemental Skill expires, all party members will have their Elemental Skill cooldowns reduced.
Utility Passive: When Ayato crafts weapon materials, he has a 10% chance to receive a bonus product from a different region.
Please note that none of the talent descriptions are official. And as always, remember that leaks are subject to change at any time. 
Let us know if you're planning to pull for Ayato!
ALSO READ: Genshin Impact Version 2.5 : Character and Weapon Banner Leaks