BGMI Masters Series Grand Finals Details: Do you know the most watched esports event in the history of Indian e-sports? Yes, it's Battleground Mobile India Masters Series. BGMI Master Series is running for a month and today is its finale. In this blog post, you will read about the prize pool, its distribution, and the likely winners of the series. So, if you want to get the idea of who has more chances to lift the trophy then keep reading this blog post till the end.
Krafton is making history in India and also helping Indian e-sports players to rise. Because today, they also announce their next BGMI tournament in India – it's BGMI Showdown. (Ultram) Furthermore, there are rumors that the winner of the BGMI Showdown will get an invitation to PMWI.
RELATED | BGMI x BLACKPINK Collaboration: First-Ever BGMI Virtual Concert!
Battleground Mobile India or BGMI Masters Series Grand Finals Details:
If you don't then the event is still running at the time of writing and posting this article. You can go and watch the tournament finals on Start Sports 2, Loco, and Glance Live. The event is going to end on 11:30 PM in IST so you still have time. Likely Winners? In our opinion, the winner of this tournament is going to be one of these three teams – GodLike, TeamSoul, or Team Orangutan.
The total prize pool of the event is ₹1.5 crore rupees and it's one of the biggest prize pools of the year in India. Well, recently the BGMI tournament officials tell the correct distribution of the prize pool. Moreover, that 75 lakh is already distributed and the rest of the money is for today's finalist. Below you will get the list of prize money for each position: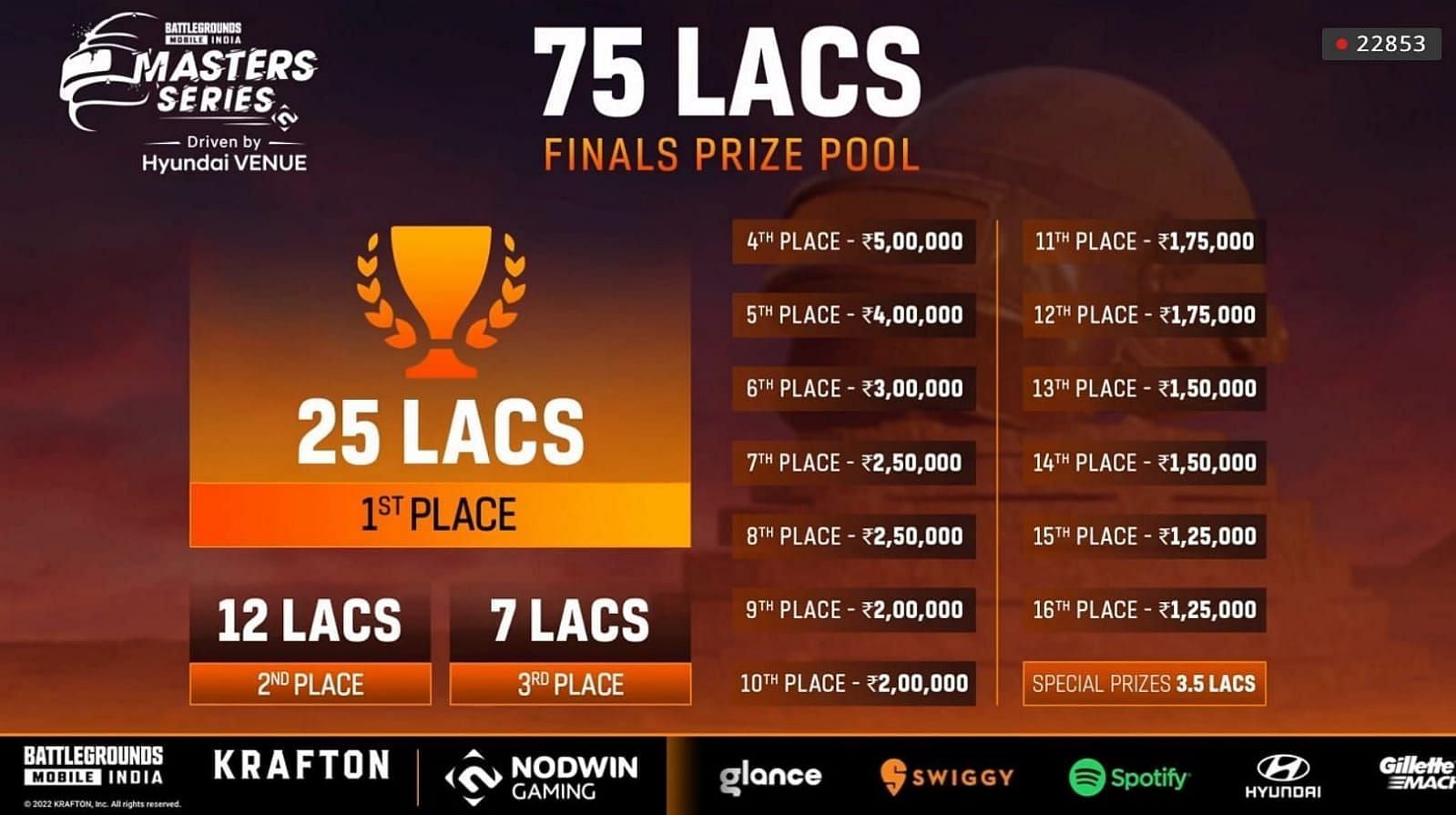 1st place – 25 lakhs
2nd place – 12 lakhs
3rd place – 7 lakhs
4th place – 5 lakhs
5th place – 4 lakhs
6th place – 3 lakhs
7th place – 2.5 lakhs
8th place – 2.5 lakhs
9th place – 2 lakhs
10th place – 2 lakhs
11th place – 1.75 lakhs
12th place – 1.75 lakhs
13th place – 1.50 lakhs
14th place – 1.50 lakhs
15th place – 1.25 lakhs
16th place – 1.25 lakhs
Well, BGMI Masters Series Grand Final tournament gives special rewards for special players. Below you will get the list of special positions and rewards for those achievements:
Eliminator – 25,000
Cruiser – 25,000
Damager – 25,000
Dost Award – 25,000
Saviour – 25,000
Survivor – 25,000
Tapa Tap – 25,000
Motor Head – 25,000
Doctor – 25,000
MVP – 50,000
Hunger Cure – 75,000
RELATED | BGMI Cycle3 Season7 (BGMI C3S7) RP: Release Date, Price, and More!