BGIS Quarterfinals Day 3 Group 1 Results: The third day of Battlegrounds Mobile India Series was full of shockers as many invited teams were eliminated. Teams like Orange Rock, TSM, Skylightz, Team XSpark, and other big names from Group 1 played their six games on Day 3 of BGIS.
Out of six qualifying teams, five of them were invited to Round 3. It was an interesting fight as few teams managed to qualify for the BGIS semifinals on the very last match.
ALSO READ: BGIS Quarter finals Day 1 Results: Team Forever, Global Esports Out, Overall Standing Here
BGIS Quarterfinals Day 2: Teams Qualified And Results
A total of 16 teams battled on three different maps to conquer the top six positions. Moreover, the top 6 teams qualified for the next round, i.e. semifinals of the Battlegrounds India series.
So, let's have a look at the teams which participated on Day 3 from Group 3 of the BGIS quarterfinals.
Celsius Esports
One-sided Glory
Skylightz Gaming
TSM
Team X Spark
Orange Rock
Orangutan
Rivalry Esports
Version 1 Esports
SIN official
Deadeye Esports
Team KBP Jodd
Obeyy Esports
Fault Esp
DestructaX
Orgless 5
Here is the list of Top 6 teams from the overall standings with points:
Skylightz Gaming: 95 points
Orange Rock: 87 points
Orgless 5: 73 points
TSM: 71 points
Team Xspark: 63 points
Celsius Esports: 47 points
Invited teams like Rivalry esports and Orangutan failed to qualify for the next round.
DIVE DEEPER: BGIS Round 3 Day 4: GodL Qualifies For Next Round, List Of Qualified Teams Here
BGIS Quarterfinals Day 2, Group-2: Match Results And Reports
Match-1: Skylightz with a banging start
Skylightz gaming kicked off the day on a high note as they collected 22 kills and sealed the chicken dinner for themselves. Moreover, teams like TSM and Orange Rock also grabbed some good kill numbers but failed to come on top.
Fan-favorite team X Spark was eliminated earlier with 2 finishes.
Map: Erangle
Winner: Skylightz Gaming-37 points (Winner Winner Chicken Dinner)
2nd: Orange Rock- 20 points
Match-2: Chicken Dinner For Orgless 5
Orgless Five had the chicken dinner on the map of Miramar with 13 kills. Moreover, TSM again finished second on overall standings and maintained the consistency which was needed.
Team XSpark came back fought hard but finished second behind the Orgless Five. However, despite finishing second on the map, they were on the third spot on the overall standings as TSM had some good kills.
Map: Miramar
Winner: Orgless 5-28 points (Winner Winner Chicken Dinner)
2nd: TSM- 18 points
Match-3: 2nd Win For Skylightz Gaming; Makes It Two In Two On Erangle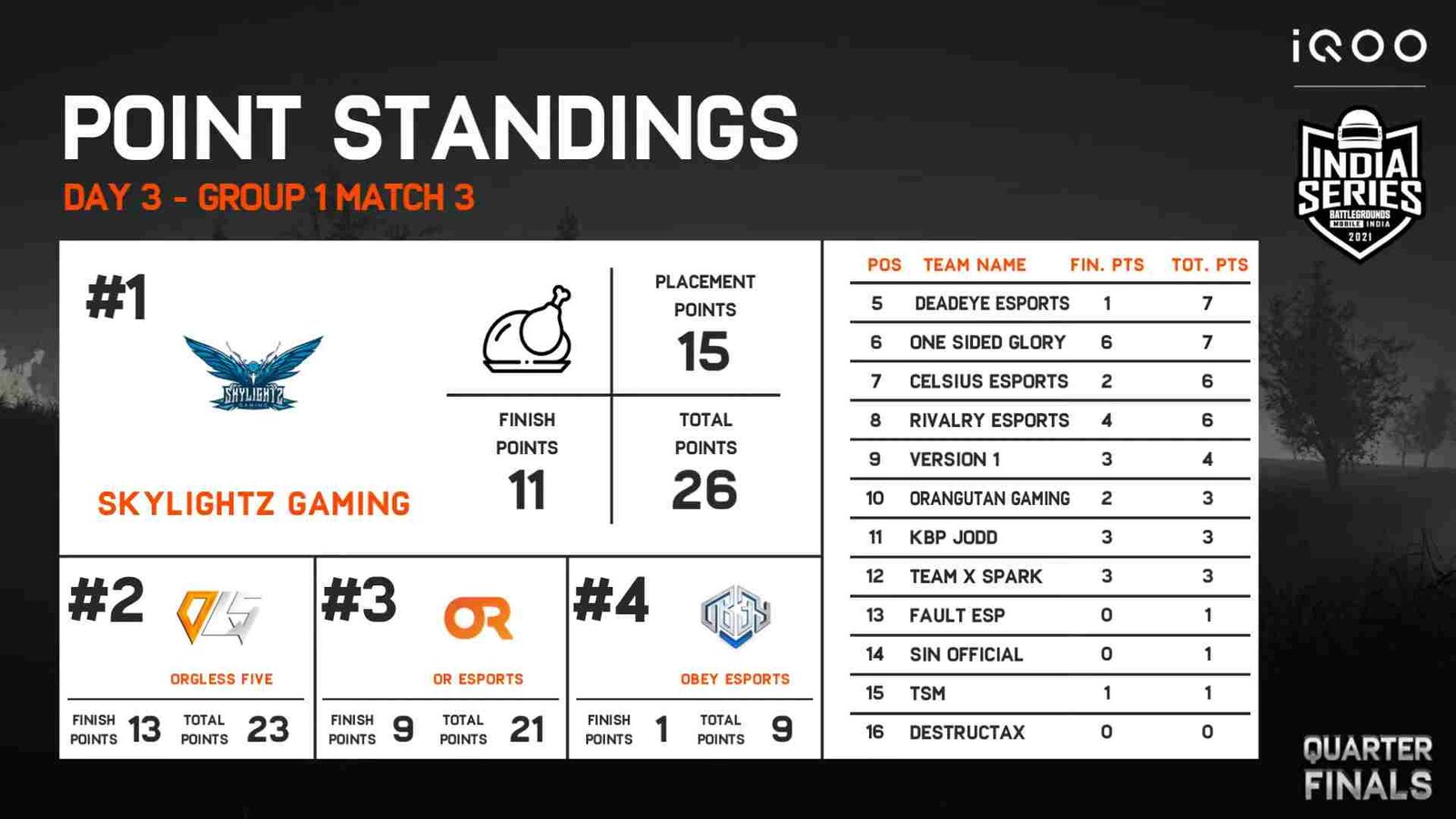 Skylightz gaming grabbed their second chicken dinner on the third game which almost confirmed their qualification in the next round. Moreover, it was team Orange Rock and Orgless Five once again in the top three maintaining the consistency.
Big names like Team Xspark and TSM were eliminated earlier in the match.
Map: Erangle
Winner: Skylightz Gaming-26 points (Winner Winner Chicken Dinner)
2nd: Orgless Five- 23 points
Match-4: Celsius Esports With A Undisputed Win
Finally, an underdog team won a match from Group 1 as Celsius esports clinched the victory on Sanhok. Moreover, they won the match undisputed as most of the teams decided to go on a heal battle at the end.
Skylightz gaming and Orange Rock once again managed to grab good numbers. On the other hand, it was once again a disappointment for TSM and Team Xspark.
Map: Sanhok
Winner: Celsius Esports-24 points (Winner Winner Chicken Dinner)
2nd: Skylightz Gaming- 18 points
Match-5: Orange Rock Finally Claims A Win
After performing consistently, Orange Rock finally got their Chicken Dinner on the 5th map which was played on Miramar. Furthermore, the team almost ensured their qualification after the win along with Skylightz Gaming.
Team Xsprak once again finished second on the map of Miramar. However, team Celsius, who won the last game, grabbed 10 kills but were eliminated earlier in the game.
Map: Miramar
Winner: Orange Rock-29 points (Winner Winner Chicken Dinner)
2nd: Team Xspark- 17 points
Match-6: TSM pins the final nail
TSM claimed their much-expected chicken dinner on the final match. However, all the eyes were on Team Xspark as they were not very much assured about their qualification. But, the second finish almost guaranteed the slot for the next round for team Xspark.
Map: Erangle
Winner: TSM-26 points (Winner Winner Chicken Dinner)
2nd: Team Xspark- 21 points
ALSO READ: BGIS 2021 Groups: Total Groups, Group Name And More Details