Apex Legends Dark Depths Event: The game features simple yet daunting and strategic maneuvers which are compelling to watch and enjoy at the same time. The game starts with each team featured on the map with three players in it. Teams face each other to win and gain the title of the champion squad. Apex Legends is bringing new events for players so they can enjoy and have more fun in other different aspects.
This will bring a change of pace and at the same time will raise the adrenaline as they will encounter new terrain-based action. New Event Dark Depths is confirmed now. Channel the might of the seas within the New Dark Depth Event in Apex Legends! Take on the competition during a new Arenas map while diving into a sea of rewards, and more starting Jan 11.
New Arenas Map: Habitat
Apex is bringing a new page in the life of Esports players by adding a new map for the section of the arenas in the Dark Depth Event. This nautical map is a part of Strom Point. We will discuss the new nautical map "The Habitat 4" in this paragraph. 
The former island of Storm Point got its name when researchers found a lot of Leviathans in the area. This suggests that the island has special ecological characteristics, with this being said one of the prominent features of the map is its large waterfall, and with time the land has eroded and formed various peaks and slopes which enables players to slide and quickly getaways.
Teams will have various options in terms of attacking the other team and can choose various approaches to go with. Plan your escape now and visit Habitat.
Apex Legends "Dark Depth Event": Packs
Apex is bringing a new edition of skin sets for the upcoming event, and also has a new flash event starting from Jan 11.
January 11th to January 18th 
Key prizes include: Apex Packs, Epic Holospray, Load Screen
January 18th to January 25th
Key prizes include: Apex Pack, Valkyrie Epic Holospray, 1 Dark Depths Pack
January 25th to February 1st 
Key prizes include: Epic Revenant Holospray, Epic Alternator Skin, Epic Revenant Skin
These are just some of the rewards you'll be able to earn!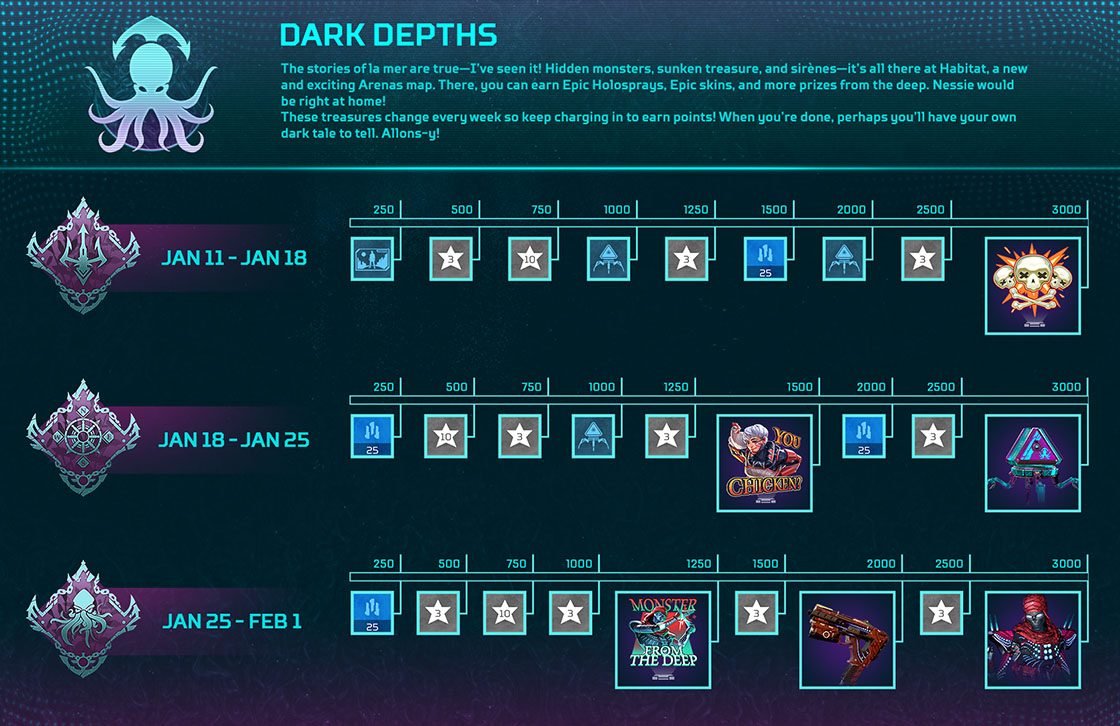 New to this event are special limited-time Dark Depths Packs, which can be purchased for 400 Apex coins, and the player is guaranteed non-dupe premium items from the event.
Dark Depths Packs are available for a limited time during the event, but the items will always be available in the standard Apex Pack pool of items
Moreover, the Packs guarantee you one non-duplicate Dark Depth Thematic Event item
The new thematic event will introduce 40 new items around the Dark Depths theme.
Participate in the Dark Depths Event to complete all the new challenges and win new items and awards.
Also Read-Free Fire Diamond Hack Link in 2022: How To Get Free Diamonds Without Ban?