After overcoming all the obstacles Team Snax won the GG1 Weekend Wars title against Team Mili in the finals on December 13, 2020, in Delhi. In early rounds, their performance was not up to the mark and was lacking behind the other teams. But in the finals, they made a superb comeback to register the victory for their team. Team Snax's performance in the finals was outstanding and certifiable.
In the early rounds, they faced defeat from team Ascent and were about to lose the game when team Snax was fighting against team Mili. But team Snax did not lose hope and fought back to prove its worth.
Fornite Champion Series and Competitive: All You Need to Know – Read Here
In the early rounds team Snax's score was 6-1, but then team Snax pulled itself to score 6-6 within halftime by winning the rest of five rounds. Their energy did not just vanish here instead they kept on stepping high and high and won back-to-back seven matches and won the finals with glorifying colors.
GG1 Valorant Weekend War: Winners and Prize Pool Distribution
The Good Game1 Weekend Wars is an event for every esports gamer of India. The GG1 Weekend Wars has kept a whopping prize of Rs. 11, 50, 000 for the winner of the event. On December 11, 12, 13 top teams presenting popular players have crossed their swords in Valorant, Call of Duty: Mobile, and Fortnite. On December 18, 19, 20 the battlegrounds will change as team battle in CS: GO, Rainbow Six, Siege, and Free Fire.
Free Fire: List of Jigsaw Code in Guess the Ambassador Event – Read Here
PUBG Mobile: How to Play PUBG Mobile Without VPN? – Check Here
Halo Masks has powered the GG1 Weekend Wars with WD_BLACK being its storage partner. MX Player is the online Streaming partner so, people can watch the live streaming of the games on the MX Player. The loyalty partner and the immersive tech partner are Reward Port and Question What's Real respectively.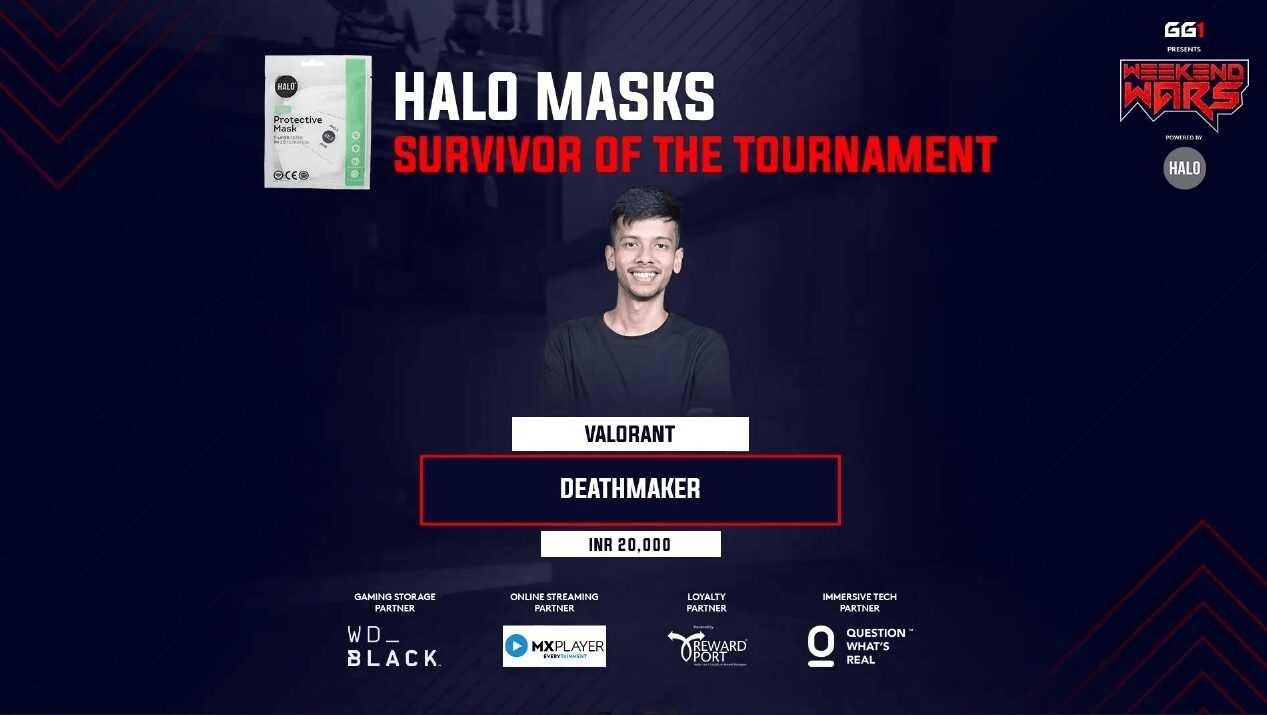 Team Snax equipped with Meow16K, XTZ, Rexy, Kaamlijeet, tryst, and Snax will get Rs. 1,60,000 as a winner. Runners up Team Mili, which had ayaNq, DEATHMAKER, Aurum, Mili, and iMazik will receive Rs. 80, 000.
About GoodGame 1:
GoodGame 1 is a media and entertainment company with the goal of being the single destination for esports in India. The company is an end-to-end producer and operator of esports leagues and is building an esports community across three different categories- amateur, semi-pro, and professional.