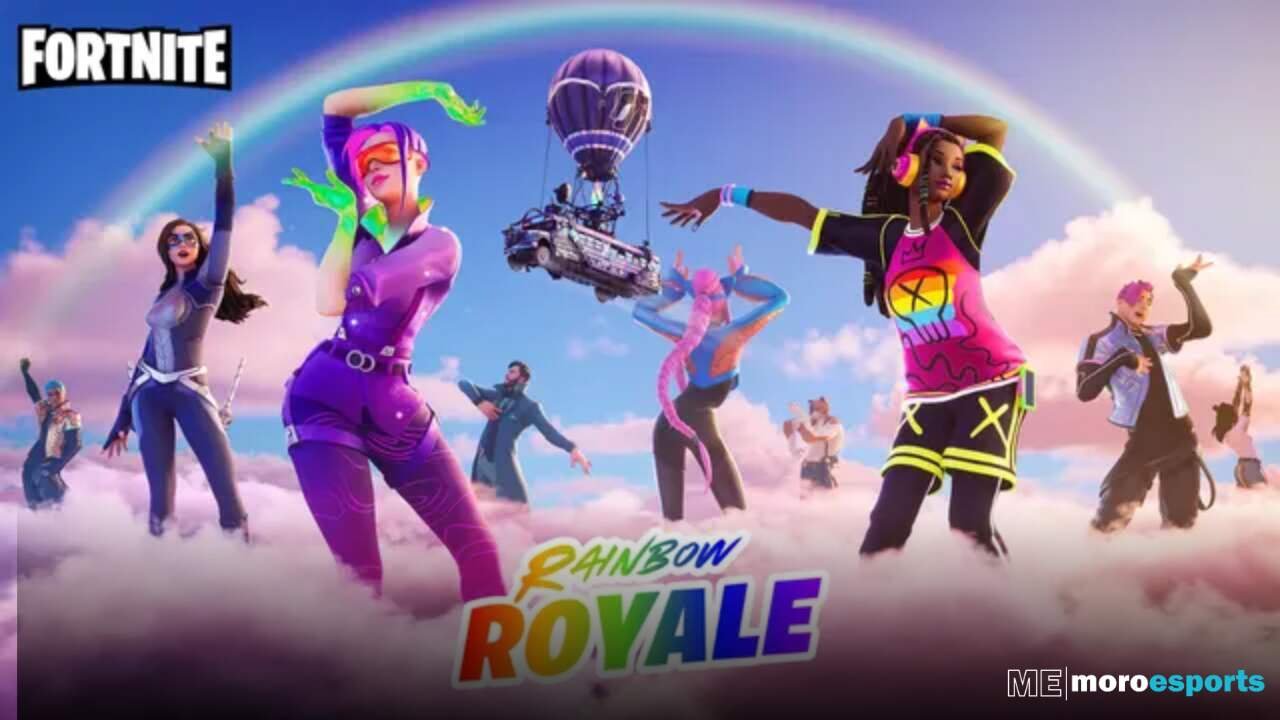 Fortnite players rejoice as the vibrant Rainbow Royale event makes its triumphant return. Spreading its colourful wings across the island once again. This annual celebration of Pride brings not just a radiant rainbow but a plethora of free cosmetic items for players to adorn. Let's delve into the details of this spirited event and how you can get your hands on these exclusive in-game treasures.
Shea Couleé's single "YOUR NAME" has been added to Fortnite's 'Icon Radio' for the 2023 Rainbow Royale event. pic.twitter.com/0Ap9gBs5N8

— Pop Crave (@PopCrave) August 19, 2023
Embracing Inclusion Beyond Gaming
The Rainbow Royale event isn't just confined to the gaming realm. It transcends boundaries to reach a global audience. By seamlessly integrating the themes of inclusion and pride into its gameplay. Fortnite offers players a unique opportunity to engage with and understand the LGBTQ+ movement.
Initially introduced in 2021 to commemorate Pride Month. The Rainbow Royale event is back for its third iteration in 2023. This event brings not only a radiant complete rainbow that graces the island but also a plethora of free cosmetic items for players to claim. Adding an extra layer of excitement.
How to Get the Rainbow Royale 2023 Cosmetics for Free
Running from August 18 to August 24, 2023. The Fortnite Rainbow Royale 2023 event coincides with the impending arrival of Season 4. As this LGBTQ+ celebration within the game is set to span just one week. Players are encouraged to seize the opportunity to claim these coveted cosmetic items before the event draws to a close.
The event offers a collection of cosmetics available for purchase in the in-game Item Shop. However, the beauty of the Rainbow Royale event lies in the fact that you need not dip into your real-world pockets or spend precious V-Bucks. Obtaining these items for free is as simple as clicking the Purchase button. Making it accessible to all players.
Cosmetics Lineup
The Rainbow Royale 2023 event presents an array of coveted cosmetic items that players can proudly flaunt. This year's collection includes:
Big Fan Emote
Take a 'Bow Emote
Wild Rainbow Wrap
Say it Proud Music Pack
The Dip Emote
Mazy and The Echoes Loading Screen
Every Heart Emoticon
Rainbow Royale 2021 Loading Screen
Prismatic Keepsakes
Vibrant Heart Spray
Vibrant Llama Spray
Vibrant Boogie Spray
Vibrant Star Spray
While these cosmetics are exclusively available during the annual event, Fortnite continues to champion diversity with original Rainbow-themed skins that players can purchase to complement the cosmetic offerings. The game takes a progressive stance by featuring gender-fluid characters and promoting inclusivity, while also fostering a sense of community growth.
In a world where gaming experiences transcend entertainment, Fortnite's Rainbow Royale event stands as a testament to the power of virtual realms to celebrate and propagate meaningful societal messages.
Also Read: VALORANT Breeze Map Undergoes Major Rework