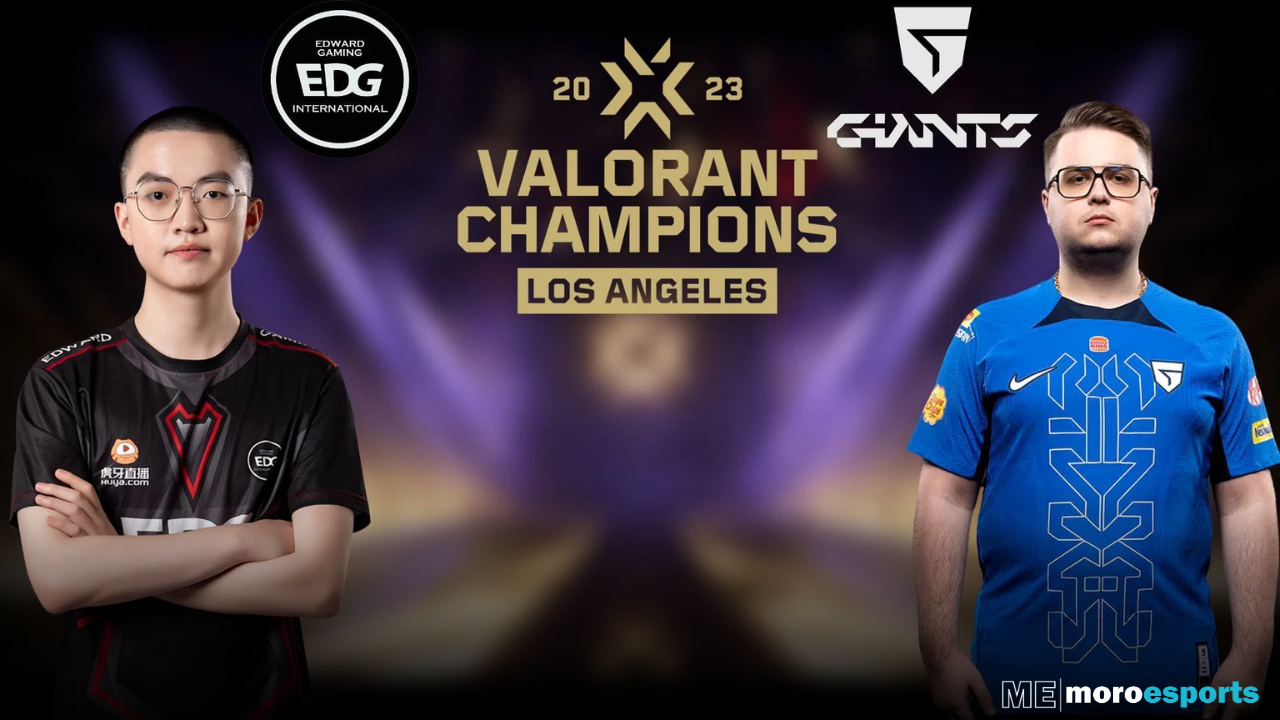 Valorant Champions 2023 is in full swing in Los Angeles, where top teams from various regions are battling for supremacy. With a substantial prize of $2,250,000 and a coveted trophy on the line, the competition is fierce. As we enter day 4 of the tournament, one of the upcoming clashes to watch out for is between EDward Gaming and Giants.
See you on Day 4. Same time, same place 👋 #VALORANTChampions pic.twitter.com/tZ9HBsKnRK

— VALORANT Champions Tour (@ValorantEsports) August 9, 2023
Predictions
Both EDward Gaming and Giants are leading teams in their respective regions, promising an intense match. After securing victories in their regional qualifiers, their hunger for glory is evident and adds to the excitement of this encounter.
Hailing from China, EDward Gaming has been on an impressive winning streak, notably conquering the VCT China Qualifiers by defeating Bilibili Gaming. Their dominance in the Chinese Valorant scene and strong performance in the tournament establish them as formidable contenders for Valorant Champions 2023. Their proficiency in team communication and mechanical skills positions them well to gain an advantage in the match.
Giants had a challenging start to the season but managed to secure a 5-6th place finish in the VCT EMEA League. Their redemption came through a victory in the EMEA LCQ 2023, earning them a spot in Champions 2023. This journey showcases their resilience and determination to shine on the international stage.
The favour leans towards EDward Gaming in this matchup. Their strategic depth, teamwork, and map selection give them an edge over Giants. However, Giants shouldn't be underestimated. To prevent an upset from this EMEA powerhouse, EDG must be well-prepared. With no prior encounters between EDward Gaming and Giants, there's no historical data to analyze.
EDward Gaming's recent victory in the VCT China Qualifier 2023 includes a 3-1 win in the Grand Finals against Bilibili Gaming. Giants also secured a convincing 3-0 victory against NAVI in the EMEA Last Chance Qualifiers 2023.
Lineups
The expected rosters for the match are:
EDward Gaming:
Guo "Haodong" Haodong (IGL)
Zheng "ZmjjKK" Yongkang
Wan "CHICHOO" Shunji
Zhang "Smoggy" Zhao
Wang "nobody" Senxu
Tang "Muggle" Shijun (Substitute)
Lo Wen-Hsin (Head Coach)
Giants:
Adolfo "Fit1nho" Gallego
Kirill "Cloud" Nehozhin
Žygimantas "nukkye" Chmieliauskas
Aaro "hoody" Peltokangas
Emir "rhyme" Muminovic (IGL)
Daniil "pipsoN" Mesheryakov (Head Coach)
Streaming
The match between EDward Gaming and Giants will be broadcasted live on Valorant's official Twitch and YouTube channels. The game is scheduled for August 10, 2023, at 3 pm PDT/ 12 am CEST (next day) / 3:30 am IST (next day), providing fans with an electrifying showdown between these two powerhouse teams.
So, it will be exciting to watch which team will come out on top. Will there be a twist in the tail or will the stronger team on paper choke? Stay Tuned!
Also Read: New Daydream Bundle in Valorant: Leaks Reveal Price and Content