PMGC Finals Day 1 Results and Overall standings: PUBG Mobile Global Championship final started today and it all started in style. All the 16 teams pushed themselves hard to taste that chicken dinner.
The first day was full of entertainment as fans witnessed some great clutches on the battlefield. However, it was not a great day for Indian fans as Godlike finished on the bottom of the table. So, let's have a look on the table.
READ MORE: BREAKING: Godlike Gets The PMGC Invitational Slot
PMGC Finals Day 1: Overall Standings And Results
Team from West, Next Rüya topped the day 1 of PMGC finals as they grabbed 76 points. Furthermore, Nova Esports managed to come back in the very last match to place themselves in the second position.
Despite claiming a win, Furious gaming finished the day in 10th position as the rest of the matches were not great for them. The team from India, Godlike finished 16th despite collecting 19 kills.
So, these were the overall standings of PMGC from Day 1. Let's have a look at the matches.
DIVE DEEPER: Know Much Money BGIS Winners Received: Prize Pool Distribution Here
PMGC Finals Day 1: Match Report
Match-1: Stalwart Starts With A Win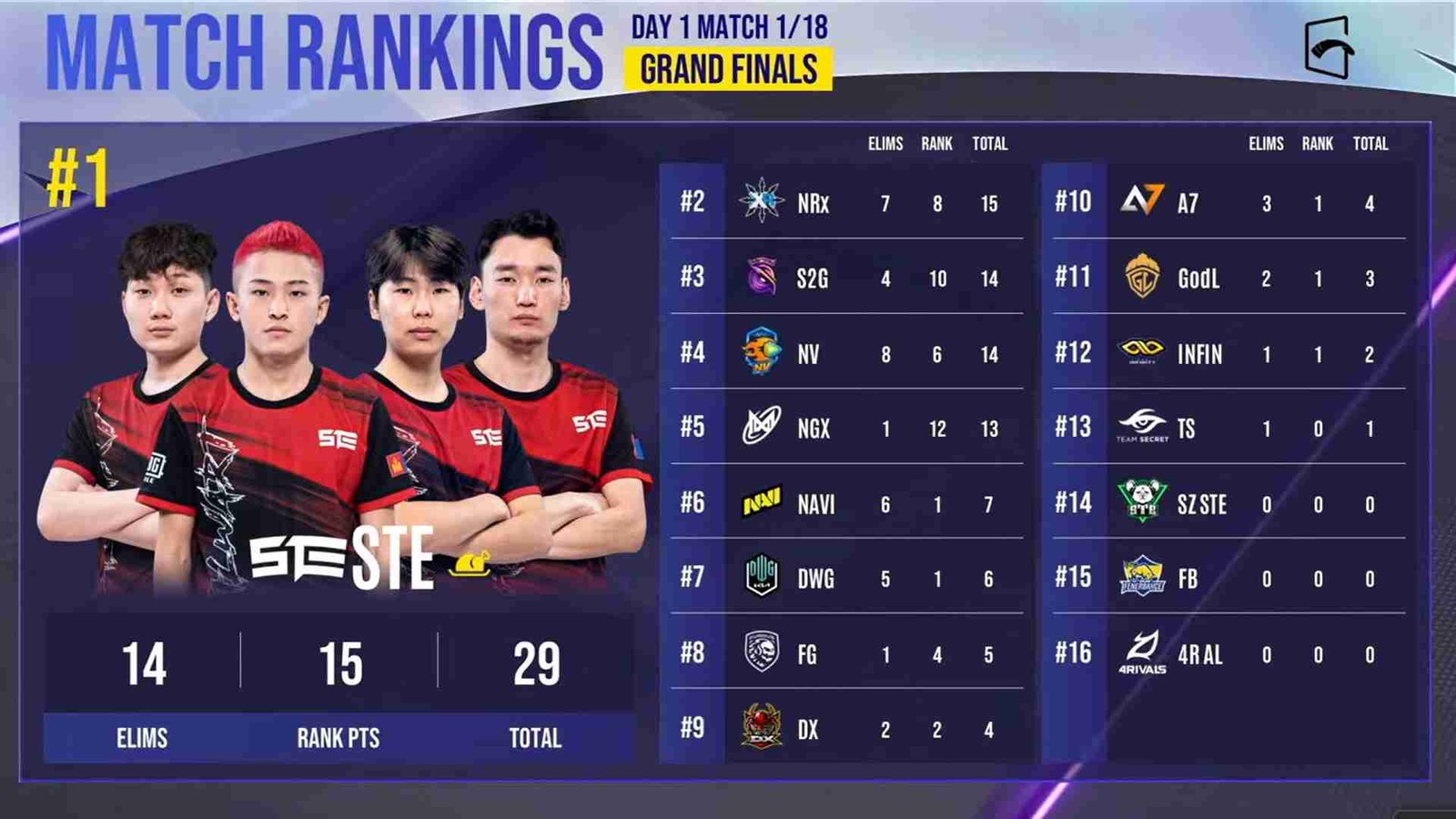 Big names like Team Secret and Godlike disappointed in the first match and all the credit goes to playzone which made a shift to the other island.
However, Nova esports and Stalwart esports did well to claim some good points.
Map: Erangle
Winner: Stalwart Esports
Match-2: Alpha 7 Miramar Champions
Despite having a decent start in the first map, Alpha 7 came back stronger as they clinched their first chicken dinner of the tournament. Indian team Godlike once again failed to grab big points.
Map: Miramar
Winner: Alpha 7
Match-3: Nigma Galaxy Claims A Chicken
Nigma Galaxy finally won the third game which was played on Sanhok after finishing second twice in previous two matches. Furthermore, the team maintained consistency and cemented their top position.
Despite losing 2 men early in the game, Godlike managed to bag some points.
Map: Sanhok
Winner: Nigma Galaxy
Match-4: Next Rüya Steals The Chicken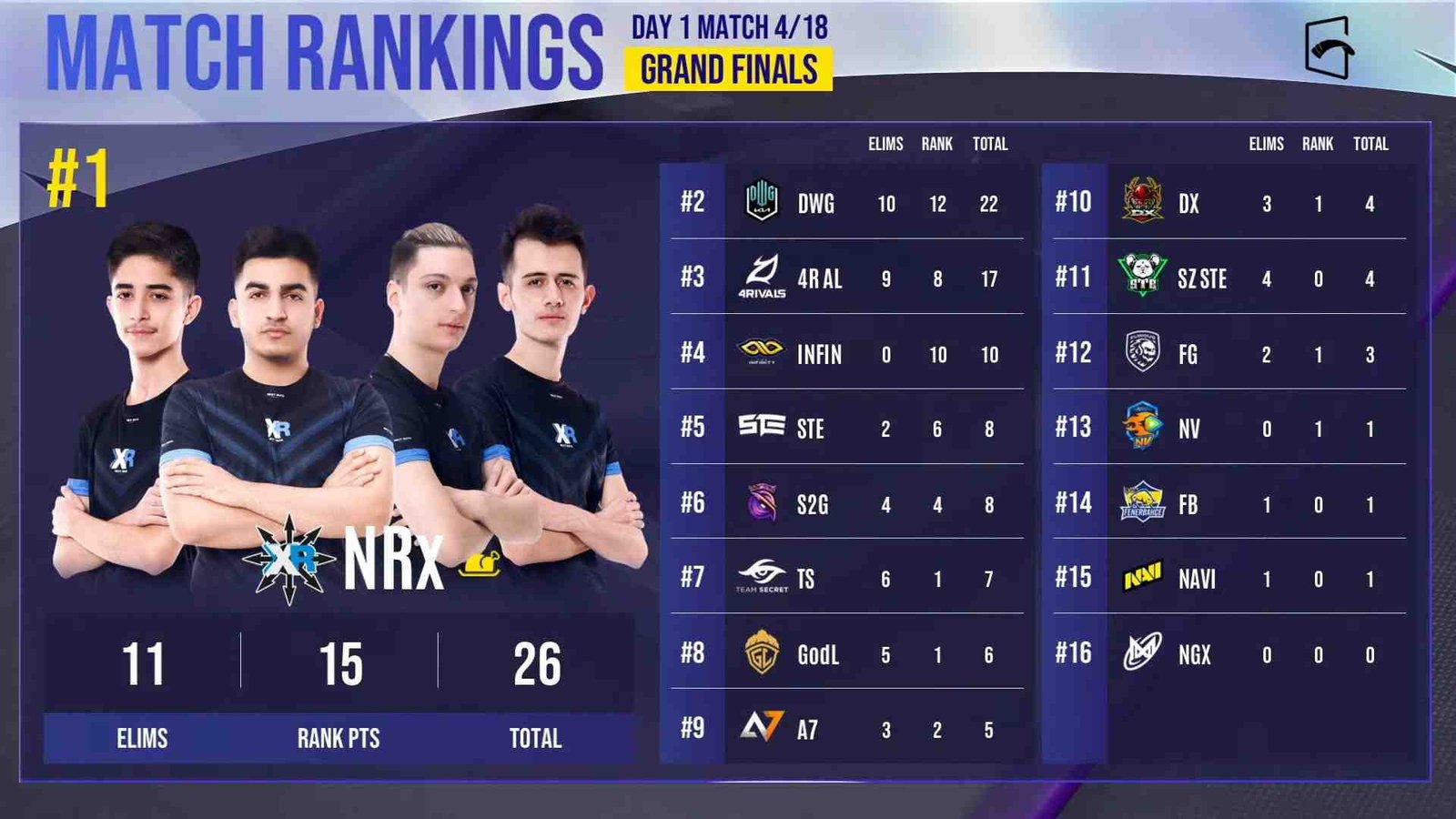 West Champions Next Ruya stole the chicken dinner from the mouth of East Champions Damwon Gaming as FrozeNNX clutched a 1 vs 3 at the end. Nova Esports once again failed to put up a solid performance and were eliminated early.
Indian team Godlike managed to collect 5 kills despite early elimination.
Map: Erangle
Winner: Kaos Next Rüya
Match-5: Navi With A Win
Another team from West claimed a victory on the first Day of PMGC Finals. Moreover, Navi finally bagged some big numbers for themselves after a slow start.
Godlike once again were eliminated early and only managed to get 2 points from the match.
Map: Miramar
Winner: Natus Vincere
Match-6: Furious Gaming Stops Nova To Get Their First Victory
Furious Gaming won the last match and they stopped the unstoppable Nova Esports in the match who were looking strong.
Godlike started things well but were eliminated early once again.
Map: Sanhok
Winner: Furious Gaming
ALSO READ: List Of Teams Playing In PMGC: Schedule, Prize Pool And Indian Team