BGIS Semi Finals Day 4: Finally, we have the top 16 teams who will be competing in the Battlegrounds India series finals. The final day of the semifinals was played on 10th January and now we're heading to the finals.
One of the fan-favorite team Soul failed to catch their momentum and were eliminated from the tournament. However, teams like Xspark and Godlike, gave strong statements and confirmed their qualification for the next round.
DIVE DEEPER: BGIS Semi Finals Day 3: Results And Overall Standings Here
BGIS Semi Finals Day 3: Overall Standing After Day 4
Team XO replaced Skylightz Gaming to grab the top spot. However, Enigma gaming made their way into the top 8 list.
Reckoning Esports, Revenant and 7 Sea were some of the names, which made their way into the top 16 after performing well on the final day.
However, teams like Rip Mio Gaming and X lions failed to maintain their top 16 position on the final day and were eliminated.
ALSO READ: BGIS Semifinals Team List, Format And Schedule: All You Need To Know
BGIS Semi Finals Day 3: Results And Match Reports
Match-1: Tactical Esports With A Tactical Win
Team Tactical esports and Revenant esports started things in a great way as a performance like this was much needed. Moreover, teams who were on the first page showed real aggression and eliminated some teams early.
Despite collecting 3 chickens, team Tactical were not sure about their qualification.
Group B vs Group C – Erangel
Winner: Tactical Esports
Match-2: Team Xspark Dominates Miramar Once Again
Xspark bagged their third chicken dinner in the semi-finals round and all three came on the map of Miramar. The last fight was between individuals and all the teams were left with one player and TX's IGL Mavi came on top.
Another fan favorite team, Soul were eliminated early, which almost ended their sun from the tournament.
Group A vs Group B – Miramar
Winner: Team Xspark
Match-3: Reckoning With A Much Needed Chicken Dinner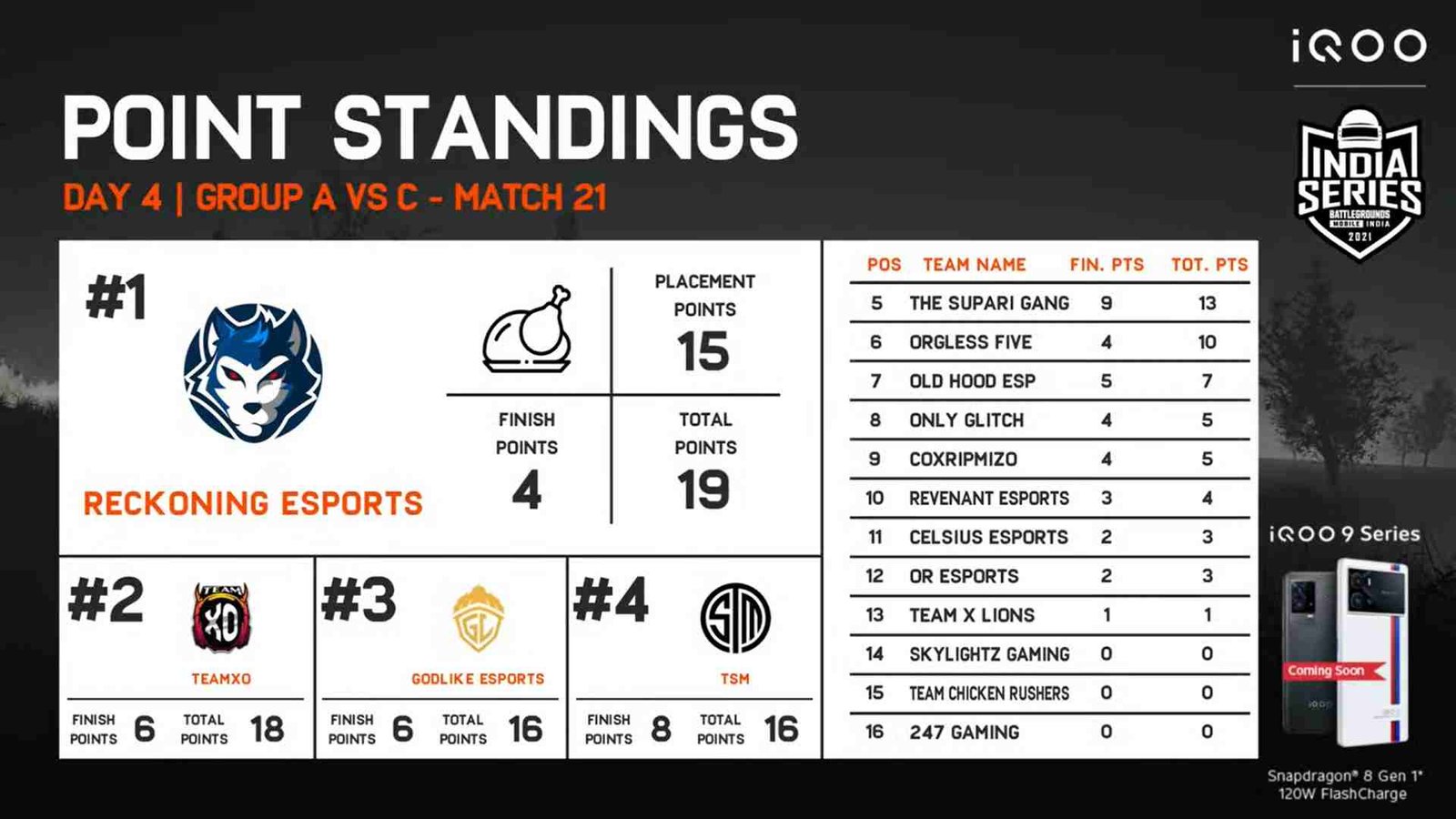 The win was much needed for Reckoning Esports as they were struggling on the last sheet. The team did not collect a high number of kills but managed to bag that 15 placement points.
As expected, teams who ensured their qualification on first two days like Godlike and TSM played fearlessly and collected some good kills.
Group A vs Group C – Erangel
Winner: Reckoning Esports
Match-4: Enigma Gaming Confirming Their Slot For Finals
A win on Sanhok almost confirmed Engima Gaming's place in the BGIS finals. Moreover, team Revenanat maintained their consistency and finished second. But, was this enough to take into the finals, the rest two matches were there to decide.
Group B vs Group C – Sanhok
Winner: Enigma Gaming
Match-5: Reckoning Stopping Old Hood To Taste Chicken
Despite being on the last page after Day-3, Reckoning Esports bagged two back to back chicken Dinners, which kicked them into the top 16. Moreover, the day went well for reckoning as they won two matches and qualified for the Finals.
Old Hood Sultan was on fire on the map of Miramar and almost made a 1 vs 4 clutch at the end. However, a made changed everything and RGE won the game over Old Hood.
Group A vs Group C – Miramar
Winner: Reckoning Esports
Match-6: R Esports Wins The Last Game
R Esports won the last game, whereas 7 seas finished second with good kills. Furthermore, the last game raised many questions for teams.
However, another team with hope, Soul was eliminated early which sent them out of the BGIS tournament.
Group A vs Group B – Erangel
Winner: R Esports
ALSO READ: BGIS Quarterfinals Day 4, Group 4 Results: Soul Out, Overall Standing Here