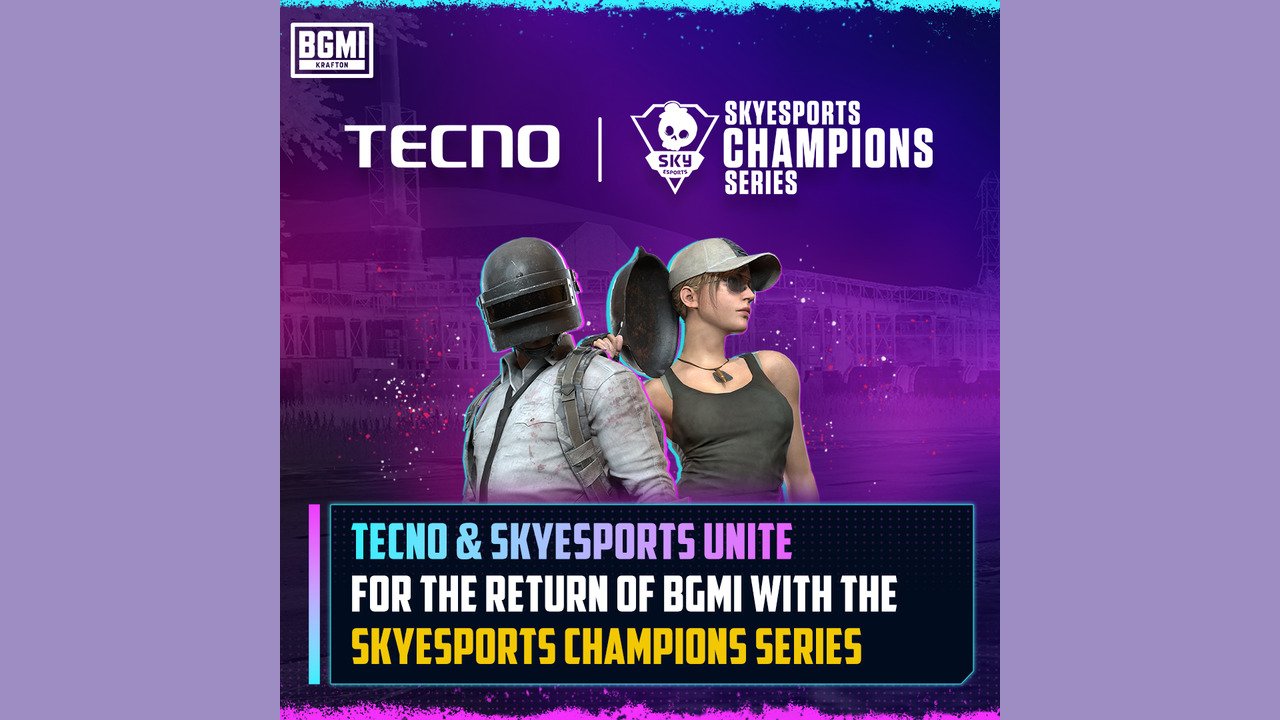 The BGMI Skyesports Champions Series 2023 is one of the biggest esports tournaments after the unban and it has collaborated with TECNO Mobile to make the event possible. Skyesports and TECNO Mobile, the global premium smartphone brand, have joined hands and TECNO is the title sponsor for the Skyesports Champions Series. The top 24 teams have been competing for the glory and the staggering prize pool of Rs. 25,00,000.
The SCS (Skyesports Champions Series) has an intense showdown of teams, including fan-favorites like GodLike, Team Soul, Blind Esports, and more. It is one of the biggest BGMI tournaments and TECNO POVA aims to influence gamers through its amazing line-up of smartphones.
TECNO Mobile X Skyesports: Empowering Gamers
An intense day 2 of Grand finals in Skyesports Champions Series and we had great moments today! What is your favourite moment of the day?

1️⃣: #SOUL 1st map WWCD 🍗

2️⃣: ZGod's 1v4 against Gods Reign

3️⃣: 7Sea's 20 finish WWCD

4️⃣: Godlike with 11 Finishes#BGMI #Skyesports #SCS pic.twitter.com/PeSF8OJnF6

— Skyesports (@skyesportsindia) June 15, 2023
The BGMI Skyesports Champions Series has wrapped up with its 5-day Semi Finals, and is currently on the Grand Finals. A total of 24 teams fought over the elimination bracket, in order to be the one of the 16 teams that will move into the Grand Finals. Fan favorite teams like Blind Esports, Orangutan, and GodLike Esports have moved up to the finals.
Speaking on the collaboration, Arijeet Talapatra, CEO of TECNO Mobile India said,
"As a smartphone brand driven by consumer insights, we strive to cater to the diverse needs of smartphone consumers from all walks of life. In line with the rapid growth of the gaming sector in India, where a significant portion of Zillennials now view gaming as both a leisure activity and a means of livelihood, we are dedicated to further enhancing our POVA lineup through upcoming launches. Our phased releases are aimed at empowering the unwavering determination of Zillenials who refuse to settle for mediocrity. By partnering with Skyesports, we take a significant leap forward in accomplishing this shared objective. This collaboration promises to foster a more thrilling online gaming ecosystem, and we eagerly anticipate a valuable partnership that will bring excitement and innovation to gamers across the country."
YouTube: Skyesports
The teams that have moved up to the finals are:
Team Soul
GodLike Esports
Revenant Esports
Orangutan Gaming
Blind Esports
Obey Esports
Insane Esports
Gladiators Esports
Medal Esports
OR Esports
Team Misfits
7Sea Esports
Velocity Gaming
Gods Reign
Reckoning Esports
Team VST
Shiva Nandy, Founder and CEO, Skyesports, commented on this partnership,
"We are thrilled to partner with TECNO POVA for the Skyesports Champions Series, as we embark on a journey to bring a structured roadmap for BGMI esports with the return of the game through our original IPs. This collaboration signifies our commitment to providing a platform for the country's top esports teams, while TECNO POVA's cutting-edge technology resonates with the aspirations of Gen Z gamers. With our 16 finalists locked in, I wish them the best of luck as they vie for the coveted title of champions."
The Grand Finals will be aired from 14th till 18th June 2023, and players can catch the Live show on the official Skyesports Loco channel from 1PM. Moreover, the top teams of the tournament will be felicitated in an award ceremony fir for champions in Bangalore on August 27th, 2023.
Also Read: