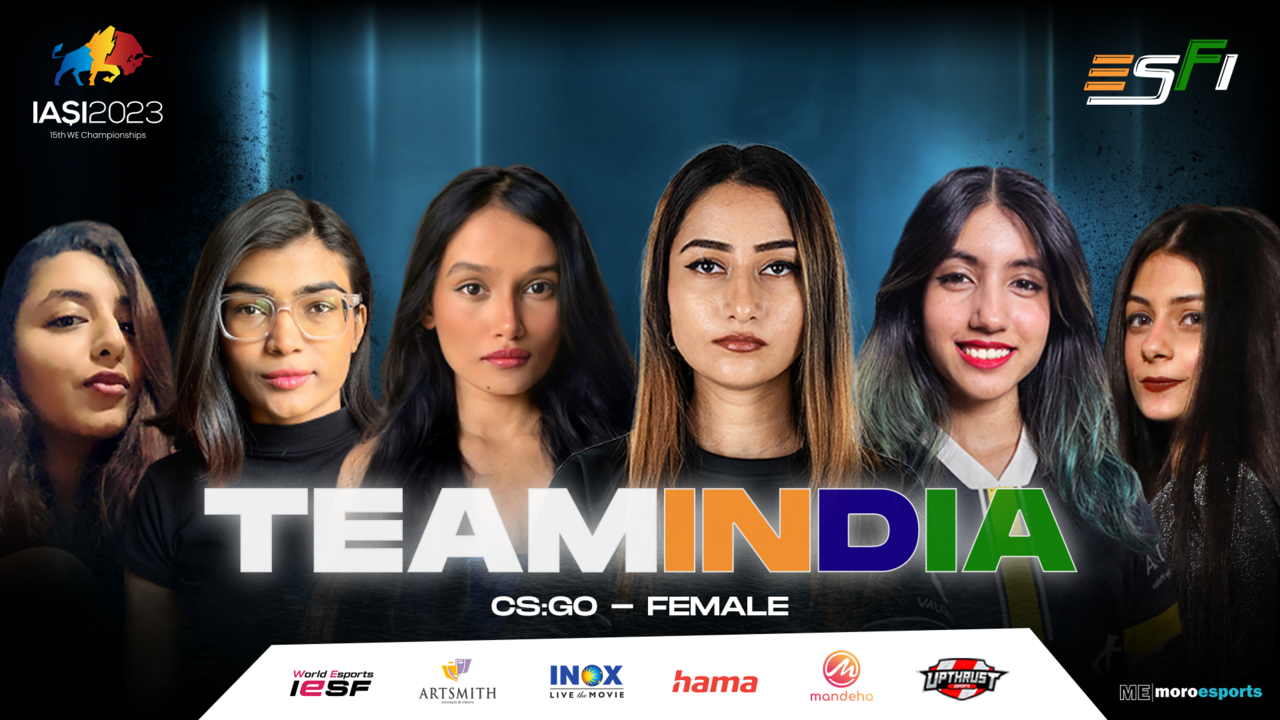 20 March 2023, New Delhi: Team Top-G won the inaugural all-female CS:GO qualifications with a 2-1 victory over team Purr-ple at the current National Esports Championships (NESC) 2023, which is organized by the Esports Federation of India. (ESFI). Following this historic achievement, Top-G has become the first Indian female CS:GO team to qualify for the World Esports Championships global finals. (WEC).
Top-G proved their mettle in the finals against team Purr-ple, with ace CS:GO athletes such as captain Swayambika Sachar (Sway), Shagufta Iqbal (xyaa), Nidhi Salekar (Stormyyy), Dilraj Kaur Matharu (COCO), Aastha Nangia (CrackShot), and Priyanka Choudhary (ALEXAA) as a substitute.
"Winning the finals was an unreal feeling for all of us," Top-G squad captain Swayambika 'Sway' Sachar remarked of the stunning triumph. We had so many emotions before, after, and especially during the game, and the adrenaline rush was out of this world. Triumphing in this event and representing India on an international scale is a dream come true for all of us, and we want to demonstrate why we deserve this berth on the world stage. We are grateful to ESFI for giving us with such an incredible opportunity, and we genuinely appreciate their efforts to empower women in Esports."
Team Top-G won NESC 2023 and qualified for the World Esports Championships
Top-G won the first map by a score of 16-10, but Purr-ple came back to take the second map by a score of 16-14. Top-G used efficient collaboration and proficient offensive techniques to edge out their opponents and win the last game 19-15 in overtime.
"For the first time in history, we are overjoyed to see a female team representing India at the World Esports Championships." The exciting finals demonstrated our country's female athletes' abilities and why ESFI has consistently made major efforts to give them with the opportunity to showcase their talent and high-quality games. "We would like to congratulate Top-G on their outstanding achievement and wish them luck at the regional and global finals in Romania," stated Vinod Tiwari, President of the Esports Federation of India.
The ESFI will now organize friendlies against renowned CS:GO teams from various nations for team Top-G before they participate in the WEC 2023, which will be held in Iasi, Romania.
The 15th WEC is slated to be the largest edition of the event to date, with prize money of $500,000 (INR 4.12 crore) with at least 130 countries competing.
The renowned tournament's world finals will be held from August 24 to September 4, 2023.
Artsmith-Concepts & Visions, one of the country's leading sports and Esports marketing companies, will continue to assist the Esports Federation of India as its official communication partner.
The ongoing NESC has 275 athletes competing in four distinct titles – CS:GO, DOTA 2, Tekken7, and eFootball 2023 – and is being televised live on ESFI's Youtube, Facebook, and Glance Gaming channels.
About Esports Federation of India
The Indian Esports Federation (ESFI) is a full member of the International Esports Federation (IESF), the Global Esports Federation (GEF), and the Asian Esports Federation. (AESF). ESFI took part in the Asian Games 2018, when Tirth Mehta earned India's first bronze medal in esports (demonstration title), and the CWC 2022, where the Indian DOTA 2 squad took bronze.
To promote, encourage, organize, educate, train, and control Esports in India, as well as to provide facilities for Esports training. To build and sustain the Esports eco-system in India, including but not limited to providing, conceptualizing, opening, managing, running, developing, facilitating, and promoting all areas of Esports.
ALSO READ: Gamers8 Announces Record $45m Esports Prize Pool For 2023 Event