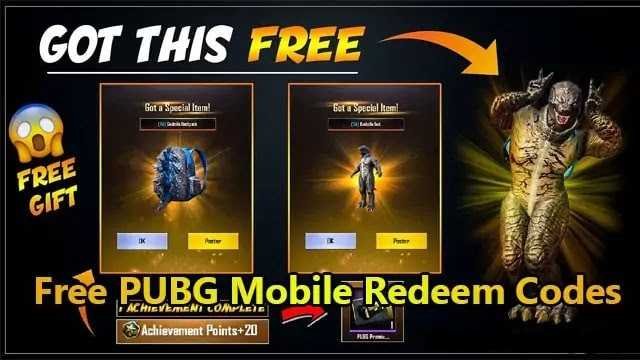 We are here with a complete list of PUBG Mobile Redeem Codes 2021, which will enable the players to obtain some premium cosmetics. PUBG Mobile team is all set to launch new weapons, skins, characters, and outfits to advance the gameplay for the players.
PUBG Mobile Redeem Code is a character-based code constructed by a 12 digit number. It is beneficial to buy rewards for absolutely free. Players can purchase many in-game items by the usage of Unknown Cash (UC).
Players can acquire PUBG UC by spending their hard-earned cash. But players can skillfully save their in-game currency by redeeming the codes. Redeem codes help the players to buy superior cosmetics and skins without spending any money.
Check out: PUBG Mobile vs Free Fire: 5 Key Differences – Click Here
Players are always very excited to earn the skins, cosmetics, and outfits for free. Seeing their excitement PUBG has made a website with the name Redeem Center. PUBG Redemption Center helps the players to claim the rewards for free in their respective PUBG account by using these redeem codes. These codes have not only time limitations but quantitative limitations as well.
PUBG Mobile January 2021 Redeem Codes
BCAHZBIZ88B
NEIZBZKND
S78FTU2XJ
NEHZBZ9VX
JJCZCDZ9U
BIFOZBZE6Q
GOODMORNING
BIFPZBZKBE
Also Read: How to Play PUBG Mobile Without VPN?- Click Here
PUBG Mobile Global Version Redeem Codes  2020
| | | | |
| --- | --- | --- | --- |
| PUBGMOBILENP | PUBGMOBILEBD | BIFPZBZKBE | BIFOZBZE6Q |
| BAPPZEZMTB | BCCVZBZT8A | BBKTZEZET3 | BCAHZBIZ88B |
| BBKTZDZFW6 | BAPPZCZTUH | BCAHZMZ64EC | BCCQZDZSCH |
| BCCQZBZCVJ | BAPPZCZTUH | BCCQZCZSV7 | BDFOZBZBAT |
| BCAHZBBZFVM | BCAHZBHZ486 | BFHMZBZFHB | BFHMZGZJ73 |
| BGDFZBZ5QN | BGDHZBZUQU | BGDGZBZGTF | BFHMZGZJ73 |
| BFVPZBZ89U | BGFDZBZC57 | BGFCZBZADK | BGFBZBZ5SN |
| BGFAZBZMRF | TIFZBIZACZG | TIFZBJZWMN | TIFZQZANGC |
| D70FYU5N0 | TQIZBZ76F | BBKRZBZBF9 | JJCZCDZ9U |
| NEHZBZ9VX | NEIZBZKND | S78FTU2XJ | BCEAZCUZMPBM |
| BCEAZDAZS95U | BCEAZDBZPJ7G | BDFPZVZ85B7 | BCEAZDCZTK7P |
Also Check about: PUBG Mobile: How to Play PUBG Mobile Without VPN? – Click Here
How to use PUBG Mobile Redeem Codes?
Follow the below-given guide to use the redeem codes:
Step 1: Using the Official Website of PUBG, open the Redemption Center.
Step 2: Fill in your Character ID, respectively redeem Code, Verification Code in the three boxes provided for the same.
Step 3: Choose the Redeem option.
Step 4: Now, you are eligible for the rewards for free.
You can get a character id from your PUBG profile. So, players hurry up as these codes expire quickly and are available only for a specific number of players.