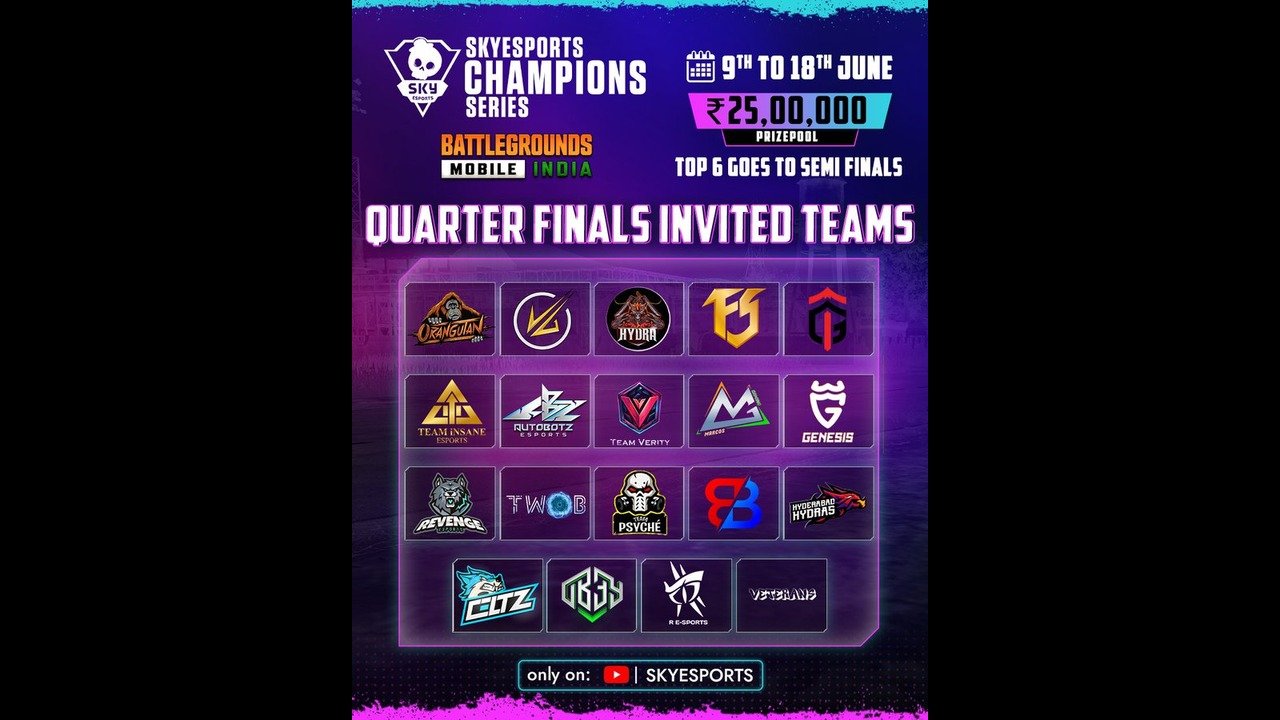 The BGMI Skyesports Champions Series 2023 is the talk of the town right now, as BGMI esports have gained more traction than ever before. We discuss the teams that will be participating and the schedule that will be followed in this tournament!
BGMI has made a grand return to India after a 10-month ban, and everyone is hyped about it. Several esports tournaments have been organized to satiate the starving audience and the professional players who had been anticipating this return. The Skyesports Champions Series has set a prize pool of INR 25 lakhs and will be starting from June 9th, 2023.
BGMI Skyesports Champions Series 2023: All teams revealed!
🔥 Prepare for the battleground as we unveil the 19 teams ready to conquer the Quarterfinals of the Skyesports Champions Series – BGMI! 💪🎮

🏆 The top 6 teams will qualify for the semifinals, fighting for their spot with the best of the best 🥇💥

🗓️ Mark your calendars for the… pic.twitter.com/Hgnt4ETlcL

— Skyesports (@skyesportsindia) June 5, 2023
Talking about the BGMI unban, Skyesports tweeted,
"After 10 long months of anticipation, BGMI is finally unbanned in India! Join us in celebrating as the Skyesports Champions Series brings back the thrill of competitive BGMI Esports. Let your emotions flow as the battlegrounds reopen and friendships rekindle."
Revealing the next team in line for the Skyesports champions series Semi finals – #TeamTamilas

TTOP in the chat, Podey Thakida Thakida 🔥🔥

💰 INR 25,00,000
🗓️ June 9th-18th
📺 Skyesports YT channel#Scs #BGMI #Skyesports pic.twitter.com/VEbg9lryb1

— Skyesports (@skyesportsindia) June 6, 2023
The Champions Series 2023 will be ongoing from from June 9 till 18, 2023. The qualifiers will start on June 7 and will run till 8th. 6 teams will qualify from this round and join the 18 invited teams for the semifinals, which will be running from June 9 till 13. The teams will be divided into three groups of 8 teams each, and the top 16 teams will be advancing to the Grand Finals. The finals will be ongoing from June 14 till 18.
Youtube: Skyesports
Some of the teams participating have also been revealed. The list includes, S8UL, Godlike Esports, Revenant Esports, Gods Reign, 7Sea Esports, Marcos Gaming, Team Tamilas, Blind Esports, Reckoning Esports, and more. New update are always being released on Skyesport's Twitter, so check them out.
The whole tournament will be live streamed on the Skyesports YT channel with 6 matches each day. The first match will start from 1 PM IST, and the schedule will remain approximately the same for rest of the matches.
Also Read: