Villager Esports' BGMI Domin8r Series has currently concluded their first day of Grand Finals with several teams moving up and down the rankings. We take a look at the performance of each team on the first day and their overall standings.
Villager Esports' Domin8r Series has successfully hosted a grand BGMI tournament featuring a prize pool of INR 7,00,000. With 16 teams moving up to compete in the Grand Finals, Day 1 was expected to be a battle for the most points. We are excited to report that the first day of Grand Finals has been one of the most exciting, with several teams rising from the rankings, and one falling behind drastically.
BGMI Domin8r Series Grand Finals Day 1: Team Standings
Brace yourself for the ultimate battle! 🎮 Check out our sizzling trailer for the Villager Esports Domin8r Series ~ BGMI powered by @RooterSports , where 24 Pro Teams will compete for an incredible 7 Lakh prize pool in a span of 4 days! 🍗#GetReadyToDomin8 #BGMI pic.twitter.com/uTGjfgeskf

— Villager Esports (@villageresports) June 4, 2023
The Group Stage qualifiers led to Orangutan Gaming taking the top spot, but the Finals have a different story. Blind Esports, who earlier held the second spot in group stage, have completely destroyed their opposition on Grand Finals Day 1. They have taken the first spot, with a total of 3 Chicken Dinners, and with a combined overall of 93 points!
The second spot held by Team Avii, is only at an overall of 53 points, giving you an idea of how far ahead Blind is in this event. Team SouL has moved up to third place with an overall score of 48.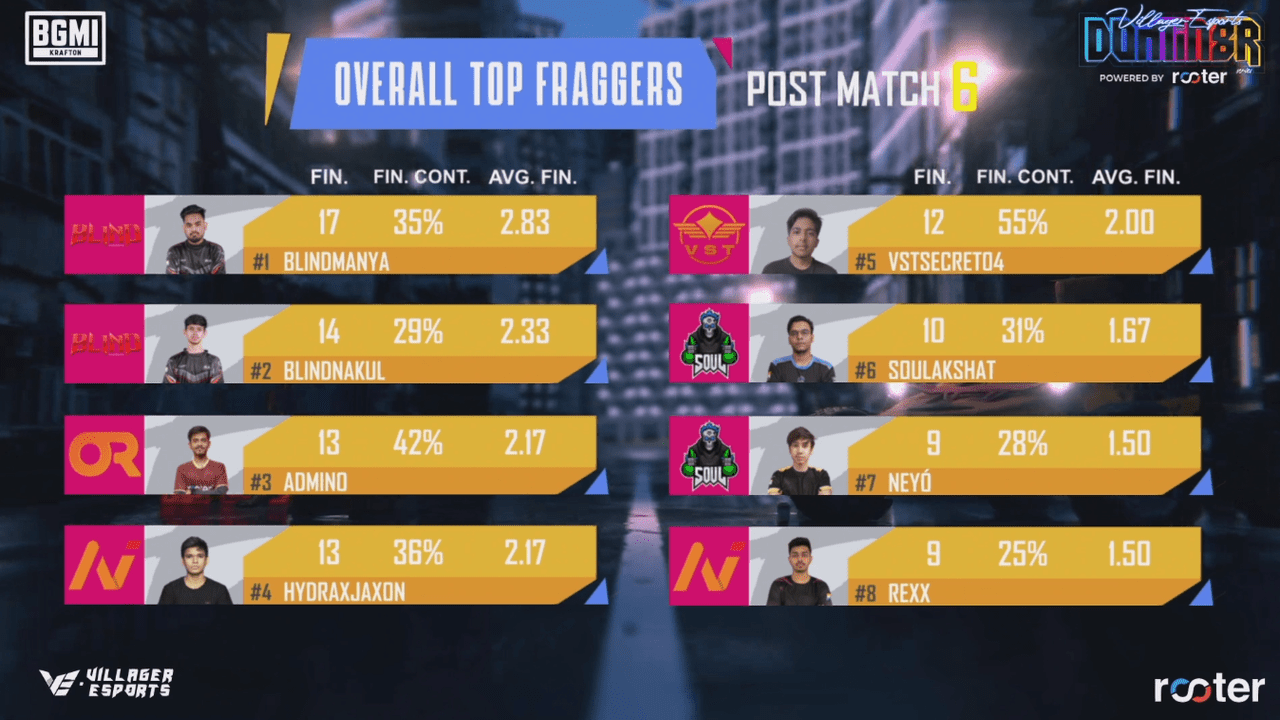 Orangutan Gaming has slipped down to 4th spot on the 1st day, after dominating the Group Stage. OR Esports has risen considerably in rankings, from last to 5th place in Grand Finals Day 1.
Day 2 of BGMI Domin8r Series Grand Finals will be aired on 8th June, 2023, on Villager Esports' Official channel.
Also Read: