BGIS Finals Day 2 Results And Overall Standings: The 3rd day of the Battlegrounds India series was full of a roller coaster ride. The tables for the overall standings were turning all around during the matches.
It can be said that it was not a good day for Godlike Esports. Despite having a lead of almost 20 points, the team lost their first position and had a rough day. Know more details about Day 2 and match results here.
ALSO READ: BGIS Team List Qualified For Finals : Know Schedule And Format Here
BGIS Finals Day 2 Overall Standings
Team XO and TSM maintained their consistency and dominated the top 3 positions. Moreover, other teams like Enigma gaming and Reckoning gaming also made a comeback on Day 2 after having a tough first day-1.
Godlike now are 30 points behind the top position from where they ended the Day-1. Team XO managed to bag the top position, leaving TSM on 2nd.
Despite winning a game of Miramar, Team Xspark failed to make it into top 8 on Day-2. Additionally, after having a decent start in the first few games Revenant jumped onto the 9th position.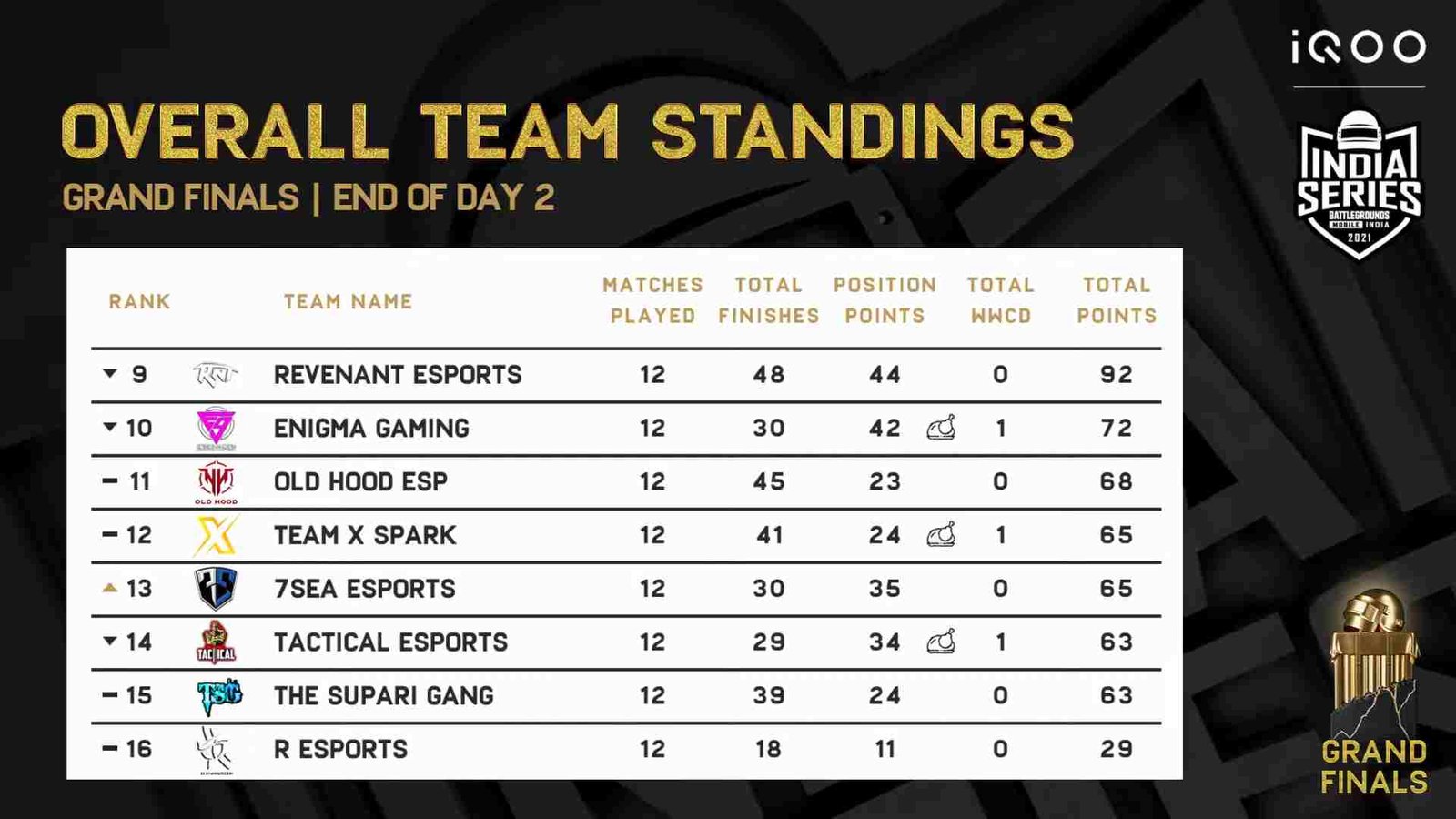 BGIS Finals Day 2: MVP
Maxy Op from Reckoning esports finished on top of the MVP with 25 finishes. Intrestingly, despite having a rough day, Godlike Neyoo made this place onto the second spot.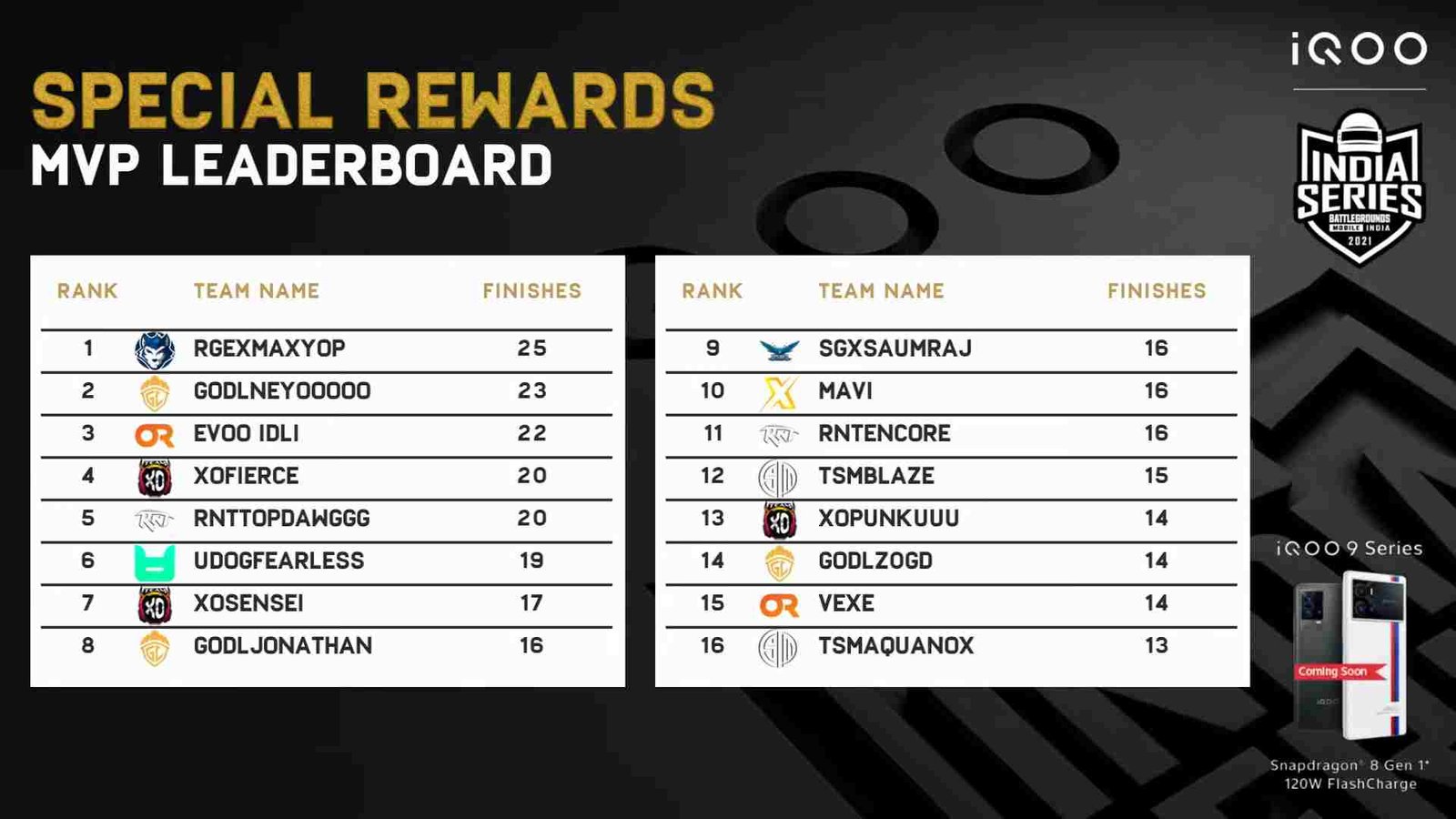 DIVE DEEPER: BGIS Semifinals Team List, Format And Schedule: All You Need To Know
BGIS Finals Day 2 Results And Match Reports
Match-1: Enigma With A Positive Start
Engima gaming won the first match, which was played on the map of Erangle. Moreover, it was UDOG India sharing the spot for the highest points as they collected a total of 11 kills and all thanks to their key man fearless.
Table-toppers from yesterday, Godlike were eliminated early but managed to grab some kills.
Map: Erangle
Winner: Enigma Gaming (Winner Winner Chicken Dinner)-23 points
2nd: UDOG India -23 points
Match-2: Reckoning Tastes The Chicken 
Reckoning Esports won the game of Miramar as many big names went down earlier in the game. Moreover, the team managed to grab 14 kills and eliminated Orange Rock to win the game.
Teams like Godlike and Xspark failed to make their mark on the first 2 games of Day 2.
Map: Miramar
Winner: Reckoning Gaming (Winner Winner Chicken Dinner)- 29 points
2nd: Orange Rock- 20 points
Match-3: Orange Rock On Top
In the third match played on Day 2, Orange Rock finally managed to finish on top. Earlier, the team had a slow start on Day 1 and finished 2nd on map 2 behind Reckoning Esports.
Godlike Esports unlike their nature survived till the 5th zone but failed to get a kill. However, their rival for the top position TSM finished 2nd.
Map: Erangle
Winner: Orange Rock (Winner Winner Chicken Dinner)- 26 points
2nd: TSM- 18 points
Match-4: Team XO Gets Past TSM
TSM once again finished 2nd, as this time it was Team XO to stop them to taste the chicken Dinner. The result surely made changes in the points table and Godlike failed once again to put a performance.
Just like any other at Sanhok, Skylightz gaming were seen on heal battle which assured them the 10 placement points.
Map: Sanhok
Winner: Team XO (Winner Winner Chicken Dinner)- 24 points
2nd: TSM- 18 points
Match-5: Miramar Conquered By Team Xspark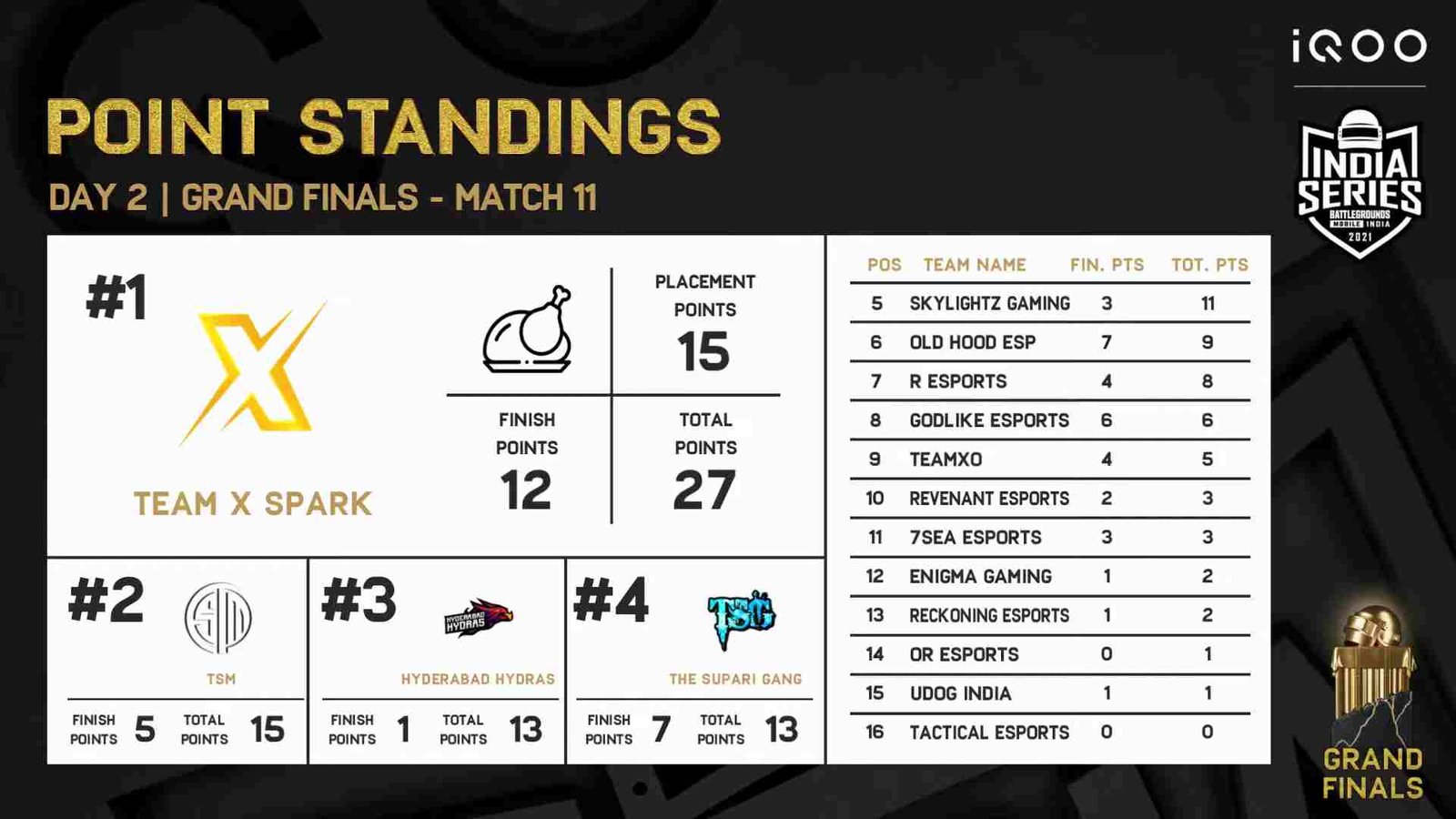 It was Miramar, where Team X spark found their form in the semi-finals and never looked back since then. After some decent performances in final, once again it was the map of Miramar in finals, where Team Xspark won their first game of finals. (Ambien)
This is the fourth win for Team Xspark in the BGIS tournament and all came on Miramar. TSM maintained their consistency and finished 3rd.
Map: Miramar
Winner: Team Xspark (Winner Winner Chicken Dinner)- 29 points
2nd: TSM- 15 points
Match-6: UDOG Ends The Day On A High Note
UDOG India finally got their much-awaited chicken dinner on the last map of Day 2. Earlier, the team finished 2nd on the first Erangle match but managed to win the last one.
The last match winners, Team Xspark were the first team to get eliminated. Also, the ended as a rough one for Godlike as they failed to perform on Day-2.
Map: Erangle
Winner: UDOG India (Winner Winner Chicken Dinner)- 26 points
2nd: Reckoning Esports- 22 points
READ MORE: BGIS Quarter finals Qualified Teams: Groups, Dates And Timings Here