Free Fire is one of the best games among the title of battle royal games. Guild Names in Free Fire are an essential feature in the Free Fire game. Players can join or create guilds to play with their friends and family. This article will provide a list of fifty unique and modish Guild Names that you can use.
Similar | Check Free Fire Redeem Codes Today 2020: 100% Working- Click Here
To make the game more exciting and fascinating, the players keep cool and stylish Guild Names. The first step towards creating a Free Fire Guild is that they will require a Guild Name. Various Guild tournaments are also organized from time to time, and players can also participate and win different rewards by collecting Dog Tags.
50 Cool Guild Names in Free Fire: Complete List
Pick any one name from the list of fifty unique and cool Guild Names. You can find any excellent combination of symbols and alphabets according to your choice. The length of the Guild Name should be between three to twelve characters. The list goes as:
VICTORIA
HELL DEVIL࿐☯
SKY HAWKS
𒆜🆀🆄🅴🆂🆃𒆜
ONE FOR ALL
HELL'S HEAT
乂CRAZY
REBELS
Unkown
ARCTIC WOLVES
KNIGHT
🆂🅿🅰🅲🅴
Icicle
𝒟𝐸𝒜𝒯𝐻
𒆜🅵🅴🅰🆁𒆜
TAKA
TEAM ALPHA
𝕷𝖊𝖌𝖊𝖓𝖉𝖘
ƤØŴ€Ř
A̳v̳a̳n̳l̳a̳n̳c̳h̳e̳
𝐀𝐜𝐢𝐝
MAD NOT BAD
BLACK LIST
𝘾𝙤𝙣𝙦𝙪𝙚𝙧𝙤𝙧𝙨
🆂🅿🅴🅲🆃🆁🅴
𝔑𝔬𝔱𝔬𝔯𝔦𝔬𝔲𝔰
ᴛᴇᴀᴍ★Sᴘᴀʀᴏᴡ࿐
ΓHΞ SҜУ
૮ɦαɱρเσɳร
THE ELITES
THE KILL STEALERS
HANDS UP
𝔏𝔞𝔰𝔱1𝔰
ミ★𝘏𝘌𝘈𝘛★彡
+◤𝙊𝙁𝙁𝙇𝙄𝙉𝙀★
ŴØŁV€Ş
乂ⓞᴍᴇɢᴀ
E͙x͙W͙h͙y͙Z͙e͙d͙
THE MARINES
CRAZY KNIGHTS
✘ ᴅʀᴀɢᴏɴ
THUGS
🅷🅾🆁🅸🆉🅾🅽
𝐀𝐫𝐜𝐡𝐢𝐭𝐞𝐜𝐭𝐬
CФLLIDΞ
Tᴇᴀᴍ●Iɴsᴛɪɴᴄᴛ
ΔŇƗΜΔŁŞ
𝕯𝖔𝖔𝖒𝖘𝖉𝖆𝖞
𝓗𝓪𝓻𝓫𝓲𝓷𝓰𝓮𝓻
AUTO BOTS
HUNTERS
How to Change the Guild Names in Free Fire?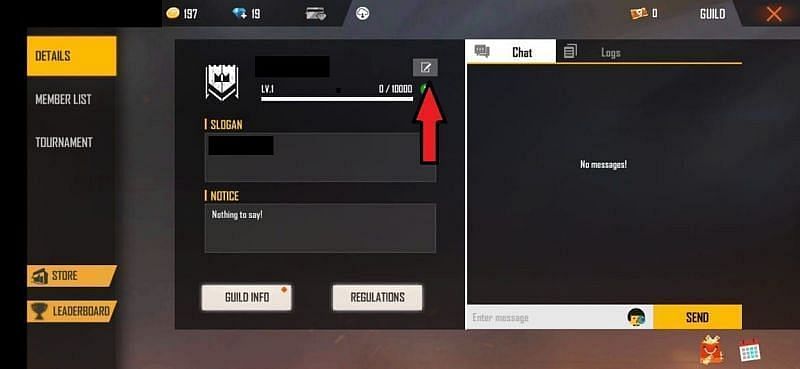 The Guild name can only be changed by the leader, as the leader will spend 500 diamonds to do so. Follow the steps given below to change the guild name:
Step 1: Open the Garena Free Fire lobby and click on the 'Guild' option on the bottom right corner (a small box with a king crown on it).
Step 2: Then click on the 'Name Change' icon (small paper and a diagonal pen are made on it) next to the current name.
Step 3: A dialog box will prompt, asking to enter the new Guild Name.
Similar Read on Free Fire | FFIC 2020: All You Need To Know- Click Here
Step 4: Fill in the new Guild Name according to your choice, or you can select the Guild Names mentioned above.
Step 5: Now it's time to pay the diamonds for changing the Guild Name, then click on the '500 Diamonds' blue color button.
Step 6: After the successful completion of the process. The Guild Name will be changed automatically.