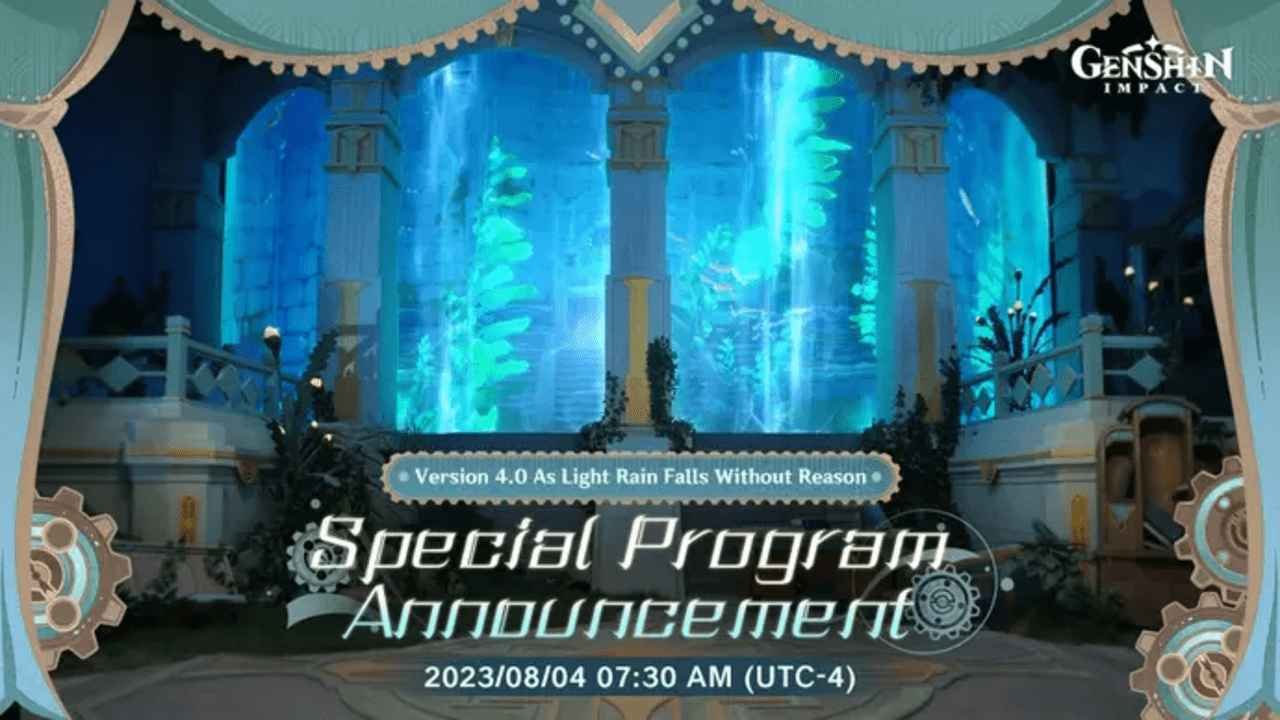 Genshin Impact will be entering a brand-new extension of their story mode, as Fontaine is nearing its release. The MMO RPG is finally getting a story-mode extension, with the official reveal scheduled to release very soon. The Genshin Impact 4.0 Livestream will be showcasing many new features of the map along with some free Primos for players.
The game will finally be releasing Fontaine, along its massive map expansion, where players can continue the main story. Fontaine has been mentioned a lot as a cultural and scientific marvel by many of the NPCs, and players will finally get to witness this firsthand. Along with the many quests, map, characters, and story, players will be getting banners and Primo Gems to pull for their favorite character.
Genshin Impact 4.0 Livestream: Dates And Timings
YouTube: Genshin Impact
The biggest focus of this update will be the unveiling of the Fontaine region. Along with the map, players will be able to pull for several new characters that will be introduced in this update. Before every major patch, Hoyoverse organizes a livestream that showcases a sneak peek into the new update.
Moreover, players can also get free Redeem Codes that will be giving players Primo Gems. Primo Gems are the premium currency in Genshin and very hard to come by. The Livestream will be aired on Friday, 4th August at 12:30 pm (BST)/ 7:30 pm (EDT). For players in Europe, it will be 1:30 pm (CEST).
Dear Travelers,

It's announcement time! The special program for #GenshinImpact's new version will premiere on the official Twitch channel on 8/4/2023 at 07:30 AM (UTC-4): https://t.co/xo4YDsKpRF

This special program will feature juicy details about new game content and… pic.twitter.com/yL6Oj5ELgN

— Genshin Impact (@GenshinImpact) August 2, 2023
The update is titled "As Light Rain Falls Without Reason" and will be giving out three unique new codes for players. However, these Redeem codes will only be available for a limited period of time, and will be active for only 12 hours after the livestream. Players need to look out for these, and redeem them as soon as possible. Moreover, each code will be giving players 100 Primo Gems, which will total to be 300, if you have redeemed all of them.
The Banner character has also been leaked, as Lyney is the latest Pyro 5-star in Fontaine. He will get the first banner, along with Freminet and Lynette, who will be the new 4-stars. They are Cryo and Anemo elements respectively. Along with this, more details will be revealed in this trailer, and you can watch it on Genshin Impact's official Twitch channel or YouTube channel.
Also Read: