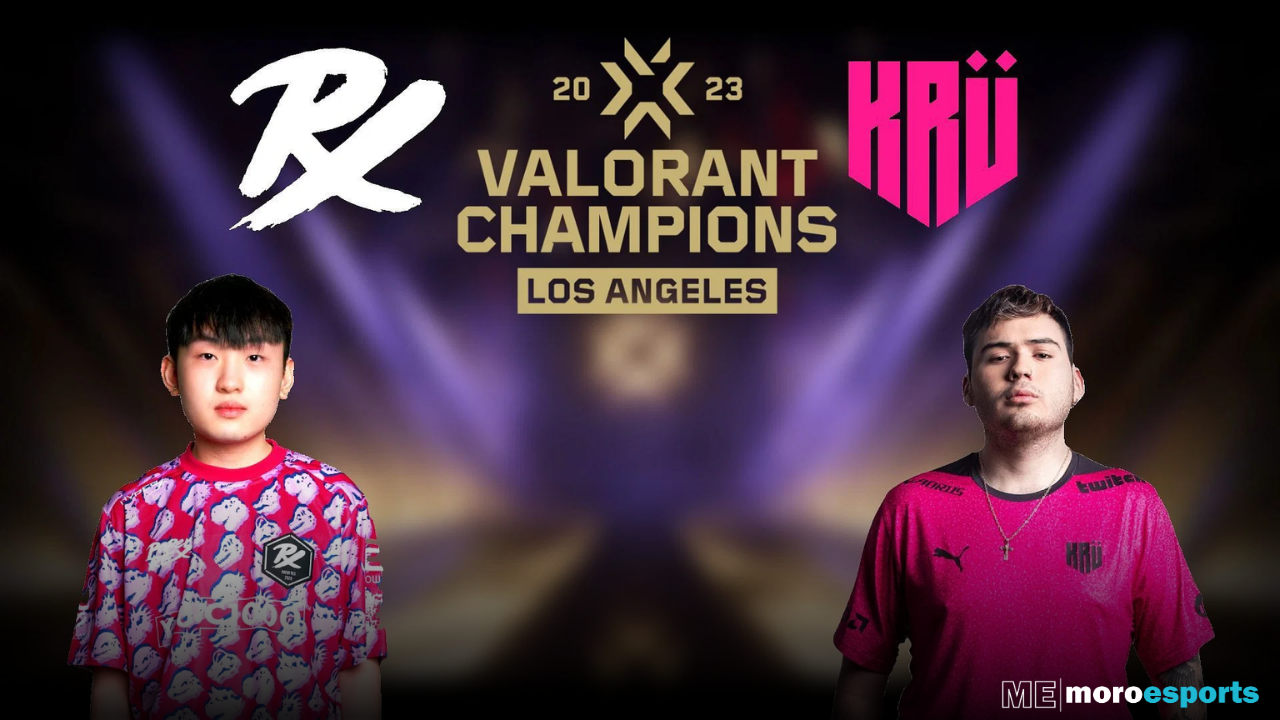 Valorant Champions 2023 is in full swing in Los Angeles. Featuring the world's top 16 teams battling for a massive $2,250,000 prize pool. Renowned teams like LOUD, Fnatic, Paper Rex, NRG, and EDG are among the contenders. An exciting match to watch on the fourth day is Paper Rex versus KRU Esports in Group A. As both teams strive to maintain their impressive performance and handle the pressure.
See you on Day 4. Same time, same place 👋 #VALORANTChampions pic.twitter.com/tZ9HBsKnRK

— VALORANT Champions Tour (@ValorantEsports) August 9, 2023
Predictions
Paper Rex, the top seed from APAC, is anticipated to shine in Valorant Champions 2023. Known for their unique "W gaming" style, they are considered strong contenders for the title and will undoubtedly bring excitement to fans.
KRU Esports, on the other hand, has undergone a remarkable transformation. Despite a disappointing 0-9 score in the regular VCT: Americas league, they defied expectations by winning the VCT: Americas LCQ and securing a spot in Valorant Champions 2023. Their ability to excel under pressure will be tested against Paper Rex's aggressive approach.
However, Paper Rex remains the favoured team to win this match. With their current lineups, Paper Rex and KRU Esports have never competed against each other before. This encounter marks their first clash.
Paper Rex recently achieved a top-three finish in Masters Tokyo 2023, despite playing with a substitute due to visa issues. With the return of PRX something, their Russian duelist, the team is expected to perform even better. KRU Esports shocked everyone by winning the VCT: Americas LCQ, showcasing their potential to excel. Their journey in Valorant Champions 2023 is awaited with anticipation.
Lineups
Expected Rosters Paper Rex
Aaron "mindfreak" Leonhart
Jason "f0rsakeN" Susanto
Ahmad Khalish Rusyaidee "d4v41" bin Nordin
Wang "Jinggg" Jing Jie
Ilya "something" Petrov
Patiphan "CigaretteS" Posri (Substitute)
Alexandre "alecks" Sallé
KRU Esports
Nicolas "Klaus" Ferrari
Juan Pablo "NagZ" Lopez Miranda
Santiago "Daveeys" Galvis Ruiz
Marco Eliot "Melser" Machuca Amaro
Angelo "keznit" Mori
Carlos Alberto "axeddy" Machado Galvão (Substitute)
Jorge Luis "Atom" Siero Noriega (Head Coach)
Streaming
Livestream Details All Valorant Champions 2023 matches are broadcast live on the official Twitch and YouTube channels. Fans can also watch via authorized watch-party streamers. By linking Riot accounts to Twitch, viewers can receive exclusive drops.
The Paper Rex vs KRU Esports match is scheduled for August 9, 2023, at 12 pm PDT / 9 pm CEST / 12:30 am IST (next day). So, it will be exciting to watch which team will come out on top. Will there be a twist in the tail or will the stronger team on paper choke? Stay Tuned!
Also Read: New Daydream Bundle in Valorant: Leaks Reveal Price and Content