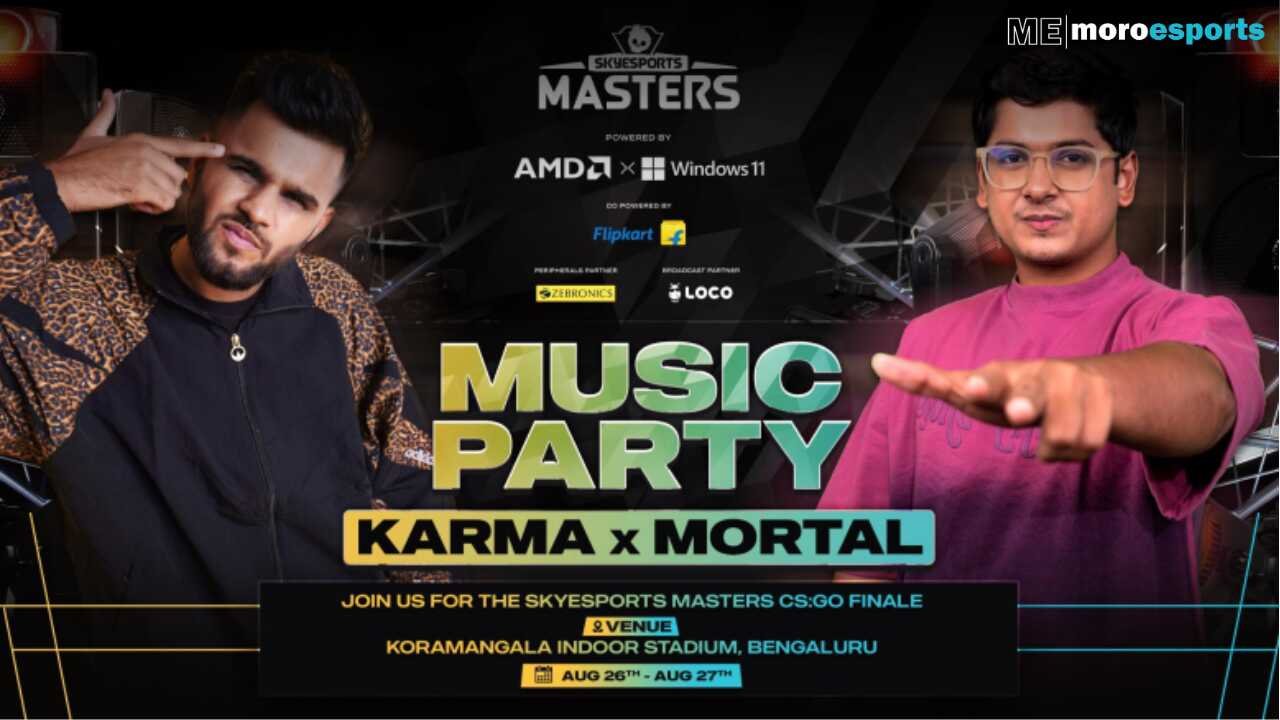 Bangalore's Koramangala Indoor Stadium is gearing up to host a sensational fusion of esports and music as Mortal and Karma prepare to deliver an electrifying live performance at the Skyesports Masters Finale. The event takes place on August 26 and 27. It is India's first franchised esports league with an impressive Rs. 2 crore prize pool.
For those who asking about what comes after Skyesports Masters. The anticipation is real—stay tuned.

Save the date: August 27th. That's when we'll be revealing the Skyesports Souvenir – Counter Strike.

🇮🇳🇦🇪🇵🇰🇧🇩🇱🇰🇮🇩🇰🇷🇯🇴🇳🇵@skyesportsindia pic.twitter.com/BjouYYxKfP

— Shiva'Marvel'Nandy (@shivanandysky) August 17, 2023
A Fusion of Esports and Music
Karma, the renowned music artist, is all set to captivate the audience with a live performance featuring some of his most popular hits. Expressing his excitement, Karma, also known as Vivek Arora, stated. "I couldn't be more excited to perform at India's biggest gaming tournament, the Skyesports Masters. The gaming community of the country is one I have been deeply connected with. And I am looking forward to connecting with them again at the Koramangala Indoor Stadium in Bangalore alongside Mortal."
Adding to the excitement, Mortal and Karma will join forces to bring a live rendition of their hit single, 'The Game is On.' This marks Mortal's debut live music performance. As the renowned gamer steps into a new persona for an enthralling show in Bangalore. Mortal, with over 7 million YouTube subscribers. He expressed his anticipation, saying, "Come watch me perform 'The Game Is On' alongside Karma at the Skyesports Masters! I am looking forward to my first live performance. I am thrilled to see it happening at the historical finale of India's first-ever franchised esports league."
Esports enthusiasts and music fans alike can attend the event to witness exhilarating esports action and an unforgettable musical performance by signing up through PayTM Insider.
Intense Competition on the Esports Stage
The Skyesports Masters Finale at Bangalore's Koramangala Indoor Stadium will feature the top four teams from the League Stage competing for the coveted title of inaugural champions. Marcos Gaming, Gods Reign, Revenant Esports, and 7Sea Esports will not only battle for CS: GO glory but also vie for a share of the impressive Rs. 2 Crore prize pool. For those unable to attend in person. The event's exhilarating action will be live-streamed on Loco.
Beyond the esports matches and the musical showcase. The Skyesports Masters promises additional attractions such as a cosplay competition, creator showdowns, and meet-and-greets. A lineup of renowned gamers including Scout, Xyaa, Rakazone, and Tonde will also grace the event with their presence.
The Skyesports Masters Finale is set to deliver a unique blend of esports fervour and musical energy. Creating an unmissable experience for fans and enthusiasts alike.
Also Read: Velocity Gaming Dominates BGMS Season 2 Week 2 Day 3