BGIS Semi Finals Day 3: All the 24 teams played 4 matches each on Day 3 alike first two days. Moreover, most of the teams contested hard to finish top 16 and confirm their slot for the next round.
Team Soul failed to continue their momentum on Day 3 and failed to taste any Chicken Dinner. On the other hand, Team Xspark grabbed their second win of the round and maintained their top 16 positions.
DIVE DEEPER: BGIS Semifinals Team List, Format And Schedule: All You Need To Know
BGIS Semi Finals Day 3: Overall Standing After Day 3
Team Xspark and Hyderabad Hydras made a strong comeback and appeared on the front page. Interestingly, team Godlike is the only team in the top 8 without claiming any chicken dinner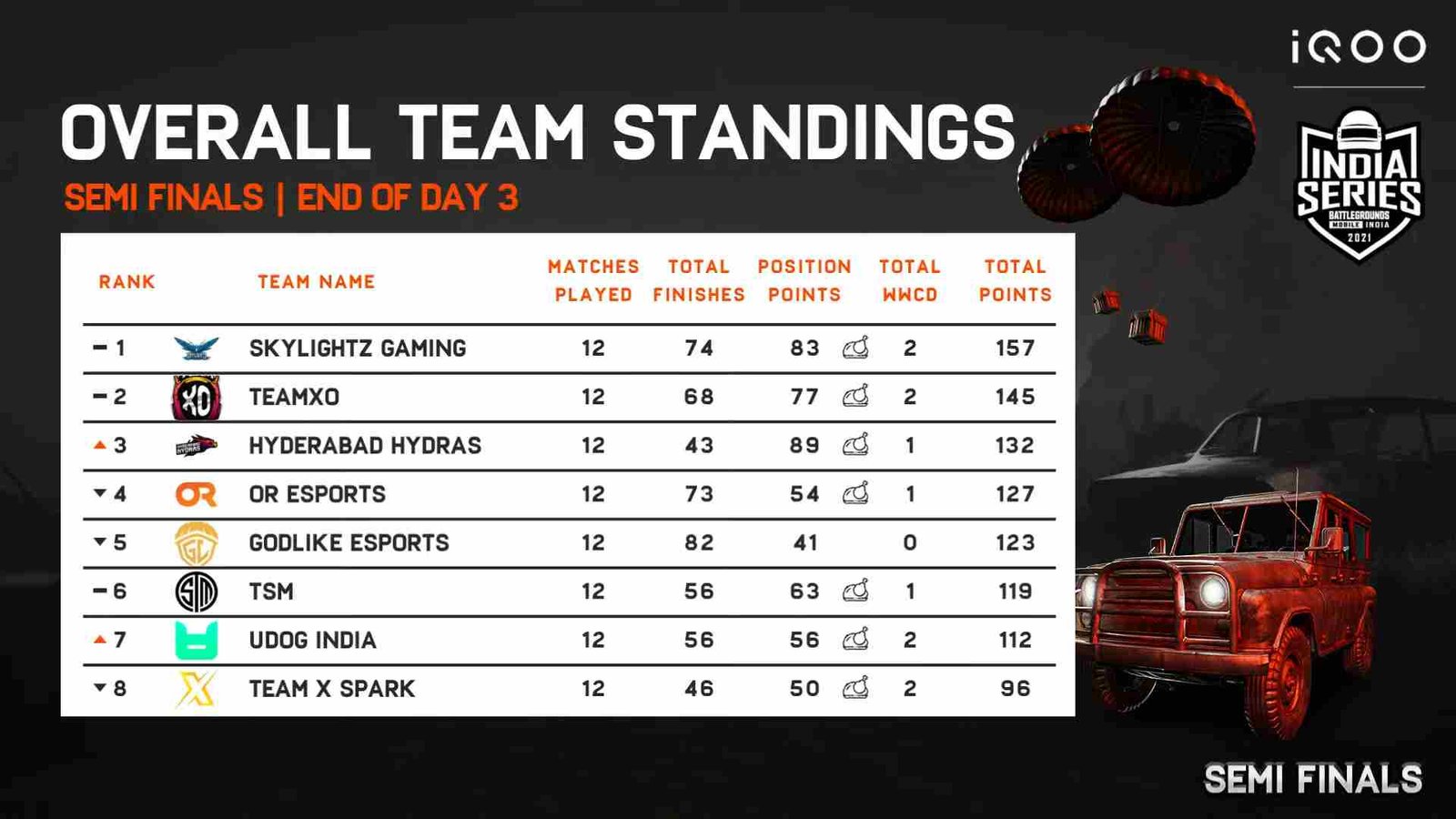 The gap between 9 and 16 is very low and last day can be decider for many teams. However, team Soul were kicked out of the top 16 as they managed to grab only 4 points on Day 3.
Team R esports and Old hood managed to grab the top 16 position, but the difference is very very low.
READ MORE: BGIS Quarterfinals Day 4, Group 4 Results: Soul Out, Overall Standing Here
BGIS Semi Finals Day 3: Results And Match Reports
Match-1: Celsius Esports Marks Their Comeback
After having decent first two days, Celsius esports made a comeback and started the day on a high note. On the other hand, teams like 7seas also performed well and showed their capability to be in the top 16.
Teams like Xspark and Soul failed to perform well and were eliminated early.
Group A vs Group B – Erangel
Winner: Celsius Esports
Match-2: RIP Mizo Gaming With Their First Chicken
A win was much needed for RIP Mizo gaming and they got it on the Miramar. Another team in bottom 8 Orgless five also showed a good performance and tried to come back in the Top 16.
Group A vs Group C – Miramar
Winner: Rip MIZO Gaming
Match-3: Team XO With a Stronghold On Top Chart
Team XO won the third match played on Erangle. Moreover, Team Revenant finished second and collected some good number of Kills.
Most of the teams on the last sheet were trying their best to come back in the top 16.
Group A vs Group C – Erangle
Winner: Team XO
Match-4: UDOG India With The Victory
UDOG India claimed their second semifinals victory and grabbed a strong spot in the top 16. Moreover, Godlike once again bagged high kills and finished top 5.
Team Xspark also came in the top 8, making their comeback in the top 16.
 Group B vs Group C – Sanhok
Winner: UDOG India
Match-5: Team Xspark Showing Their Spark
Team Xspark won their second game of the semifinals and collected massive points to secure their position in the top 16. However, team Soul once again failed to perform and were eliminated very early.
 Group A vs Group B- Miramar
Winner: Team Xspark
Match-6: Hyderabad Hydras With Another Brilliant Performance
Despite getting a thought fight from a 2-men TSM, Hyderabad Hydras managed to taste the chicken Dinner in the last game of Erangle. Moreover, UDOG India were the kill leaders and collected a total of 12 kills.
Group B vs Group C – Erangel
Winner: Hyderabad Hydras
ALSO READ: BGIS Semifinals Team List, Format And Schedule: All You Need To Know