The developers of PUBG Mobile have unveiled a new point system for the game's esports season in 2023. This will open the door for more exhilarating competition based on strategy. The 2022 season came to a close on January 8 with the PMGC Finals' conclusion. Teams will need to alter their tactics and plays in the 2023 season as a result of the new matrix. This is as a result of the placement points' decreased worth under the new point system.
The 2023 season of PUBG Mobile, which includes the new regulation, will begin with competition in the first regional tournaments. However, the timetable for the game's spring tournaments has not yet been made public by Tencent and Krafton.
New points system for PUBG Mobile esports in 2023
The forthcoming competitions will employ a 10-point system, which has long been used in PUBG PC championships. At the start of the 2022 season, Tencent introduced it in regional tournaments in China connected to the game's mobile edition. The scoring system used in Chinese competitions and the one that was just established, however, differ in a few ways. This is because there are 15 teams instead of 16 competing in the national competitions.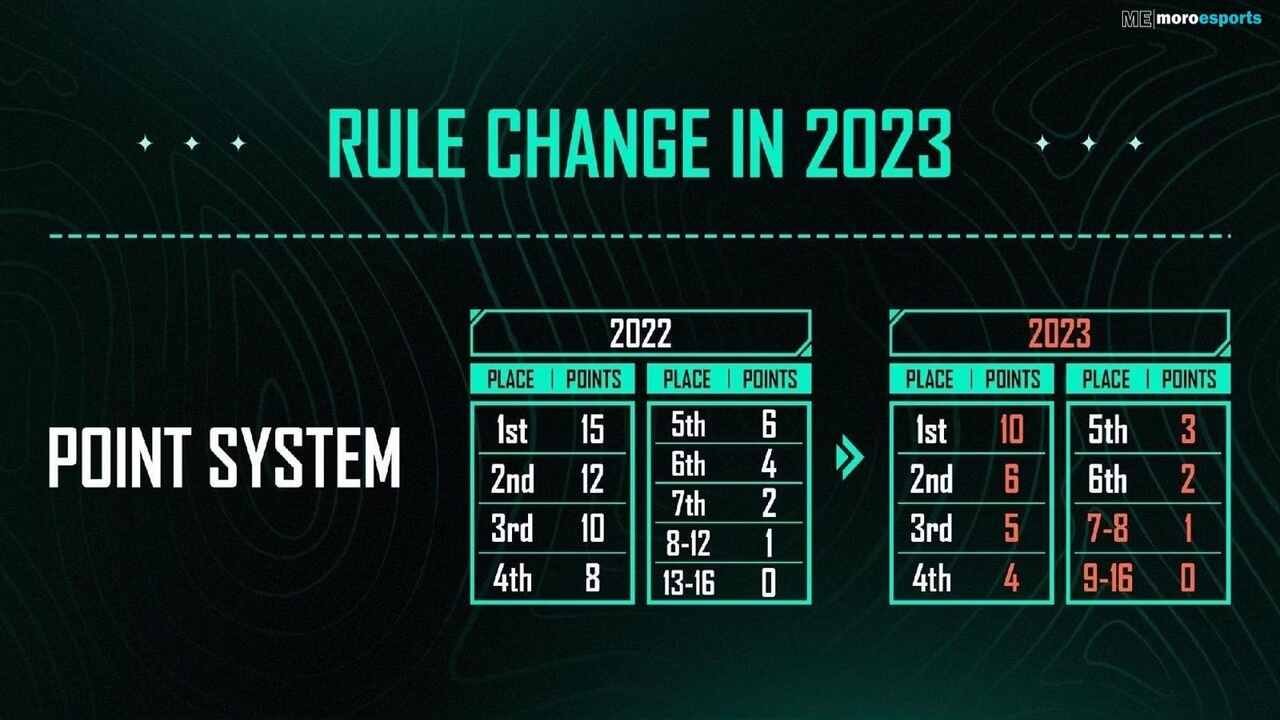 Before, the victorious team of the Chicken Dinner received 15 points; currently, this value is down to just five points. Instead of 12, six points will be handed to the second-place finisher and five to the third.
According to the teams' rankings in a single game, the 2023 season will award points as follows:
1st Place – 10 points
2nd Place – 6 points
3rd Place – 5 points
4th Place – 4 points
5th Place – 3 points
6th Place – 2 points
7th Place – 1 point
8th Place – 1 point
9th Place – 0 point
10th Place – 0 point
11th Place – 0 point
12th Place – 0 point
13th Place – 0 point
14th Place – 0 point
15th Place – 0 point
16th Place – 0 point
Teams will need to concentrate on kill-based strategies in order to score more points in competitions due to the differences in how points are distributed between the previous and new scoring systems.
Points system
Tencent has created a number different point systems since the launch of PUBG Mobile. In 2018 and the first few months of 2019, the winning team received 500 points, while the runner-up and third-place teams received 365 and 315 points, respectively. At the time, each kill had 15–20 points. The 30 and 20-point systems, which awarded one point for each kill, were later used by the publishers.
Tencent established the 15-point system in the middle of 2020 (during PMPL S2), and it was used up until the conclusion of the 2022 campaign. The new method has been established by Krafton and Tencent to increase the level of competition in PUBG Mobile esports.
ALSO READ: PMGC 2022 Grand Finals: Winner, Ranking, Prize pool Distribution, MVP, Individual Awards, and More