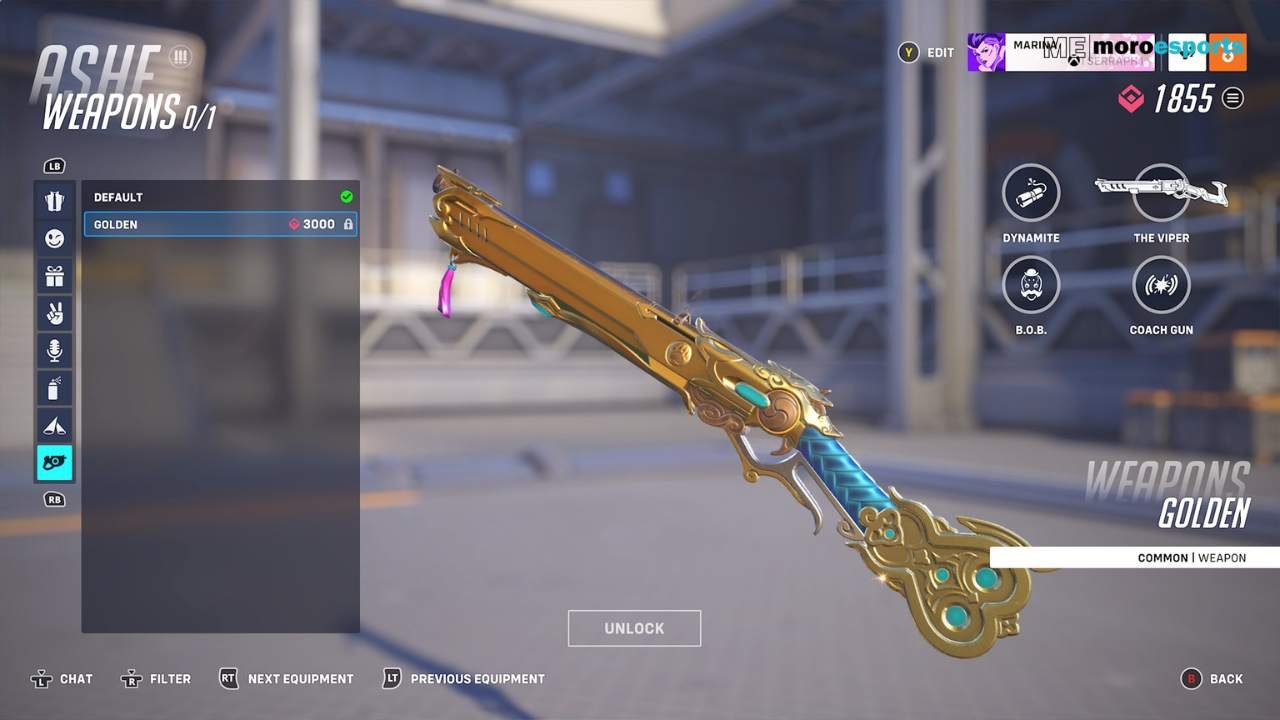 If you know the concept of Golden Guns from Overwatch 1 you'll surely be in pursuit of them in Overwatch 2. But how to get them easily? Well, there are a few tips and tricks to keep in mind. Remember that this is not a hack but just a guide.
What Are Golden Guns?
Some of the most spectacular cosmetic items in the Overwatch 2 are Golden Guns. These weapons are evidence that you are familiar with the relevant hero. They demonstrate your commitment to Ranked play as well as your ability to compete in some of the series' most heated conflicts. Despite the fact that all they accomplish is turn a portion of your weapon into pure gold, they are nothing less than a prestige symbol.
The procedure to get them is the same in Overwatch 2, but if you haven't played the original game in a while or are unfamiliar with the series, we've put together this guide to teach you everything there is to know about golden weapons. These are totally different then the Contenders Skins you get from Overwatch streams.
How to Get The Try-Hard Golden Guns Easily in Overwatch 2?
Golden Guns, along with a variety of other cosmetics like skins and sprays, may be obtained through the Hero Gallery in Overwatch 2. However, they cannot be bought with real money, the new Overwatch Coins currency, or legacy credits. They can only be acquired by spending Competitive Points or CP which are only available in Competitive mode. Although, this is not an easy grind. You'll have to gain over 3000 CP to get atleast one Golden Gun skin in Overwatch 2. To put this in the perspective of newer players, you'll get 15 CP per win of the Competitive mode. And you'll get 5 CP every match you tie.
The Trick to Get Them Easily:
Though, the older players of Overwatch have their CP transferred from the old to the newer version. So it's easier for them. But for the players that want or need to grind through the competitive there is an easier way. It is simply to wait until a month after the season starts. Normally during the start of the season all the high ranked players get matched up in lesser ranked queues. This makes it harder to grind or even tie matches in Competitive mode. After a month most of the players will have reached their original ranks and pushing for more. This is your time to shine. It'll be much easier for you to climb up the ranks and get guaranteed wins in Competitive mode.
Also try to pick a DPS like Genji or Mei. For tank you can use Orissa or Reinhardt. You'll have to play around 175 (150 wins) matches and get to Diamond rank. This will ensure at least one Golden Guns Skin in Overwatch 2. The lesser rank you can make it to the more matches you'll have to play. So until your grind starts you can have all the fun you want in Quick Play. Below are the CP that Overwatch rewards you at the end of the season for each rank:
Grandmaster – 1750
Master – 1200
Diamond – 750
Platinum – 500
Gold – 250
Silver – 125
Bronze – 65
Also Read: What is the Meaning of Diff in Overwatch 2?