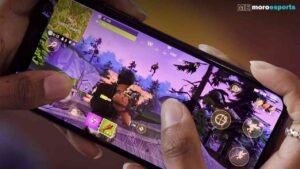 There have been a lot of questions regarding the download of Fortnite on Android, not only in 2022 itself but before as well. The reason for the vast amount of questions was the small scandal where Google removed Fortnite from the Play Store. Focusing on providing the solution to our previous question, how should you download Fortnite on Android? There are a handful of ways that you can use for the issue which include the use of Xcloud Gaming, uptodown and taptap for Fortnite.
Why Can You Not Download Fortnite From Google Play Store Anymore?
Basically, Epic Games tried to start the in-app purchases and source the income from the game directly to itself without paying either Google Play Store or iOS store. This caused some major concerns to both providers. Furthermore, Fortnite was banned from both and has only been recently available in iOS App store.
Do check out the new Chapter 3 Season 4 and all of its details from us.
Fortnite Download on Android (2022):
Before we move onto take a look at the multiple ways you can download Fortnite, let's get the requirements of the phone out of the way first so you can know what you'll be working with beforehand. According to Epic Games itself the specifications of the game are as follows:
Android version: 8.0 or higher
RAM: 4GB or more (at least)
Processor: 64-bit Android on an ARM64 processor
GPU: Adreno 530 or higher, Mali-G71 MP20, Mali-G72 MP12 or higher
The below Android phones can be run on 60 FPS or more:
ASUS ROG Phone II
ASUS ROG Phone 3
ASUS ROG Phone 5
OnePlus Nord 2
OnePlus 7 Pro
OnePlus 8
OnePlus 8T
OnePlus 8 Pro
OnePlus 9
OnePlus 9 Pro
OnePlus 9R
Samsung A90 5G
Samsung Tab S6
Samsung Tab S7
Samsung Tab S7+
Samsung Galaxy S10
Samsung Galaxy S10e
Samsung Galaxy S10+
Samsung Galaxy S20
Samsung Galaxy S20+
Samsung Galaxy S20 Ultra
Samsung Galaxy S21
Samsung Galaxy S21+
Samsung Galaxy S21 Ultra
Samsung Galaxy Note 9 (USA variant only)
Samsung Galaxy Note 10
Samsung Galaxy Note 10+
Samsung Galaxy Note 20
Samsung Galaxy Note 20 Ultra
Samsung Z Fold3 5G
Sony Xperia 5
Apart from that the below devices can run at 90 FPS
ASUS ROG Phone 3
ASUS ROG Phone 5
OnePlus 8
OnePlus 8T
OnePlus 8 Pro
OnePlus 9
OnePlus 9 Pro
OnePlus 9R
Samsung Tab S7
Samsung Tab S7+
The FPS of your game can be set according to your needs. Many devices support both 60 and 90 FPS but for some devices the the former option is more battery conservative. The above data is verified from Epic Games website.
You can read about the detailed information about the requirements on the official website here.
How to Download Fortnite on Android (2022)?
The simplest way to download Fortnite on any android phone would be through the Epic Games store especially since google removed it from the Play Store. If you're a Samsung user, things might be a bit easier for you since you can directly download the game from Samsung store. iOS store also has Fortnite available. The game is also available for PlayStation, Xbox and Nintendo Switch users.
Apart from iOS and Samsung users the problem still pertains for the rest. Moving on to answer your next immediate question.
How to install Epic Games Store on Android?
You can download the Epic Games App or Store from their official website. Just follow the steps given below:
Step-1: Search for 'Epic Games download for android' on Google.
Step-2: Follow the link that has 'epicgames' in its URL.
Step-3: Click on 'Download the App from Epic Games'. (This will start the download)
Step-4: Allow necessary permissions to download the file
Step-5: Click on Install. (If you get a prompt asking allow your browser to install the game, click on settings and configure the permission to install through browser.)
You can follow the same steps for downloading the game from Samsung Store, you'll only have to click on the option saying 'Download the App from Samsung Galaxy Store' in step-3. Once Fortnite is installed you can enjoy the game! Now there is another alternate option to this solution which we'll discuss now.
Also, before we move further don't miss out on Epic Mega Sale 2022: Get Best Deals and Discounts at Epic Games Store.
Alternate Option:
According to Epic Games this alternative doesn't even require you to download the game on your device! This is known as cloud gaming (for instance Xcloud Gaming for Fortnite) and the game runs on the cloud.
There's one more barrier to this alternative. You are needed to have a Xbox account to try the Xcloud Gaming for Fortnite. Or if you're trying from GeForce NOW you need to have a respective account for playing Fortnite using this cloud. This way you don't need to download Fortnite on your Android phone.
Beware of Other Options:
We are going to mention these options but you are at you own risk to try them out. There are two other alternatives we would like to discuss further about. The first one will be Uptodown for Fortnite.
Note: The website or writer are not responsible for your actions taken from the instructions mentioned below.
Download Fortnite from Uptodown for Android (2022):
Uptodown is an apk provider website and can directly provide you the latest version of Fortnite. As a bonus you also get to download and try out the older versions of Fortnite. Another option is to download Epic Games Store from this website and then download Fortnite through the store. That is how you can download Fortnite for Android in 2022.
Downloading Fortnite From Taptap:
Taptap is yet another website that provides 'apk's like Fortnite. Now you can follow the above procedure and do the same for this website as well.
Although the trust ratings for both of the websites above are quite high as many users have used it before, we will still instruct you to be cautious. All alternatives including Xcloud Gaming, Uptodown and Taptap are great if you want to try Fortnite. And that is it for this guide, keep following us for more such how-to guides and we'll keep you posted.
Also Read: Fortnite Map Changes: All Location Changes and Other Details