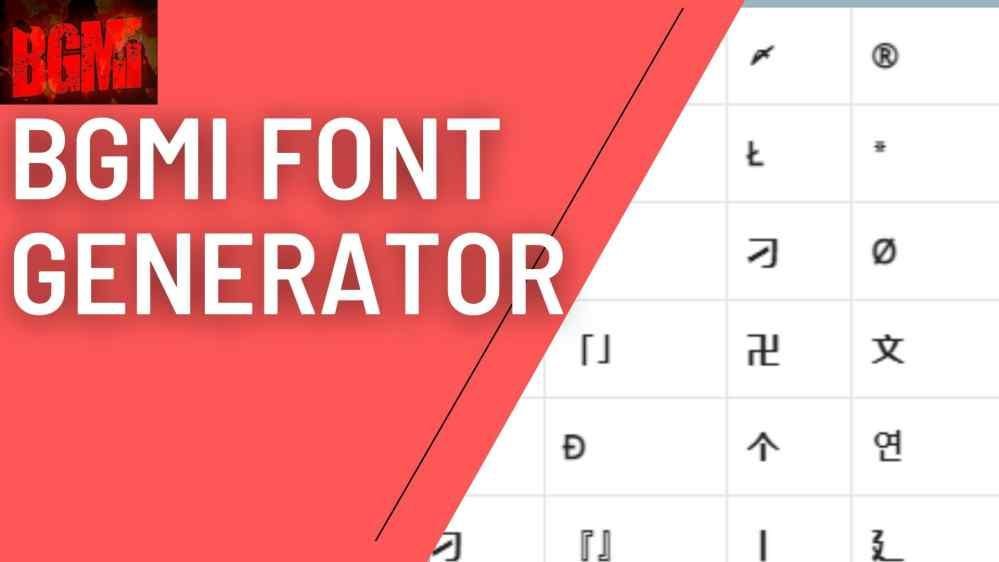 Battlegrounds Mobile India or BGMI is famous among the battle royale game players. There are many reasons to love and live this beautiful game. Among these many reasons, there is a reason for the different styles are there within the game. It can be designing your character or designing the name of the character that you are playing with. There we can use BGMI Name Generator applications or websites.
Why You Need a BGMI Name Generator?
There are a lot of reasons to use a name generator in BGMI. A BGMI Name Generator can be used to make a clan name or a specific clan style for all the players involved in the clan. Or, if you are creating a team or applying for any KRAFTON organized tournament or be it for a youtube channel or just for fun.
NOTE: CLAN[A clan is a team or an inbuild organization that a player can create or can join just after reaching a certain point stage in their BGMI career. Clan size can differ from any number to a maximum 500 number of players as per the customization by the clan creator or clan leader.]
What are Different Types of Name Generators? 
Generally, there are two types of BGMI Name Generator, One is for name, how you can or you wanna write your name. And the second one is for the clan or team sign. How you want all the players are playing with you, can have a signature all in your names. Here are some examples below :
NAME GENERATORS :
aesthetic
bold
bold script
bubble
bold italic
double struck
emoji
italic
leet speak
script
small capital
square
strike
tilde strike
underline
upsidedown
bold fraktur
Ethiopia
fraktur
monospace
rockdots
sold bubble
parenthesized
ghosty
luckiest guy
SIGN GENERATORS :
ツ   么   〆  ®   彡  ×  ॐ  私  丶  ズ  刁  Ø  ジ  ・  「」  卍  文  《  气  Ð  个  연  シ  刁  『』  丨廴  一  ×  父  神  人  帝  レ  ア  ロ 〖〗  요  ۝  ๔  ๏  卄  米  īlī  ム  王  女  ゞ  ⦇⦈  冬  れ  【】  多  々  乛  乄  乀  〘 〙  乡  私  の 『』  乇  ɧ  く  乇  》  爪  么  ฬ  失  亥  王  乙  ๖  ム  '  厄  ภ  ٭  ʚ  ๛  〆  īlī  ≋  亗  义  サ
These are the general signs and BGMI Name Generator that are commonly in use in BGMI Name Generator in 2022.
Now, Talk about some famous and all-time green name generator examples. Like the Old Gun and the most popular Esports player of all time SOUL々MORTAL or SOUL々VIPER.
Hope you can find and use these styles in your Name Generator trick very successfully soon. For, the signs you can copy from here and use them, although for the names some ample websites and apps can help you along.