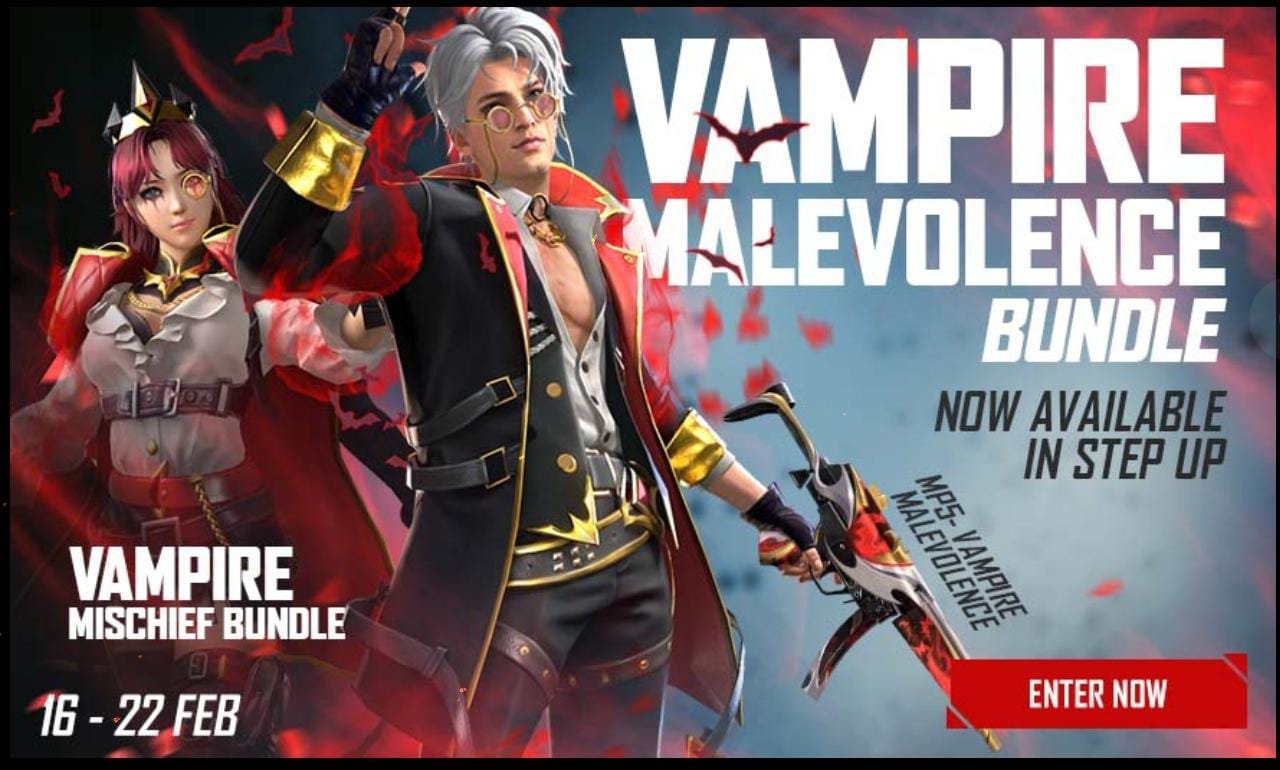 Vampire Malevolence Bundle Event: When it comes to new events, Free Fire never compromises even with a single-day event. Free Fire players value cosmetics greatly, and the game supplies a wide number of them. New costumes and gun skins are released to the game as part of special web events, luck royale, and other activities to provide a range of stuff to gamers.
A new web event has begun, with the grand prize being a vampire-themed bundle and a gun skin. Unlike our casual web event or luck royale events, this event features a unique structure. So, in this article, we'll go over all of the specifics of the Vampire Malevolence bundle.
Vampire Malevolence Bundle Event
The Vampire Malevolence bundle event has been added on 16 Feb, and it will be available till 22 Feb. Besides, this event features 3 levels of draws, each level featuring one of the grand prizes along with other normal rewards. The complete prize pool is listed below.
MP5- Vampire Malevolence
Red Samurai Weapon Loot Crate
Bonfire
Diamond Royale Voucher
Summon Airdrop
Vampire Mischief Bundle
Weapon Royale Voucher
Magic Cube Fragment
Santa's Choice M60- Weapon Crate
Vampire Malevolence Bundle
Incubator Royale Voucher
Flame Surfboard
Because the Vampire Malevolence event is a web-based event, players must use diamonds to make spins. Although, the first spin costs 9, 29, and 79 diamonds for the first, second, and third-level draws, respectively. The spin increase after every spin as follows:
1st Level Of Draw
1st draw: 9 diamonds
2nd draw: 19 diamonds
3rd draw: 39 diamonds
4th draw: 69 diamonds
5th draw: 99 diamonds
2nd Level of Draw
1st draw: 29 diamonds
2nd draw: 49 diamonds
3rd draw: 99 diamonds
4th draw: 199 diamonds
Third Level Of Draw
1st draw: 79 diamonds
2nd draw: 199 diamonds
3rd draw: 499 diamonds
Furthermore, participants will be permitted to spin in the second draw only after they have spun in the first. The higher draws will be locked until participants spin in the lower drawings. Also, the first, second, and third draws, respectively, offer Mp5- Vampire Malevolence, Vampire Mischief package, and Vampire Malevolence bundle.
Also, check out our recent article How To Get The New Flash Pet Top Up Event Rewards In Free Fire?