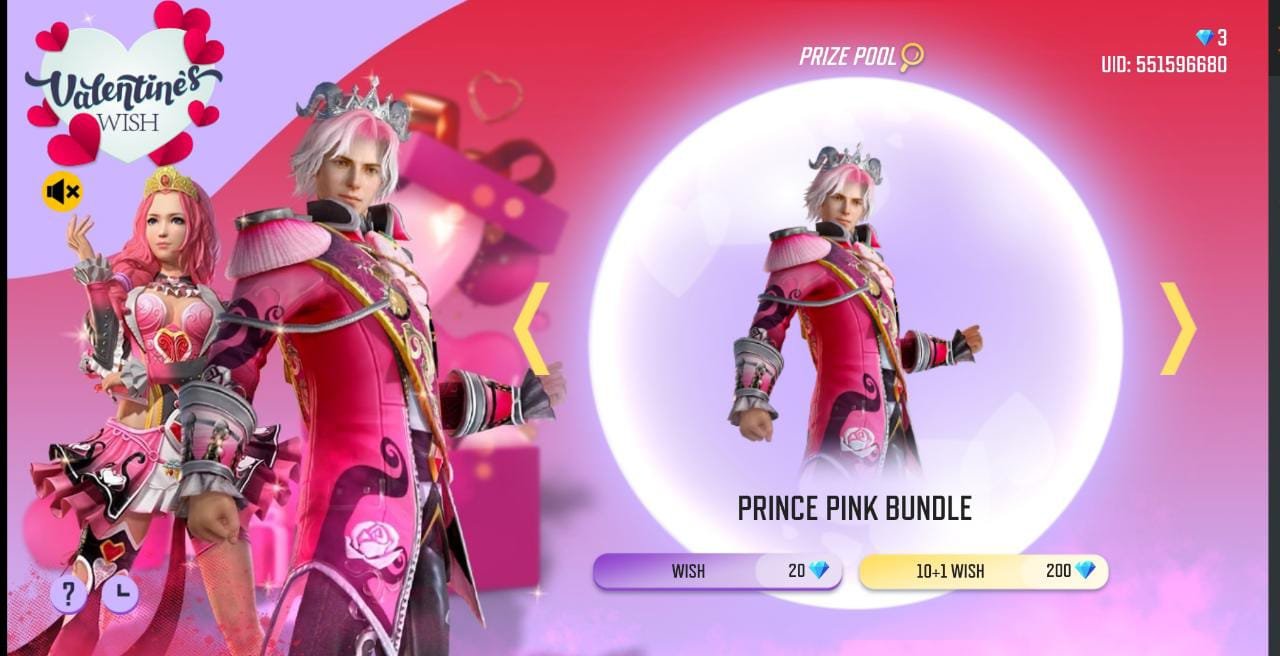 Free Fire Valentine Wish Event 2022: Free Fire never disappoints its users when it comes to launching new types of events. Developers are continually adding new festive eves to their unique events. In Free Fire, Garena just launched a new Valentine's Wish event where players can earn exclusive prizes.
The Valentine Wish event offers two distinct bundles(Male and Female), the Prince Pink Bundle and Princess Pink Bundle, as well as a variety of inventive and tempting in-game stuff. There are a few more perks, such as an emote, avatar, Gloo wall skin, and much more.
Free Fire New Valentine Wish Event 2022: Event Details and Rewards
View this post on Instagram
This event was added previously during the 2021 Valentine's event. However, Garena had made some addition to the prize pool this time. The priorly owned prizes will be removed from the prize pool, hence increasing the chances of getting the desired one.
The Valentine Wish event has been launched on 7 Feb, and it will be available till 13 Feb. This event features a wide range of rewards including Grand prizes and normal prizes. The prize pool is listed below.
Flowers of Love (emote)
Prince Pink Bundle
Princess Pink Bundle
Gloo Wall – Power of Love
Katana Season of Pink
Heart Angel
Golden Rose backpack
Season of Love- Skateboard
Pet Skin: Valentine's Fox
Cupid's Arrow- T-shirt
Love Kiss (Boy)
Love Hear (Girl)
Lovers- Avatar
Love at First Sight- Avatar
Be my Valentine (Banner)
Blue Cupid (Banner)
Strawberry Love (Banner)
Be my Valentine (Banner)
Along with this, it also includes normal prizes such as weapon skin crates, pet food, universal fragments, etc. Furthermore, every single spin in this event costs 20 diamonds, while the simultaneous 10+1 spin costs 200 diamonds. However, unlike the Luck Royale events, players will not get the repeated prizes, the earned prize will be removed from the pool.
Also, check out our recent article 5 Best Free Fire Pets You Should Try For BR And CS mode In 2022