The next Faded Wheel is already live in the game and players can obtain the two Grand Prize of the Week. This time Faded Wheel comes with one of the most popular Gun Skin and hottest Bundles of all time. Players get a chance to obtain Golden Roar Groza along with Burning Leo Bundle in Free Fire. 
Furthermore, as we know, Faded Wheel is a weekly event that is part of the Luck Royal Event bundle. Where players are allowed to get two exclusives (or sometimes even more than 2) as the Grand prize of the event. It will run for a week and if you want to get those items then you need to participate and try your luck. If you want to get these grand prizes in your inventory then keep reading the blog…
RELATED: Free Fire Welcome New Year Event: How to Get Legendary Gun Skins?
What is the Free Fire Lucky Royal and Faded Wheel Event?
So, what's the Luck Royal in Free Fire? Luck represents the player's luck in getting the prize. As we know, the Grand Prizes do not have a cost they are presented in the game. Some players can get the same items for around 90 to 100 diamonds, however, some take even hundreds of diamonds.
However, events like these are great to obtain such awesome in-game cosmetics in Free Fire. Do you know the actual cost of items like these is in Hundreds or even Thousands of Diamonds? But Garena Free Fire is allowing you to get these items in just a few diamonds.
Moreover, after recent updates, there is a new feature added to the game – Guaranteed Prize. According to this, if a player participates in the Lucky Royal then after a limit he will 100% get the rewards.
Furthermore, The Lucky Royal is going to start from 11th January 2022 and it will end on 17th January. In other words, players get a total of 7 days to try their luck and get two exclusive items in Free Fire.
Get Burning Roar Bundle and Golden Roar Groza in Free Fire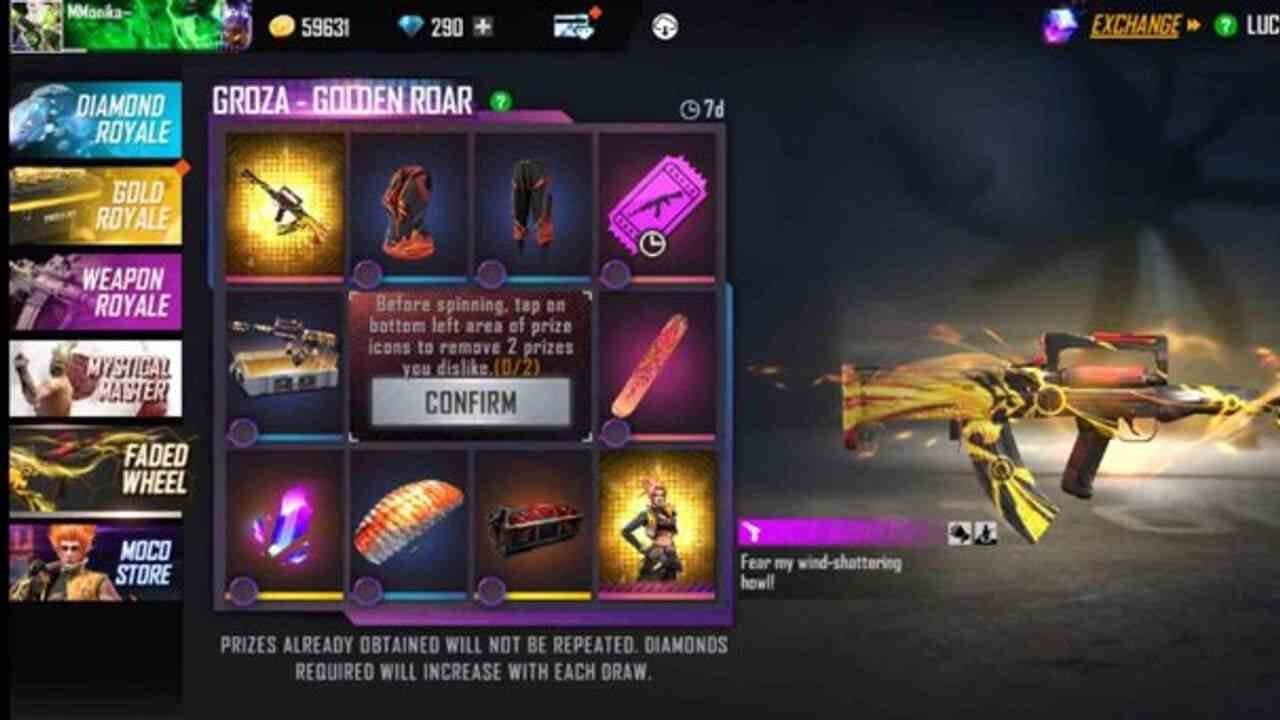 The Two Grand Prizes of The Week:
Burning Roar Bundle
 Golden Roar Groza
Other Rewards:
First, Weapon Royal Voucher
Second is Ebi Parachute Skin
The third is Blood Coffin
Fourth is Priestess Fox Surfboard
Fifth Lioness Lava Top
Last is Liones Lava BOttom in the Lucky Wheel.
As we know, the current Faded Wheels are a little different from Old events because now you get a guarantee. According to the new event rule you are sure to get the grand prize under 8 spins or total 8 spins. That's a great thing, Moreover, you can also remove two rewards which you do not want to obtain. It will increase the chances to get the Grand Prizes in the Game.
RELATED: Free Fire Diamond Hack Link in 2022: How To Get Free Diamonds Without Ban?