BGIS Semifinals Results: The second day of Battlegrounds Mobile India was filled with a lot of excitement and surprising results. Most of the underdog teams came on top and maintained to showcase their brilliant game.
Three matches were played on Erangle, two on Miramar, and one on Sanhok. Teams like Team Xspark and UDOG made a comeback on Day 2 after not making a good start on Day 1. So, let's have a look at the teams' overall standings and points.
ALSO READ: BGIS Semi Finals Day 1: Overall Standings, Summary, and More
BGIS Semifinals Day 2: Overall Standings And MVP
Skylightz maintained their top position on Day-2, whereas OR esports fell down. Team XO managed to make a good comeback and finish 2nd on Day-2.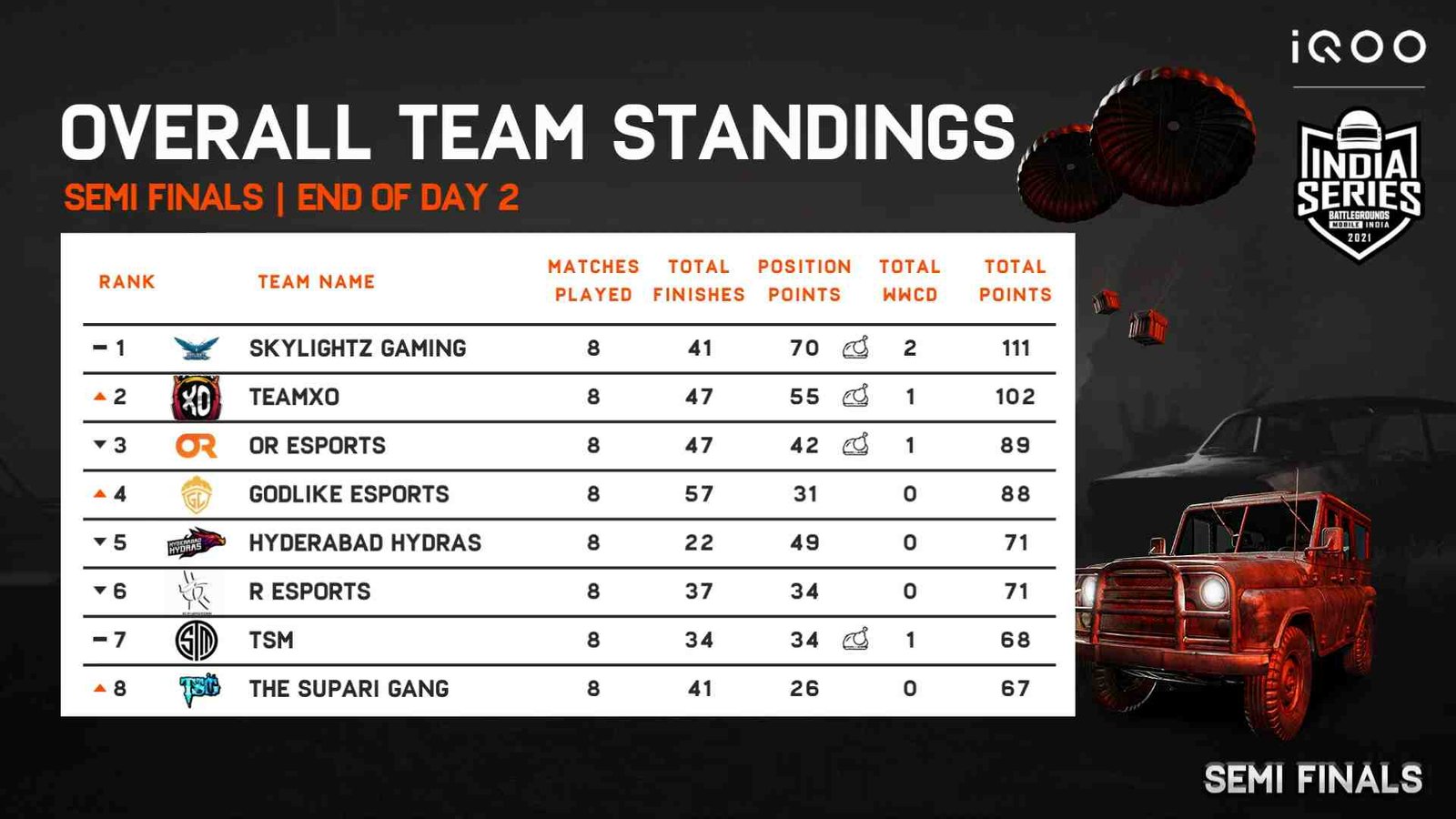 Godlike grabbed the maximum number of kills and finished 4th.
Teams like Team X spark and Soul made a comeback in the top 16 after getting the first chicken Dinner on Day-2. Furthermore, they'll try to maintain the performance and play the finals.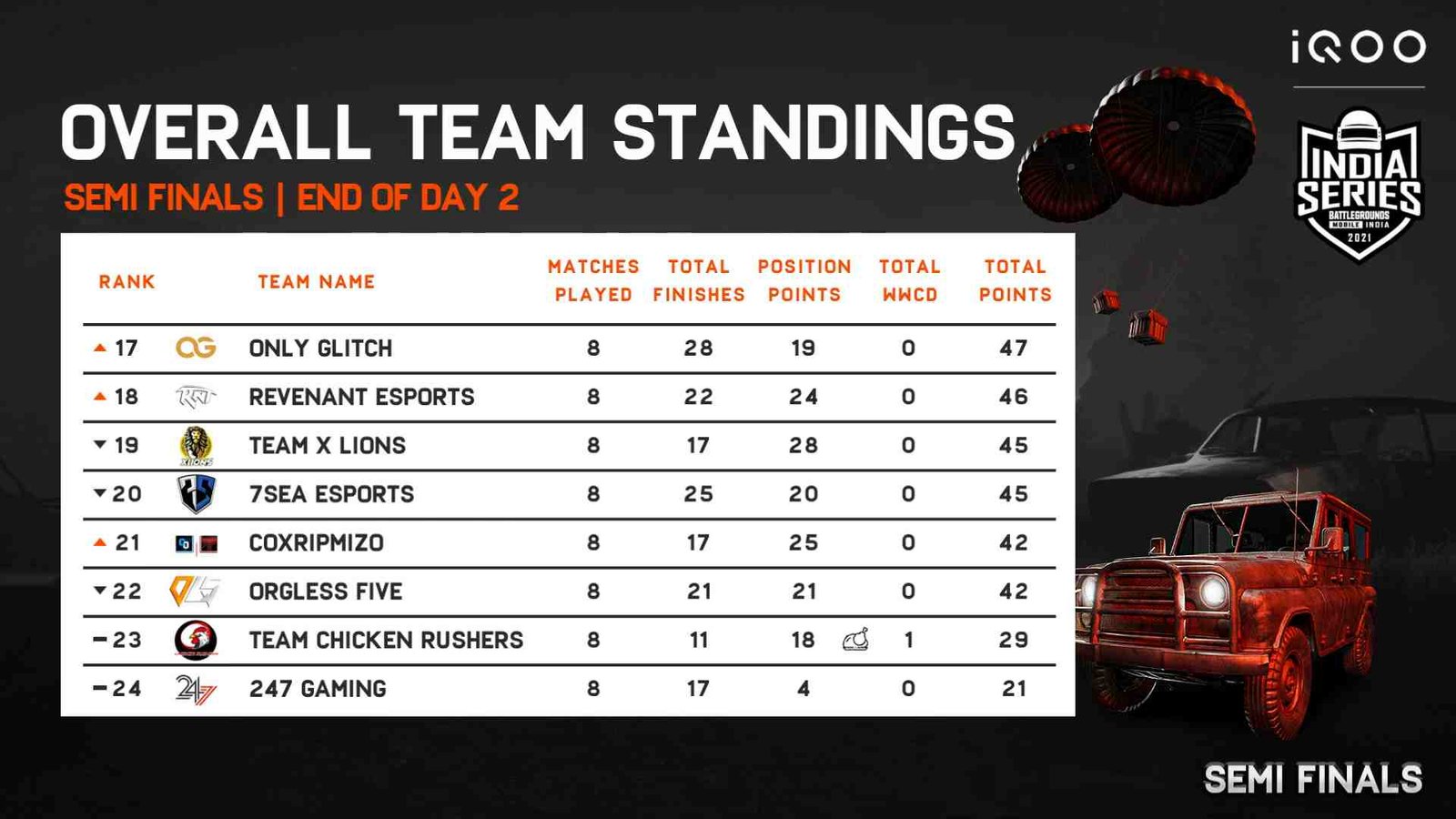 Teams like Only Glitch and Revenant esports are on the third chart, but not very behind from the top 16.
DIVE DEEPER: BGIS Quarterfinals Day 3 Group 1 Results And Overall Standings Here
Match-1: UDOG Starts With a Win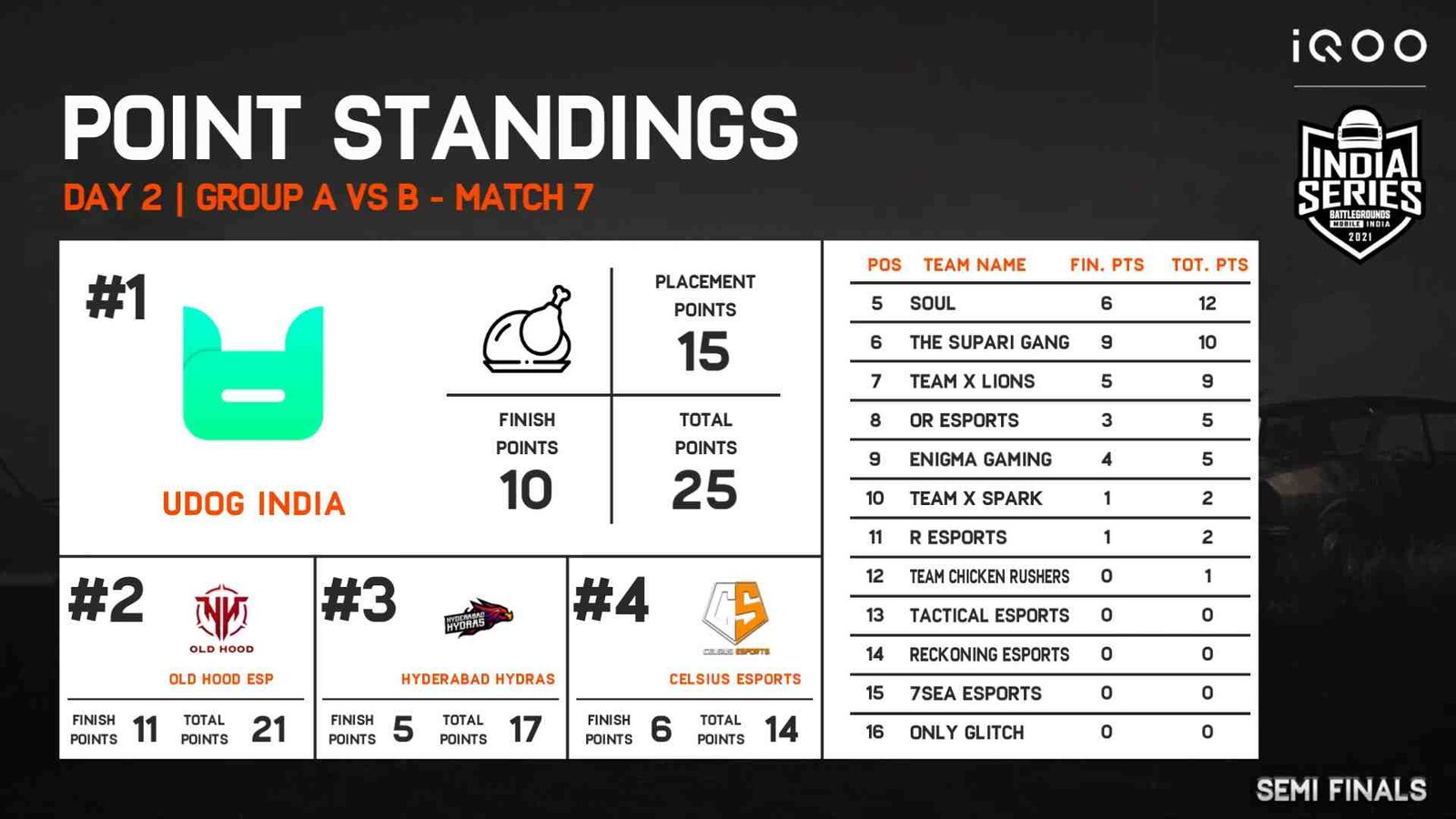 UDOG India won their first game of the day which was played on Erangle. Moreover, Hyderabad Hydras maintained their consistency and finished 2nd.
Fan-favorite team Soul performed well as they grabbed the 5th position with 5 kills.
Group A vs Group B – Erangel
Winner: UDOG India
Match-2: Skylightz Gaming Continues Their Dominance
The second match was played on Miramar where Skylightz showed their cool and composed gameplay to win the game. They finished Day 1 being on top of the table and continued their performance on Day 2.
Team Godlike finished third but unlike their nature only managed to take home 5 kills.
Group A vs Group C – Miramar
Winner: Skylightz Gaming
Match-3: Team X Spark Finally Tastes A Chicken
One of the fan-favorite teams, Team Xspark won their first game of the tournament on the third match of Day 2 of the semifinals. The team was finally found their winning way and will hope to get into the top 16.
Another team, who was off track in semis Enigma Gaming, finished second and collected some good kills to keep their finals hopes alive.
Group B vs Group C – Erangel
Winner: Team Xspark
Match-4: Reckoning Wins The Match, Xspark Takes Points
Reckoning esports won the map of Sanhok, but it was Team Xspark who was running riot on the green grasses. However, the team finished third as Hyderabad Hydras backstabbed them at the very last moment.
Team spark continued their momentum which was a good sign as they fight back for top 16.
Group A vs Group B – Sanhok
Winner: Team Xspark
2nd: Reckoning Esports (WWCD)
Match-5: Team SOUL WIth A Comeback
Team Soul registered their first victory of the BGIS semifinals on the map of Miramar. However, the team struggled on Day 1 as they were not in top 16 teams. However, it will be interesting to see, if they manage to continue the form and win further matches.
Group C vs Group B – Miramar
Winner: Team Soul
Match-6: Team XO Seals The Day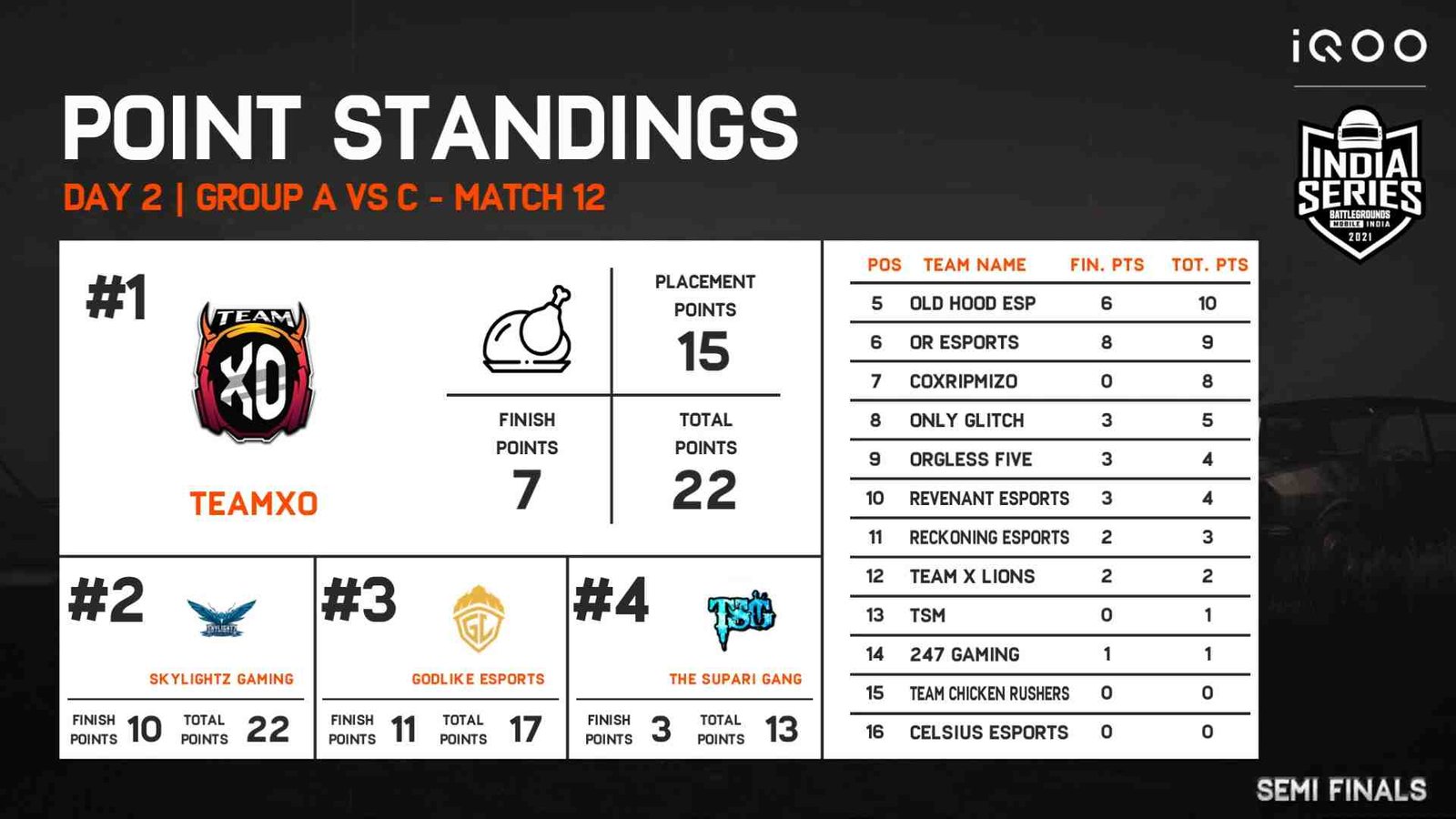 Team XO won the final game and Skylightz finished 2nd on the map of Erangle. Furthermore, this win secured the top 5 position for both teams.
Godlike collected 11 kills, which will help them to be on top 5.
Group C vs Group A – Erangel
Winner: Team XO
ALSO READ: BGIS Semifinals Team List, Format And Schedule: All You Need To Know