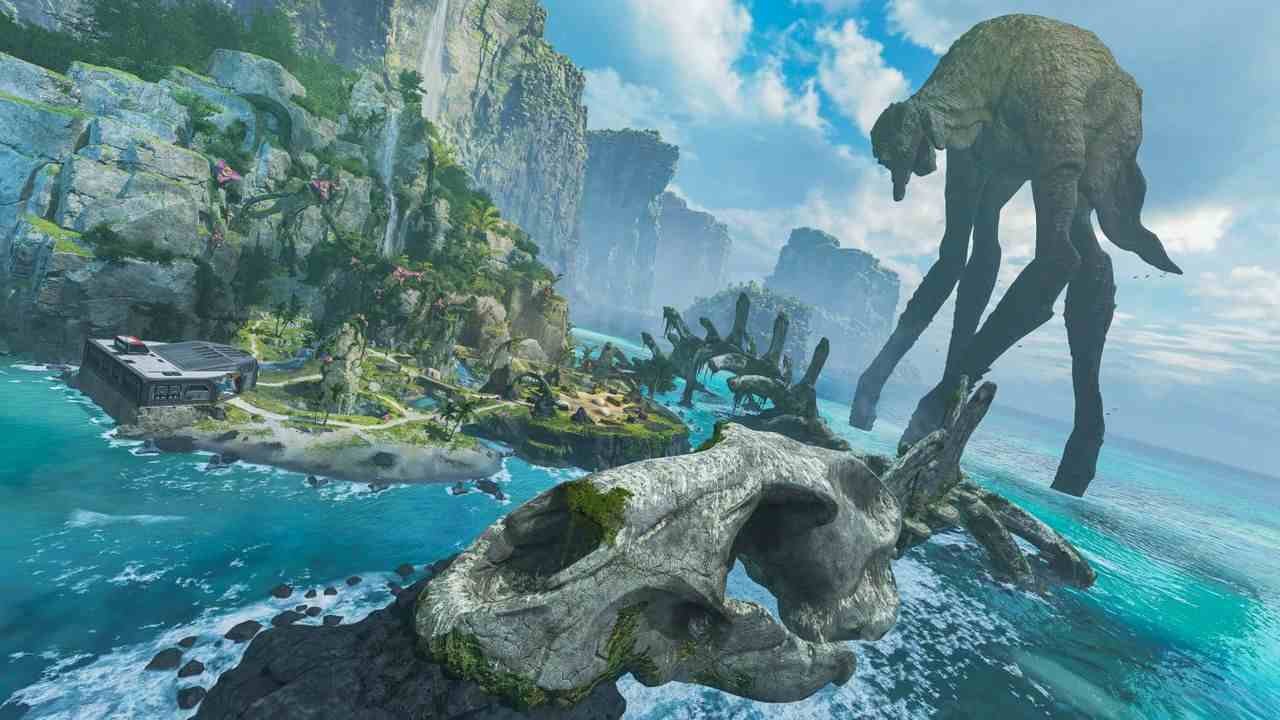 We are 2 months into Season 11 of Apex Legends, but it's a season that practically keeps giving. If a completely new Storm Point combined a new Legends Ash and C.A.R. SMG and tons of cosmetics and bundles weren't enough, respawn has surprised us with a completely New Arena map. Apex Legends is here with the Dark Depths Events, which has a lot in store for us including flash events and cosmetics which are all nautical themed.
The new map titled 'Habitat 4', is a small island in the 'New Antillia archipelago', the same local group that hosts Storm point. The rather interesting part about the map is that it is the breeding ground for Leviathans, which are the same humongous dinosaurs that can be seen stomping over King's Canyon. Additionally, the devs quoted, "One of Habitat 4's key features is a large waterfall. Through the passage of time, it has eroded the landscape, forming trenches and terraces of varied elevation. Making this island a paradise for slides and quick getaways.", this will hopefully allow for some interesting fast-paced plays.
Habitat has two POIs with high elevation on opposite sides of the map, the Cave and the Nest. It also features plenty of places to rush in and slide down along with some zip lines, allowing players to quickly move around the map. The map is suitable for mid to long-range combat but also has multiple flanking options and rotations for Legends that like to get closer. Making it a great overall Arena Map, that goes with the pace and nature of Apex Arena.
Also read: Apex Legends Leaks: The New Agent 'Mad Maggie'
Flash Events
Apex Legends Dark Depths Events also brings in a lot of free gifts too. You can claim these gifts by completing Flash Events. They are basically individual prize tracks per week. So each week there will be a new set of unique prizes + 1 unique badge players can earn by completing challenges. Here's a look at some of the rewards that will be available each week.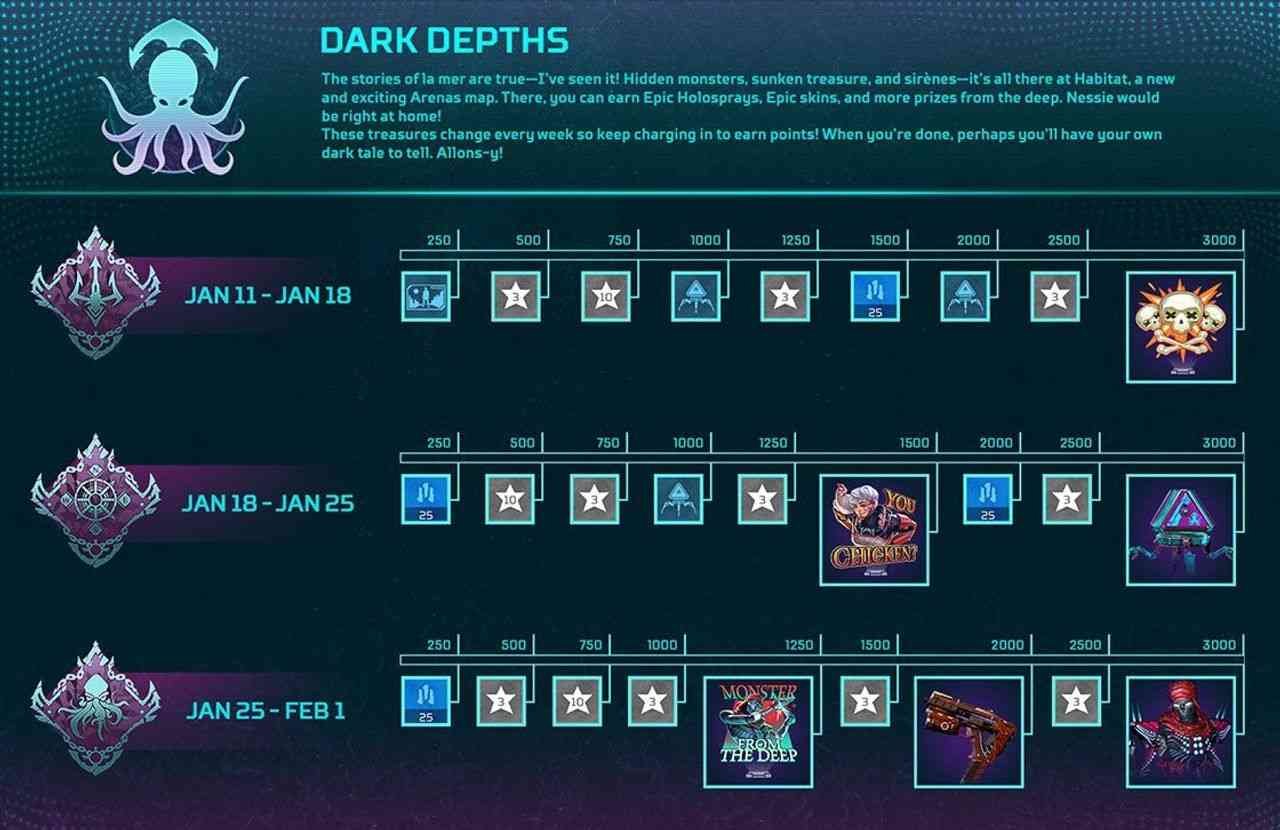 January 11th to January 18th 
Key prizes include: Apex Packs, Epic Holospray, Load Screen
January 18th to January 25th
Key prizes include: Apex Pack, Valkyrie Epic Holospray, 1 Dark Depths Pack
January 25th to February 1st 
Key prizes include: Epic Revenant Holospray, Epic Alternator Skin, Epic Revenant Skin
"These are just some of the rewards you'll be able to earn!". quoted respawn.
DARK DEPTHS PACKS
The Dark Depths Events event will add 40 new cosmetic items to the game, including legendary skins for Fuse, Lifeline, Horizon, and Ash. The new items can be acquired both during the event and after it ends. You can acquire the Dark Depths Apex Packs for 400 Apex Coins, with each one containing a non-duplicate Dark Depths item. Some of cosmetics can also be purchased directly from the Apex Store.
The new items will also be added to the regular Apex Legends loot pool at the start of the event, so the items can be obtained from normal Apex Packs. The items can also be crafted, however, they will cost more crafting materials than other items for at least two seasons, after which the cost may be reduced. The items will remain in the loot pool, even after the event ends.
Also read: Valorant Launches Protocol 781-A bundle: Skins that Talk to You