BGIS Quarter finals Day 2, Group 2 Results: On the second day of the quarterfinals of Battlegrounds Mobile India, teams from Group 2 challenged each other for the semifinals qualification. As per the rules, the top 6 six teams after playing six games on three different maps, will be eligible for the next round.
Alike Day-1, some of the invited teams were eliminated. Big names like Nigma Galaxy and Force One failed to perform up to their expectations and were eliminated. The underdog teams are now showing some serious skills and they are proving, they are here to dominate.
BGIS Quarter finals Day 2: Teams Qualified And Results
A total of 16 teams from Group-2 competed on the second Day of Battlegrounds India Series (BGIS). Furthermore, only six out of them managed to grab the qualification for the semifinals round and the rest 10 were eliminated.
So, let's have a look at teams that competed on Day 2 of the BGIS quarterfinals.
Team XO
Reckoning Esports
K9 Official
Force One
Mastizone Gaming
Nigma Galaxy
2 Op official
247 Gaming
ReadXCross
SCythe Kronos
UDOG India
XTerminator Esports
LongVreign
Supari Gang
Chicken Rusher
EZ4 Esports
Here is the list of qualified teams.
Reckoning Esports– 100 points
Team Chicken Rushers– 62 points
247 Gaming– 61 points
Team XO– 61 points
UDOG India– 59 points
The Supari Gang– 57 points
Invited teams like Force One, and Nigma Galaxy failed to qualify for the next round.
DIVE DEEPER: Team XO, Godlike Favourites To Play PMGC: TSM
BGIS Quarterfinals Day 2, Group-2: Match Results And Reports
Match-1: Reckoning Esports with the First Win
With the help of 11 kills, Reckoning esports won the first game, which was played on Erangle. Moreover, 2OP was not far behind as they finished 2nd with 11 kills and fell 3 points shorter than the winning team.
Despite collecting a high number of kills, Team XO and Mastizone failed to finish higher which resulted in them a low 8 points from the first match.
Map: Erangle
Winner: Reckoning Esports-26 points (Winner Winner Chicken Dinner)
2nd: 2OP Official- 23 points
Match-2: Back to back Chicken Dinner for Reckoning Esports
Reckoning Esports won the second game too, played on the sandy island of Miramar. Furthermore, teams like Big Brother (EZ4) and Chicken Rushers gave a good performance but failed to come on top.
One of the favorites from Group-2, Team XO once again saw early elimination from the match, mainly due to the zone.
Map: Miramar
Winner: Reckoning Esports- 26 points (Winner Winner Chicken Dinner)
2nd: Big Brother Esports- 24 points
Match-3: UDOG With an unbelievable win
UDOD India finally showed their capabilities in the third match. After dominating their lobby in Round 3, the expectations were high from them, and they delivered in style on the third map.
Despite losing their two men early, only two were of the UDOG team were enough to grab the win. Moreover, they collected 15 kills and defeated a 4-mean Team XO to win the game.
Map: Erangle
Winner: UDOG India- 30 points (Winner Winner Chicken Dinner)
2nd: Team XO- 19 points
READ MORE: BGIS Round 3 Day 3: Results And List Of Qualified Teams Here
Match-4: Chicken Rushers Tastes Chicken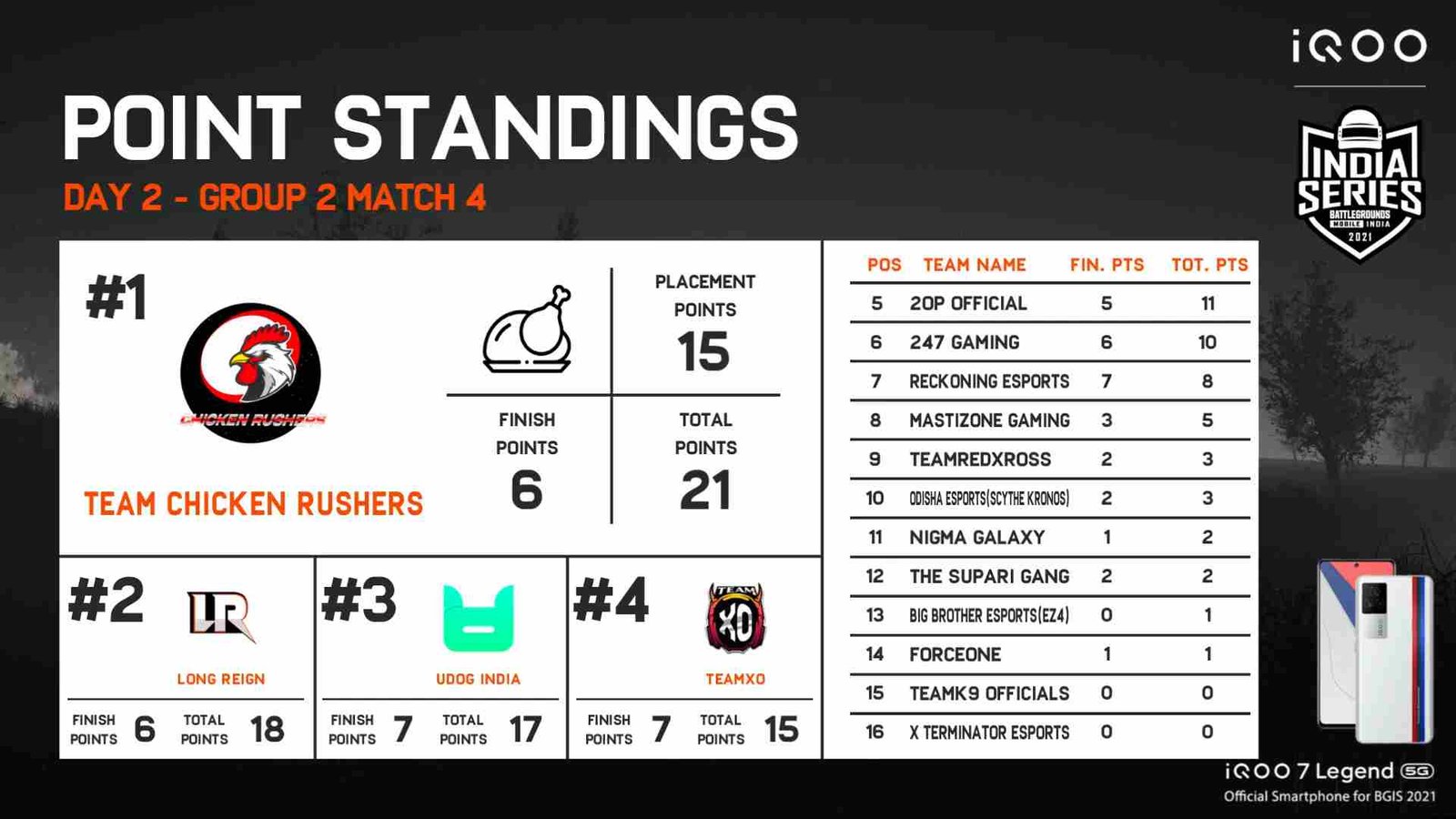 The fourth match was played on the map of Sanhok, where fans witnessed some intense fights. Chicken Rushers came on top in these fights and won the game for themselves.
Moreover, Long Reign's second finish and Chicken Rushers WWCD kept their hope alive for the next round.
Map: Sanhok
Winner: Team Chicken Rushers- 21 points (Winner Winner Chicken Dinner)
2nd: Long Reign- 18 points
Match-5: 247 Gaming Crushes Chicken Rushers's Run
247 Gaming won the fifth game and made the overall standing a little exciting. Moreover, Chicken Rushers kept their consistency as they finished 2nd and grabbed 12 important placement points.
Reckoning Gaming once again performed well, which almost confirmed their qualification after claiming two victories earlier.
Map: Miramar
Winner: 247 Gaming- 31 points (Winner Winner Chicken Dinner)
2nd: Team Chicken Rushers- 17 points
Match-6: The Supari Gang with the final win
The Supari Gang kept their hope alive in the tournament by winning the last game of Erangle. Moreover, Reckoning finished 2nd with 10 kills and Team XO grabbed the 10 placement points.
The final match decided the elimination of the rest 10 teams which included some of the invited ones.
So, these were the final results from BGIS Day 2 quarter finals.
Map: Erangle
Winner: The Supari Gang- 30 points (Winner Winner Chicken Dinner)
2nd: Reckoning Esports- 19 points
ALSO READ: BGIS Quarterfinals Day 1 Results: Team Forever, Global Esports Out, Overall Standing Here