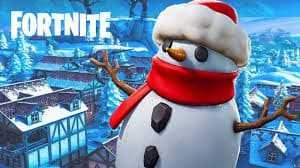 It's been nine days since the Operation Fortnite Snowmando Mission has activated and players are completing their favors for snowmen. Though the event started with exciting ventures, the latest is Operation Snowdown challenge in Fortnite.
It started on a Fortnite map with the first snowdrift. It is loaded with free cosmetic rewards and players are accomplishing Operation Snowman challenges to unfasten these rewards.
Fortnite Snowmando Locations: Full Details
To finish this challenge, the foremost way is to land at a particular Snowman outpost. Players have to find and hide inside the sneaky snowman in three different matches, which means it is going to take a little more time to complete the mission. Sneaky Snowmen can be found in many places. There are tremendous places to hide.
The most familiar location is at the base of the camp hotel, at Catty Corner. Sneaky snowmen are also located on the north end of Retail Row, under the shadow of the southern-most power line tower.
Fortnite New Year event disclosed: Check details
Start looking as soon as you find him and to hide in a Sneaky Snowman. Use your interact button when you are close and jump inside to start hiding. Do this in three different matches to complete the task to get your reward.
Also, don't forget to crouch when you want to stun your enemy with your new camouflage, otherwise, you will be distinguishable. Also finding the snowman shouldn't be a problem, it can be found anywhere.