Free Fire attracted various users and gained lots of popularity worldwide since its release. It is the first game of battle royale titled that is developed and published by Garena. The game is very famous for its skins and in-game items, which make it apart from other titles in battle royale games. The developers have added a new AUG Winterlands 2020 skin in Free Fire which makes the gameplay more interesting.
The skin AUG Winterlands is excellent with bonuses on ammo and fire rate. The AUG Winterlands have a high magazine size as well. Gun skins are not just used to enhance the visual appearance but also buff specific attributes of the weapon.
Fortnite: Epic Still Trolling Apple with Free Fortnite Campaign: click here
The developer of the Free Fire game continuously finds some ways to make the gameplay more interesting so they introduce new AUG Winterlands 2020 skin and other items. Skins can be obtained by using the in-game currency(diamonds) or can be obtained for free using some other options.
Free Fire: Guide to obtain the AUG Winterlands 2020 skin in Free Fire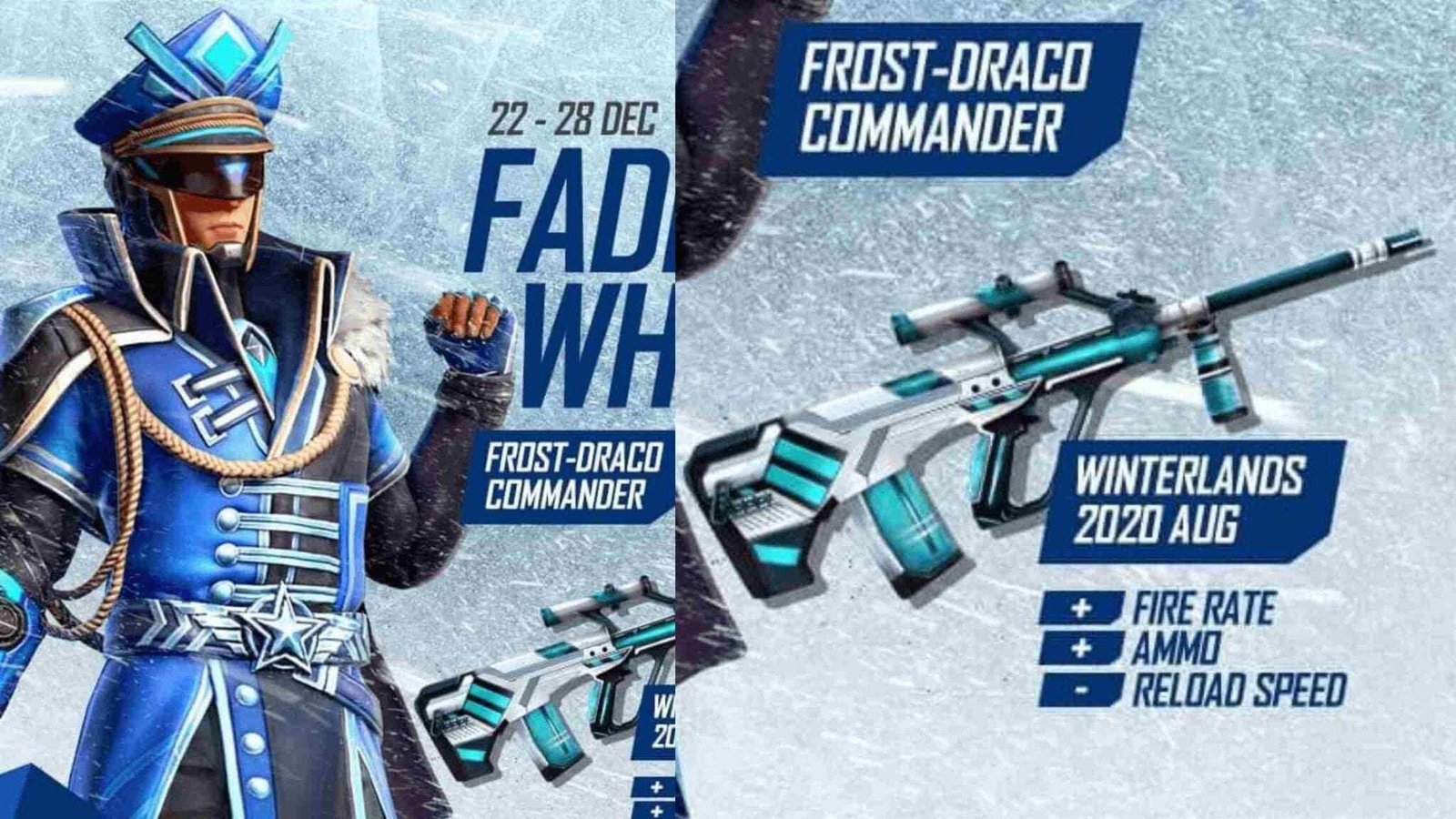 The skin AUG Winterlands and Frost-Draco Commander is recently introduced in the Faded Wheel event. This skin can be obtained by the gamers between 22nd December and 28th December. This event lasts for only one week so grab the items as soon as possible.
There are ten items in the Faded Wheel including the aforementioned grand prize, the players have to spend diamonds, to spin the wheel and get the rewards. The first spin is free of cost, players can try their luck.
Also Read: Free Fire Redeem Codes Today 2020: 100% Working – Click Here
One item will be received only once because the item once selected will be greyed out, increasing the chances of getting other items as well. The cost of diamonds will increase simultaneously with every spin:19, 19, 19, 39, 69, 99, 199, 599. The players are guaranteed to receive the reward with every spin in the Faded Wheel.
Follow the steps given below:
Step 1: Open the Garena Free Fire home page and then press the Luck Royale option on the left side in the middle.
Step 2: Click on the 'Faded Wheel' tab.
Step 3: The box will disappear with ten items, then remove any two items from the prize pool that you don't want to obtain.
Free Fire: List of Jigsaw Code in Guess the Ambassador Event – Read Here
Step 4: Then you are all ready to spin the wheel. The first spin is free of cost, press the spin button, and draw the reward.
Step 5: For more spins, you have to pay for the diamonds and collect the items.